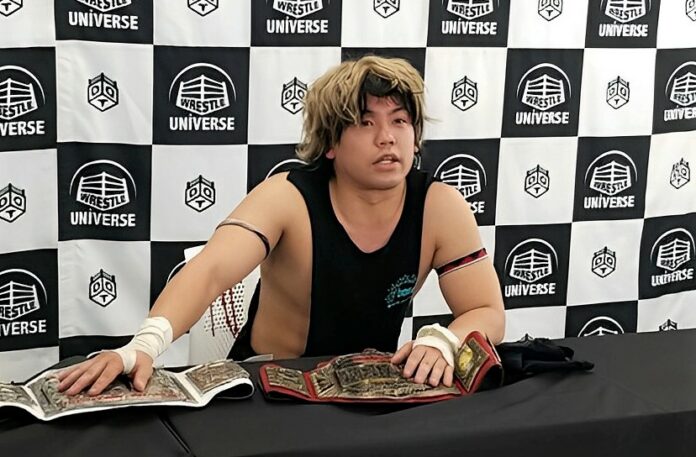 DDT Pro-Wrestling star Shunma Katsumata has suffered a fractured ankle and will be out of action indefinitely. DDT Pro-Wrestling revealed the injury on social media today.
📢 Shunma Katsumata's injury

Shunma injured his right ankle during yesterday's match and it was known he has a fracture of his right talus bone. As such he will be out of action for a while.

We apologise for the inconveniece caused and hope for a speedy recovery for Shunma…

— DDT Pro-Wrestling (English) (@ddtproENG) May 22, 2023
Katsumata successfully defended the DDT Extreme Championship in a Deathmatch against Hideki Otani on May 21st at the King of DDT 2023 Finals and suffered the injury during the match.
In addition to the DDT Extreme Title, Katsumata held the KO-D Tag Team Titles with MAO.
New champions will be determined at the upcoming DDT Pro What Are You Doing 2023 event at Korakuen Hall in Tokyo on June 25th.
📢勝俣瞬馬選手がKO-Dタッグ&EXTREME王座返上、6月25日後楽園大会にて両王座の決定戦を開催https://t.co/TAuYcATNAB#ddtpro

— DDT ProWrestling (@ddtpro) May 22, 2023
Shunma Katsumata took to Twitter to apologize to the fans, to MAO and asked for the fans to still support him as he promised to get the belts he vacated back again.
EXTREMEとKO-Dタッグ返上という形になりました。
また絶対にこのベルトを手に入れる。
また応援してください。

MAOちゃん、そしてMAOのファンの皆さん本当にごめん。
でも復帰したら絶対にしゅんまおでまた狙いに行くから。
それまで待っててください。#ddtpro https://t.co/R8v0MMm3fA

— 勝俣瞬馬/SeaSaunaShack総支配人/サウナカミーナ (@k_shunma_ddt) May 22, 2023
PWMania.com wishes Shunma Katsumata a speedy recovery.