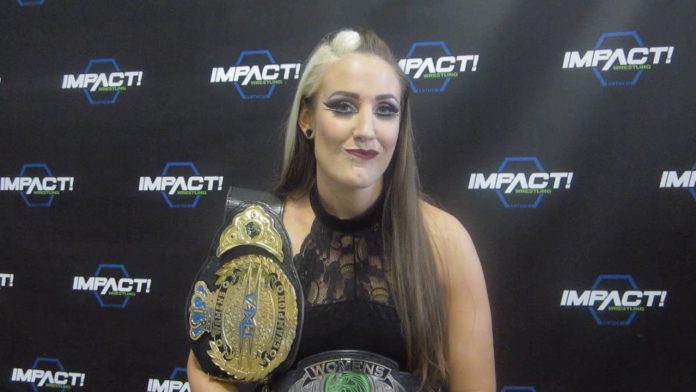 – Above is behind-the-scenes video from Ava Storie's recent football photoshoot.
– Impact has announced that Knockouts Champion Sienna will make a special Knockouts Address on Thursday's Impact Wrestling episode. They announced the following:
Sienna Set to Make Knockouts Address on Thursday

The Knockouts Champion, Sienna, is not happy with how the Knockouts Division has been managed over the past few months.

Alliances have been made, battle lines have been drawn and the tensions are high in the Knockouts Division, as we head into the final month leading up to the biggest night of the year, Bound For Glory.

There have been an array of changes within the Knockouts locker room over the most several weeks. Taryn Terrell has made her return to IMPACT Wrestling in a whirlwind of controversy, looking for revenge against Gail Kim and striking up alliances along the way. Taya Valkyrie made her IMPACT Wrestling debut last month, and is determined to hold the Knockouts Championship. She has made it obvious in her short time with IMPACT that she takes no prisoners and will stop at nothing to get what she wants.

With all of the changes within the Knockouts Division, the usually opinionated and outspoken Champion, Sienna, has laid relatively low. That will all change on Thursday night when she will address the Knockouts inside the six-sided ring. She will no doubt remind everyone (fans, Knockouts and administration alike) that she is still the top woman in the company. She still holds the power as the Champion. Will she demand answers heading into Bound For Glory? There are still a lot of questions to be answered, but one thing is for sure… Sienna will have a lot to say.
– As noted, the third part of the four-part Amped Anthology pay-per-view series will premiere on Friday, October 13th. Below is a new promo for the third part, featuring current WWE SmackDown Superstar Shelton Benjamin:
Shelton Benjamin was forced to make a difficult decision. #AMPEDAnthology #Part3 Premieres Friday, October 13th on Pay Per View. pic.twitter.com/uBtCieclss

— IMPACT (@IMPACTWRESTLING) October 4, 2017