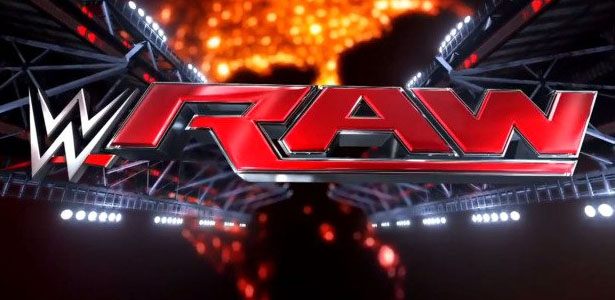 – WWE taped tonight's RAW episode from the O2 Arena in London, England. Here are full WWE RAW spoilers.
WWE Raw Spoilers
* Bad News Barrett vs. WWE United States Champion John Cena kicks off RAW. Cena won a great match that went just over 10 minutes. Rusev attacked Cena after the match and lays him out with a chain. Their match at Extreme Rules will now be a Russian Chain Match.
* We get replays from last week's RAW.
* Cesaro vs. Randy Orton and Dolph Ziggler vs. Seth Rollins are announced for tonight.
* Paige wins a quick Divas Battle Royal to become the new #1 contender for Nikki Bella. Paige cut a promo after the match but Naomi turned on her and laid her out. Brie Bella was on commentary and was not in the match.
* Bray Wyatt comes out for another cryptic promo in the ring. He got a big ovation.
* The Lucha Dragons got a big pop and defeated The Ascension in a quick match.
* Roman Reigns comes out to a nice pop and is interviewed in the ring by Booker T. Reigns was met with Suplex City chants and then interrupted by Big Show, who chokeslammed him on top of one of the taxis on the stage. Reigns was stretchered to the back.
* Randy Orton vs. Cesaro is next. Orton came out to a huge pop. Tyson Kidd and Natalya are at ringside. Orton wins by DQ in around 2 minutes when Kidd interferes. Kane comes out and re-starts the match.
* Orton vs. Cesaro and Kidd in a handicap match starts. If Orton loses, he's no longer #1 contender but if he wins, he gets to pick the stipulation for Extreme Rules against Rollins. Orton wins with a huge RKO out of nowhere on Kidd.
* Adam Rose vs. Dean Ambrose is next. Ambrose wins a quick match with Dirty Deeds.
* Backstage segment with Kane and Big Show. Rollins doesn't want to face Ziggler so it's now Kane vs. Rollins.
* Stardust vs. Fandango is next. Stardust won another quick match but Fandango dances to his old theme song and fans danced along with him for a huge pop, the biggest of the night so far.
* Seth Rollins vs. Kane is next. Kane delivered a chokeslam but laid down for Rollins to get the win.
* Damien Sandow defeated The Miz with a roll up.
* A Prime Time Players video package airs.
* Ryback defeats Luke Harper by disqualification. Dean Ambrose chased Harper off through the crowd.
* Dolph Ziggler defeated Neville in a must see match. Sheamus attacked and laid Ziggler out after the match.
* The main event segment is Rollins and Orton choosing their stipulations for Extreme Rules. Rollins is in the ring sitting in a La-Z-Boy recliner. Orton picks his stipulation – a cage match. Rollins picks his stipulation – the RKO is banned. Orton reacts and attacks Rollins but Mercury and Noble help him escape as RAW ends.