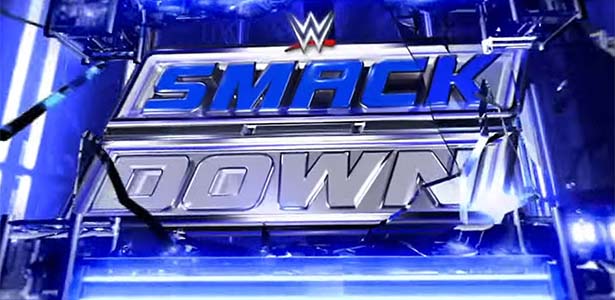 – WWE taped the April 7th, 2016 WWE SmackDown episode from the Toyota Center in Houston, Texas. Here are full WWE SmackDown spoilers.
Dark Match
– Dolph Ziggler defeated Stardust with a superkick.
WWE SmackDown
* WWE World Heavyweight Champion Roman Reigns kicked off SmackDown to a big reaction, mostly boos. Reigns cuts a promo similar to RAW, about how he's "THE" guy, not good or bad. AJ Styles comes out to a big pop and they trade promos. Reigns talks down to AJ and leaves the ring with AJ looking on. Styles and Cesaro vs. Kevin Owens and Chris Jericho is announced.
* The Vaudevillains vs. Sin Cara and WWE United States Champion Kalisto is first. Good pop for Aiden English and Simon Gotch for the entrance but the match felt like a Superstars taping. Kalisto took the pin after a double team. The Vaudevillains celebrated after the match.
* Natalya defeated Summer Rae with a Sharpshooter. WWE Women's Champion Charlotte and Ric Flair were on commentary. Charlotte and Natalya had a staredown after the match but Charlotte left without anything happening.
* WWE Intercontinental Champion The Miz retained over Zack Ryder. Maryse came out after Ryder but didn't get much of a pop, then introduced her husband. Maryse ended up interfering, allowing Miz to hit the Skull Crushing Finale for the win.
* Backstage segment with The Dudley Boyz talking about Roman Reigns.
* Apollo Crews defeated Curtis Axel in a fairly quick match. Good pop for Crews, better than The Vaudevillains.
* Backstage segment with Becky Lynch talking about the WWE Women's Title. Emma interrupts to set up a match.
* Backstage segment with Baron Corbin talking about Dolph Ziggler.
* Dean Ambrose squashed Tyler Breeze. Huge pop for Ambrose. After the match, Chris Jericho came out for the next match and they traded looks on the ramp.
* Vignette for Primo and Epico from Puerto Rico airs.
* Jericho cuts a heel promo in the ring but it looks like it was dark for a commercial. Kevin Owens, Cesaro and AJ Styles are out for their tag match. Good pops for everyone here.
* Cesaro and AJ Styles defeated Kevin Owens and Chris Jericho in a solid main event. Sami Zayn came out at the end and wanted to fight but officials held him back. This led to AJ rolling a distracted Owens up for the win. After the match, Owens went at Sami on the floor and laid him out. The Dudley Boyz ran down and attacked AJ in the ring until Roman Reigns made the save. AJ and Reigns cleared the ring and stared each other down. They shook hands, still staring at each other, to end the show.