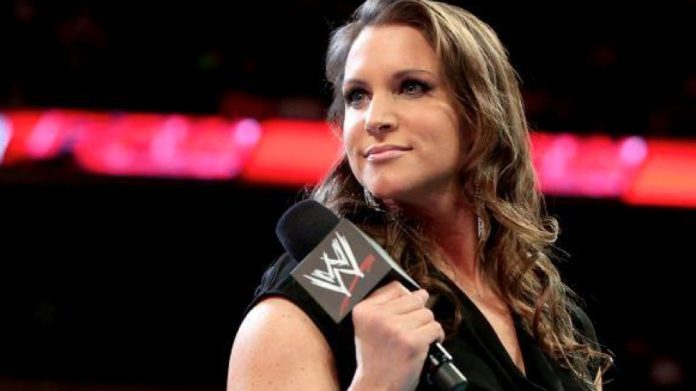 The following was sent to us:
–McMahon Also Talks Being Bullied for Being Vince McMahon's Daughter, and More–
LOS ANGELES (February 26, 2018) – WWE Chief Brand Officer Stephanie McMahon sits down with Lilian Garcia in a very revealing interview of Chasing Glory. During the podcast, McMahon digs into her passion for the WWE, her long and sometimes bumpy journey to the top of the family business, being bullied as a kid, Ronda Rousey signing with the WWE, husband Triple H, and more. The episode is available now on PodcastOne Sportsnet and Apple Podcasts. Below are excerpts from the conversation:
On Ronda Rousey:
Garcia: "I've just got to ask you about Ronda Rousey. This is pretty exciting. I mean, you guys were in the middle of the ring at Wrestlemania, had an incredible moment with her, and now she is signed to the WWE."
McMahon: "I think it's been a dream of ours, and I know of hers, for a very long time…I think it also really speaks to the women's evolution, and it speaks to the level and caliber of athlete that we have as a part of our roster, that Ronda wants to be a part of this movement. And I think that, you know, Ronda – she wants to earn it. She absolutely wants to work incredibly hard. You talk about a work ethic – holy cow. And she brings this tremendous star power, this incredible talent. I mean, she's an Olympian. She was the first-ever UFC women's champion, the first-ever UFC women's bantamweight champion. What she has meant to the whole rise of women in sports – now she's bringing all of that to WWE. I couldn't be more excited for our company, for our roster, for the women's evolution, and what it's going to mean for Ronda and WWE."
On Being Bullied:
McMahon: "I was bullied for being Vince McMahon's daughter, you know. People either loved me just because I was Vince McMahon's daughter, or they hated me just because I was Vince McMahon's daughter. It used to bother me a lot that people would treat me a certain way without knowing who I was, you know. I always felt like, if you got to know me and you don't like me, that's fine, but at least get to know me, you know? I talked to my dad a lot about that when I was a kid, and he said, 'Steph, look. It's a fact of life. Not everybody's going to like you, but as long as you can look at yourself in the mirror, and look yourself in the eyes and know that you're a good person, that's all that matters.'…that lesson my dad taught me was something I'll never forget and that I try to pass to my kids…they're going to have to deal with something I never had to, which is social media."
Hear the full episode at: http://bit.ly/2EUoSXe or https://apple.co/2EWgDcj.
About PodcastOne
PodcastOne, (
www.PodcastOne.com
) the nation's leading advertiser-supported podcast network, was founded by Norman Pattiz, founder of radio-giant Westwood One. The network currently hosts more than 200 of today's most popular podcasts, including Adam Carolla, Shaquille O'Neal, Norman Lear, Steve Austin, Kaitlyn Bristowe, Dan Patrick, Cold Case, Spencer and Heidi Pratt, Rob Riggle, Heather and Terry Dubrow, Jim Harbaugh, Geffen Playhouse, Ladygang, Dr. Drew, Chael Sonnen, Penn Jillette, Rich Eisen, Jay Mohr, the Forbes on PodcastOne Network and more.