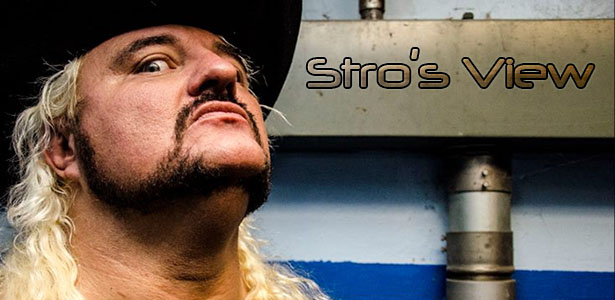 Welcome world to another edition of Stro's View exclusively on PWMania.com. The next WWE "special event" Extreme Rules is almost upon us! The aftermath of WrestleMania 30 brings new feuds and rising new stars. So let's get started.
El Torito vs. Hornswoggle (Pre-Show 'WeeLC' Match)
The clash of the smallest! Hornswoggle is back! Becoming a member of 3MB. He takes on the very acrobatic El Torito who is a member of Los Matadores. Can Hornswoggle take down the bull? Can El Torito silence the little rocker? Lot of rockin' and bull flyin' in this one.
Stro's pick: El Torito
Rob Van Dam vs. Jack Swagger vs. Cesaro (Triple Threat Match)
A triple threat match with three great athletes. You have an all-american wrestling great in Jack Swagger, former WWE/ECW heavyweight champion in Rob Van Dam, and the amazing strength of Cesaro. With the rivalry of Swagger and Cesaro, this would give RVD an obvious advantage. But in this one I'm going with the "King of Swing".
Stro's pick: Cesaro
R-Truth & Xavier Woods vs. Alexander Rusev (2-on-1 Handicap Match)
Alexander Rusev has been very impressive in his dominating victories over Xavier Woods and R-Truth. This time around, Woods and Truth combine their efforts to even the score on the Rusev. Will the experience of R-Truth and the youth of Xavier Woods together be enough to defeat the Ravishing Russian Lana's Bulgarian Brute?
Stro's pick: Alexander Rusev
Intercontinental Champion Big E vs. Bad News Barrett
Big E has be a strong Intercontinental champion. Holding back the challenges of Curtis Axel, Damien Sandow, Alberto Del Rio, and Jack Swagger. But Wade Barrett has returned to action with impressive victories and winning the tournament to become the number one contender to Big E's championship. Can Big E power his way to another victory or will Barrett bullhammer his way to become intercontinental champion? My prediction is "Bad News".
Stro's pick: Bad News Barrett
Divas Champion Paige vs. Tamina Snuka
The new "Divas" champion Paige has been showing her impressive wrestling skills including her finisher the modified Scorpion Crosslock done in the past by the great Bull Nakano. She faces a very tough challenger in Tamina Snuka. Will Paiges skill be enough to overcome the power and ability of Snuka? Should be Paige's toughest test yet.
Stro's pick: Paige
John Cena vs. Bray Wyatt (Steel Cage Match)
What an interesting feud this has been. Despite Cena's victory of Wyatt at Wrestlemania, Bray seems to be getting in John's head with his mind games. From having the fans chant with song to coming out to a children's choir wearing lamb masks, the Wyatts definitely bring something different to the table. Cena at one point even questioning his own fan base. Can John Cena overcome Bray Wyatt once again inside a steel cage or will Bray Wyatt be victorious and spread his "message" further?
Stro's pick: Bray Wyatt
The Shield vs. Evolution
This one is gonna be an all out battle! The dominating group of Evolution has returned to face the equally dominating Shield. Their brawls as of late have been back and forth. Former Evolution member Ric Flair giving his endorsement to the Shield was a shocker which led to more chaos. Will Evolution show once again why they are the most ruthless group in WWE or will the Shield reign supreme and be the conclusion of Evolution?
Stro's pick: The Shield
WWE World Heavyweight Champion Daniel Bryan vs. Kane (Extreme Rules Match)
The new WWE World heavyweight champion has been threw so much since winning the title at Wrestlemania. Kane certainly hasn't helped with tombstone piledriving him three times and trying take his new wife underneath the ring. Bryan is hurt but has vowed to seek revenge on Kane. An "Extreme Rules" match would on paper show Kane having an obvious advantage. But Bryan has defied the odds before many times. Can Daniel Bryan and the "Yes" movement overcome the "Big Red Monster"?
Stro's pick: Daniel Bryan
What are your predictions? Comment below with your thoughts, opinions, feedback and anything else that was raised.
– Would like to send out my heartfelt thoughts, prayers, and condolences to the family and friends of the late fellow WCW alumni Lee Marshall. Marshall was a part of the broadcast team for AWA Championship Wrestling on ESPN and then later in WCW co-hosting WCW Thunder with Bobby Heenan and Tony Schiavone. "Stagger Lee" also interviewed and announced with Mike Tenay and Scott Hudson on WCW Saturday Night as well as a staple of WCW Monday Nitro with his regular "weasel" jokes at Bobby Heenan in his road reports. Marshall was the ring announcer in Los Angeles for WrestleMania 2. Also a longtime radio announcer and the voice of "Tony the Tiger". Will never forget you Mr. Marshall.
– Here is the trailer for a film I am in coming up this fall, "The Hollow Oak"
Upcoming Stro appearances:
May 3rd
8pm Union County Fairgrounds in Union , SC
facebook.com/transsouthwrestling
May 5th
11:30pm est. with Brady Hicks and Dean Dixon on the "Rubbed Raw" radio show
vocnation.com
May 10th
ZombiefestWV at Camp Virgil Tate in Cross Lanes, WV
zombiefestwv.com
May 11th
7:30pm Xtreme World Wrestling at Kate's Skating Center in Indian trail, NC
facebook.com/xtremeworldwrestling
May 31st
7:30 UPWA at the National Guard Armory in Wilmington, NC
theupwa.com
Thank you for taking time out to read Stro's View exclusively on PWMania.com. Enjoy this Sunday's Extreme Rules special event. Strength and Faith World. God bless.
Stro
TheStro.com
About The Stro: The Stro is best known for his appearances with World Championship Wrestling under the ring name The Maestro. Stro has also wrestled for independent promotions such as the United States Wrestling Association, Smokey Mountain Wrestling and the World Wrestling Council.