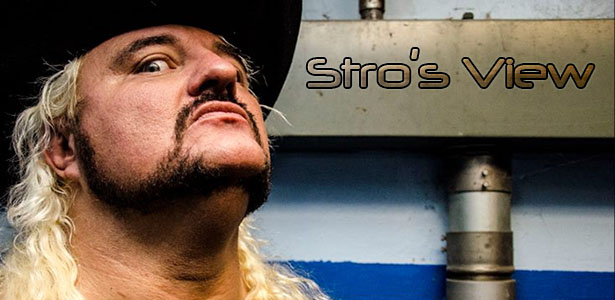 Hello everybody! Hope you all are staying warm with this crazy weather. One of my favorite Pay-Per-Views of the year is almost here. The WWE Royal Rumble. The 26th just so happens to be yours truly's birthday! A Stro Birthday Royal Rumble day. Imagine that! So let's look thru this year's card and get the Stro view!
WWE Tag Team Champions Cody Rhodes & Goldust vs. The New Age Outlaws (Kick off match)
The Rhodes Dynasty has remained strong thus far retaining the Tag Team gold facing many challenges and having superb matches. Goldust continues to amaze with his comeback performances having great tag team chemistry with his brother Cody. Former DX members The New Age Outlaws has once again resurfaced. Only this time around has turned on fan favorite CM Punk and has joined the Authority. With a non-title victory over Brothers Rhodes, Road Dogg and Billy Gunn are going into the Royal Rumble PPV with a lot of momentum. Should be a great tag team encounter!
Stro's Pick: Cody Rhodes and Goldust
Daniel Bryan vs. Bray Wyatt
The "Yes" man meets the "Scary" man. Bryan's "joining" of the Wyatt Family was very short-lived. Daniel turned on the Family in their tag team encounter with the Usos in a steel cage on Raw. Bryan's turn was epic, proving he is "The" hottest star in WWE right now. Bray is very unorthodox and vows for revenge with the Family. Best promo in WWE currently. This should be a classic.
Stro's pick: Daniel Bryan
Big Show vs. Brock Lesnar
The "Biggest" meets The "Beast". The Big Show has come alive in recent weeks showing his strength and power over the "Beast Incarnate" Brock Lesnar. This is rare as Lesnar doesn't usually gets man handled that often in the ring. Speaking of Lesnar, to those whining about how he doesn't deserve the attention due to being a "part-timer". Excelling in Collegiante/Professional Wrestling, Attempted Professional Football, and UFC champ. Enough said. This match should give a whole new meaning to the term "ground-shaking".
Stro's pick: Brock Lesnar
WWE World Heavyweight champion Randy Orton vs. John Cena
The "Viper" defends the gold against arch-rival John Cena. These two are no strangers to each other. Orton in recent weeks has slumped suffering a non-title loss to Kofi Kingston along with attacking John Cena's father at ringside. This Sunday, can Cena stay focused to win the WWE World Championship or will he be blinded to seek revenge? Speaking of Cena, until you find a better all around role model than John Cena to the fans, he will always be the go to guy . Maybe if enough would stop whining about him and start being more like him, the Wrestling business would be much better place today. All is on the line this Sunday!
Stro's pick: Randy Orton
30 Superstar Royal Rumble match
It is everyone for themselves. So many possibilities for this year's Royal Rumble match. We know the returning Batista will be taking part in it. CM Punk has been selected to be the no. 1 entry. Have no doubt there will also be a few "surprise" entrants as well. A well known star who is coming back or a legend returning home. These matches are always exciting. Matches like these should create new stars to be showcased for the big dance, WrestleMania.
Stro's pick: Undecided..believe it or not
The WWE Network, Jake "The Snake" Roberts, DDP, Upcoming Film & More
Huge announcement about the WWE Network launching at the end of February. A must for any wrestling fan. You can check out PPVs, specials, along with wrestling past and present including getting to see some vintage Stro! ;) Can't wait to check it out!
It was great to see my friend, mentor, former tag team partner, and wrestling legend Jake "The Snake" Roberts recently return to Old School Monday Night Raw. Saw him this past November and actually had an inpromptu match with him at "WrestleCade" in Winston Salem, North Carolina. He looks fantastic and has come back from a lot. My WCW alumni buddy Diamond Dallas Page has helped him so much with DDP Yoga which I doing myself. It's amazing folks! Jake is a Wrestling psychology master. Have had some great matches with him over the years and learned a lot from him traveling the miles and the world. His mind never sleeps. A lot can learn from him. Jake, very proud of you brother! Love ya man! Inspiration. Hall of Fame…DDPYoga.com
My little brother Scott is quite a character. From knocking out Dracula at a haunted house to impersonating Macho Man in front of Randy Savage. Randy loved it and gave him some Slim Jims. He was backstage with me, Booker T, Sting. and the other boys the night Goldberg wrestled William Regal. Goldberg is a very strong man and have seen him spear guys into next week. Lot of us despite Goldberg's run at the time knew however how legit Regal was. But Scott called it. "Regal ain't going down like no punk y'all watch!" Sure enough Regal put Goldberg thru a clinic, even making him look cross eyed. All the boys were high fivin' Scott. LOL! Love ya bro!
Will be starting in production this summer for a new movie I will be in called Dracula's War with director Jonathan Moody . Will be playing the role of Jacob in the 1800's fighting Dracula. Get to use a crossbow in the film which is pretty cool due to me really doing archery. Really looking forward to do this role.
Stro Appearances:
* Feb. 8th Pelham, NC Community Center for Pure Pro Wrestling
* March 1st Elks Lodge #2266 Severn, MD being inducted in the Maryland Wrestling Federation Hall of Fame
* March 13th Xtreme World Wrestling at Club Hush in Charlotte, NC
Thank you for taking time out to read Stro's View. Enjoy this Sunday's Stro's Birthday Royal Rumble PPV day. I certainly going to try to on my end. Strength and Faith World. God bless.
What are your WWE Royal Rumble predictions? Post your thoughts, opinions, feedback and comments below!
Stro
TheStro.com
About The Stro: The Stro is best known for his appearances with World Championship Wrestling under the ring name The Maestro. Stro has also wrestled for independent promotions such as the United States Wrestling Association, Smokey Mountain Wrestling and the World Wrestling Council.