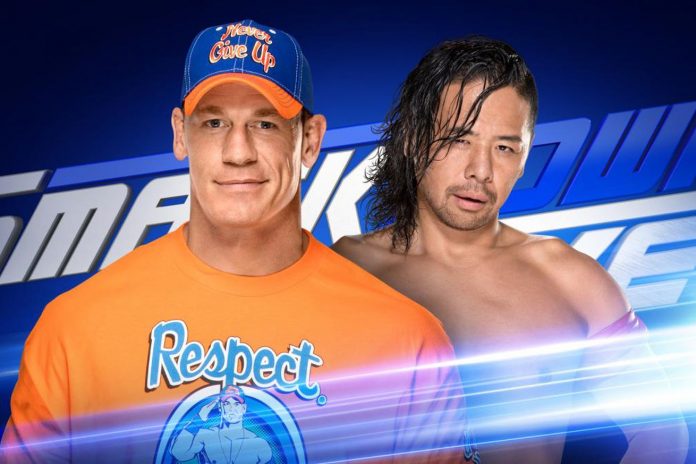 As noted earlier via Justin Barrasso of Sports Illustrated, Vince McMahon was said to be furious with Shinsuke Nakamura after the Japanese Superstar dropped John Cena on his head with the reverse exploder suplex in the main event of last week's WWE SmackDown in Cleveland. That match saw Nakamura defeat Cena to go on to face WWE Champion Jinder Mahal at SummerSlam.
SI noted that while Cena was not injured, as he's scheduled to face Baron Corbin at SummerSlam, Nakamura did not escape the wrath of McMahon. Barrasso added that Vince has not lost his faith in Nakamura but if he makes another mistake on a big stage, Vince will have an entirely different opinion of him. As noted, PWInsider recently reported that Nakamura dropping Cena on his head was described as a "fluke thing" backstage. Nakamura reportedly apologized to Cena immediately after the match but Cena told him it was fine.
WWE Hall of Famer "Superstar" Billy Graham took to Facebook late last night and ripped Vince over the story, calling him a cry baby and telling him to grow up. Graham also commented on Vince keeping Cena as the face of the company for years, saying he's on his way to "la la land." You can see Graham's full post below:
Vince McMahon

Hey fans, I just read a few hours ago that a story came out today in Sports Illustrated concerning the FURY of one Vince McMahon. Seem that he is furious with the Japanese star Nakamura, for dropping Cena on his head in their match last week. Vince said he "is not so much that mad at at Shinsuke, but that Cena has been the " FACE " of the company for a full decade now." Not for long Vince madman McMahon. Cena is on his way to La La land.

I saw Stan Hansen give Bruno the elbow in MSG when he broke Bruno's neck. Vince Sr. didn't cry like a baby, he just let Bruno get his neck fixed and keep on wrestling. Vince is living in Disney Land if he thinks Cena is still the " Face " of the WWE. Grow up Vince.

Hey fans, I am still working on my painting, will get it up for you in a few days. Catch you folks later.

Superstar Billy Graham… PS.. God, Vince is such a cry baby !!!