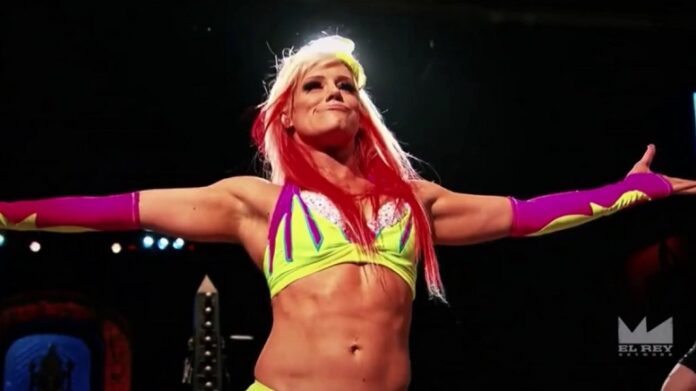 Taya Valkyrie recently spoke with Interactive Wrestling Radio. Taya, Johnny Impact Mundo's fiance, discusses her career thus far in wrestling, her goals i Impact, the terrible Sexy Starr incident, and the future of Lucha Underground. Here are the highlights:
On her debut with Impact Wrestling:
"This is only the beginning! It's been amazing! It is so different from what I'm used to like being in AAA and Lucha Underground. But, that's what is exciting! I try to always evolve as a wrestler and a performer and as a character. I just think this was a natural progression and next natural step in my career."
On what is so different at Impact Wrestling than Lucha Underground and AAA:
"(Laughs) Everything about it is different! It is a totally different roster, obviously, so I'm facing women I've never faced before who all wrestle in different styles. I'm Canadian but I also spent 5 years of my life in Mexico in AAA. It's just so different. The speed is different. We're wrestling to the left instead of the right. The ring is different. The fans are completely different! But, it's cool! It's a challenge just like anything. But, you know, I've started at the bottom and came up from there always. I've always had these challenges throughout my career and different barriers I have to break through and create a name for myself. This is just one more opportunity to do so!"
On if she knew she was headed there when GFW did the ballpark shows in the Northeast:
"For me, I've worked in AAA with Jeff and Karen (Jarrett) for many many years. We would always discuss me coming up and working with them and doing different projects with them. There was never ever an opportunity to do so. Things change! You know what I mean? I now live in the States. It is just the perfect timing. So, when they invited us to do the live evemtsn, that was just step 1 and it just evolved from there. I hope to evolve with Impact for a long time. The women there are just so talented. Everyone wants to have really good matches. It shows their heart for this business. I want to work with girls like that and I'm just really happy that I'm part of that locker room now."
On making the big trip down to Mexico from Canada:
"I had been given a contract from WWE. Then, they decided they didn't want me. I was feeling very depressed and up against a wall with my career. I didn't really… I knew this is what I wanted to do. So, I just found an opportunity to do it! I was invited to train in Mexico. I went and trained and I stayed! I mean, Perro Aguayo Jr, who passed away a few years ago, changed my life. So did Konnan. So did the whole Roldan family. So did all the people who helped me out along the way. And, all those people who didn't believe in me, I thank them too because they were just part of that motivation that helped me get through the hard times that I had down there. It's an evolution of Taya that's grown up in front of the Lucha Libre community. And now, I get to present that to the American wrestling community."
"Inter-gender matches have been a part of Lucha Libre forever, ever, and ever. We did lots of mixed-tags and different scensarios like that on AAA TV. I'm sure if people looked it up, it wasn't my first time inter-gender wrestling. But with Brian (Cage), what he said is exactly the truth! I came in there. There was no change in speed, strength, or anything. That was my first match in Lucha Underground. As someone who has always had to fight for recognition, it was just one more opportunity for me to be like, "You know what? They think I'm going to go in there and let this guy beat me up and not have fire. I have more fire when you tell me I can't do something or put me in a position where I am the underdog. I'm so thankful Brian (Cage) is the artist and professional that he is. He let me show how strong I am as a professional wrestler and as a performer. I can't wait to have my rematch! (laughs)"
On Lucha Underground Season 4 and if we'll ever get it:
"Ugh! Honestly, we are in the same position as all of you. We don't know what's going on. It's been a frustrating situation for all of us. It's been 15 months since we filmed Ultima Lucha Tres! We love making that product. It is a totally different product than anything else in the wrestling world. We're like sitting ducks waiting. But, that's why it is cool that we all have these different opportunities like I went to Japan twice last year, I'm now doing stuff with Impact. I got to travel across the States and wrestle anyone that I want. Take it for what it is. I'm just really excited and hoping we get some news really soon about it."
On what really happened leading to her leaving AAA:
"Well, of course they're going to say different! (laughs) I know the truth because I lived the truth. That's fine. Let them say what they're going to say to make some people with the name called Vampiro look bad. (laughs) It is what it is. I couldn't go down to TV because I got into a car accident. They then stripped me of the title without telling me. Got back the title by lying to Johnny about it. It was a big old mess. But, I am not a grudge holder. I don't believe in closing doors. I'm continuing to live my life. With that said, what happened sucked. I really felt taken advantage of by a company I had so much loyalty towards. I felt really betrayed. The family down in AAA, they are my family! They protected me and took care of me and had me become who I am today within the Lucha Libre community… And then then went and did this. It really pissed me off. It didn't have anything to do with the belt itself. It had to do with a respect and a loyalty. A lot of people left the company. I decided to stay and be loyal to the company and got kicked in the butt. It was hard for me on a personal level because it felt like a betrayal. It is what it is. I would never wish bad on anybody or a company. But, i want them to recognize what they did… Yeah, I've heard these weird apologies from Vamp. it just doesn't make any sense. Everybody should just be honest with what happened and we'll move on. I'm an adult. I don't have time for childish games."
On Sexy Starr shooting on Rosemary:
"I was just so disappointed. I was in LA watching, I was not in Mexico even though some people try to say that I was. I was just so disappointed in the whole situation because I consider myself to be the face… Heavily involved within the Lucha Libre world. It was really sad for me to watch. I don't think I really want to say too much about it because I think it has been talked about enough. Some people just don't deserve that attention. But, I just think that everyone's true colors show in the end."
On working with Rosemary in Impact:
"I'm really glad Rosemary is doing better now. I can't wait to get in there and have a big old Canadian brawl with her. (laughs) I have a feud with Sexy Starr on Wednesdays and with Rosemary on Thursdays. It's a little crazy! I can't wait to work with her (Rosemary) and see where this goes. I'm excited for you guys to see how this all evolves. Lets see if the Demon Assassin really is the Demon Assassin! (laughs)"
On Impact going to her birth country of Canada for Bound for Glory:
"It's been years since I've wrestled in Canada! (laughs) I'm excited to come home! I am from the West Coast. Hopefully someday, Impact will make its way west. It is going to be interesting. We haven't been in front of that crowd… Impact hasn't been in front of a Canadian crowd, I don't know if it has ever happened? I'm not sure. Everytime you go to a different city, it is a challenge. Orlando has been so good for Impact. So, Ottawa, come on! Come through! Be there for us and just know we're going to put it all out there!"
On being on her own in Impact:
"Throughout my career, I've always been associated with factions. For example, I am in Worldwide Underground in Lucha Underground. But, for the first time, Taya gets to stand on her own!"
On Johnny Impact so far in Impact:
"Who is Johnny Impact? (laughs) It's cool. I'm just so proud of him on all he is doing as Johnny Impact and Johnny Mundo!"
On the Women's Revolution:
"I think it is something that has evolved over time. I don't want this to be a trend. If everyone loves women's wrestling because we are challenging ourselves and having these crazy ass matches, then believe in us too. Don't just talk about it." She goes on to credit women's wrestling through the years including and especially Trish Stratus and Lita.