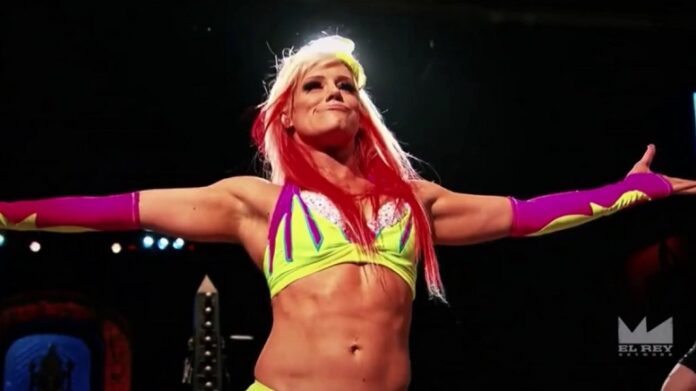 Taya Valkyrie has an itch to get more involved in the pro wrestling business in a behind-the-scenes role.
In particular, a gig on the creative end of things.
The reigning MLW Women's Featherweight Champion recently spoke with the folks from Fightful.com for an in-depth interview covering all things pro wrestling, during which she expressed interest in working in a creative role behind-the-scenes in the wrestling business.
Featured below are some of the highlights from the interview where she touches on this topic with her thoughts.
On how she has an interest in writing and producing for wrestling: "I've said this also before, I have a huge interest in learning about that because I haven't really had the opportunity to sit and learn what's going on in the headsets and the monitors and what's going on in the truck. So that's definitely something that I want to do. Especially, I'm super into writing and creating characters and working on character work and aesthetics and all that kind of stuff."
On how she can use her experience and the things she's been through to add to creative: "So I would also love to be a part of a creative team at some point because I think that I have the experience, I think that I have the passion. I've been through a lot of really weird shit which makes for a good story. I think I do have interest in doing that in the future and you never know. This is an industry that's growing and evolving every single day. If you are not learning, you're being left behind. So I just want to keep doing that and keep learning from my friends, from my peers, from people who have been doing this less time. You learn form everybody and everybody affects you in a certain way. So it's very important to me that people continue to do that and grow."
Check out the complete Taya Valkyrie interview by visiting Fightful.com.