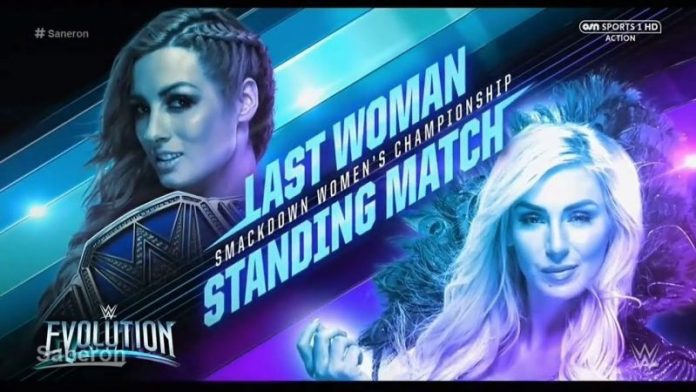 Heading into WWE Evolution there had been a lot of criticism that the event wasn't promoted fairly.  The event, in my opinion, received normal amount of PPV build; however, compared to Crown Jewel's WrestleMania-level hype, it paled in comparison.  I just finished watching the WWE Evolution PPV and wanted to share my thoughts.  This is my WWE Evolution review!
First Impression!
I noticed from the very moment that I started the PPV stream that the presentation was big time.  WWE Evolution's first impression wasn't that it was a throw away show or B-show. The red-carpet gimmick and interviews gave Evolution a big night feel, and rightfully so.

Evolution opened with a live band performing, which included Nita Strauss on guitar and Lzzy Hale on vocals.  Immediately I knew that this show was going to be something special. WWE only brings in the live band gimmick for special occasions.  The lighting for the event was also something special. The ring was the focus, as the crowd was darkened, and I really enjoyed that.
The Undercard
The opening match featured Mickie James and Alicia Fox taking on Lita and Trish Stratus.  I thought the match was fun to watch, and all performers involved did an incredible job. Seeing Mickie and Trish revisit their feud was awesome.

The next match was the 20 women battle royal, where the winner earns a championship match in the future.  I was hoping to see Layla El show up and have a showdown between LayCool and IIconics, but that didn't happen.  The story told in the battle royal early on was the present versus the past, and that was a great mark-out moment.  
Nia Jax and Tamina had a small tribute for Roman Reigns, and even took out a lot of talent together. Ultimately it was Nia Jax with the victory of another fun match.

The finals of the 2018 Mae Young Classic featured Toni Storm taking on Io Shirai.  Both women have great chemistry together. Toni Storm came up short last year, but this year she went all the way.  The winner of the tournament was Toni Storm. I absolutely love Storm's work in the ring.

The six-woman tag team match was a match that I didn't have major expectations for, but I am glad the women changed my mind on that.  Bayley, Sasha Banks, and Natalya took on the Riott Squad.
The Riott Squad are so fluid in the ring together, such a great cohesive tag team.  They remind me of Kaientai in that regard, really pulling from the playbook of Sho Funaki, Dick Togo and Mens Teioh. Sasha hit a frog splash to pick up the win for her team.
The Championship Matches
Kairi Sane defending her title against Shayna Baszler was a badass match, straight up.  I loved how the ending of the match played out. Marina Shafir and Jessamyn Duke got involved in the match and allowed for Shayna to lock in the Kirifuda Clutch.  
Kairi passed out, and the ref stopped the match, giving Shayna the win and making her a two-time NXT Women's Champion. I liked the ending because of the introduction of Duke and Shafir, and for Kairi to not tap out made her look strong.

Charlotte and Becky Lynch in a Last Woman Standing match, for Lynch's SmackDown Women's Championship, was by far the match of the night.  These women went out and put on a show for everybody. They brawled all over the arena, they broke tables, they used a few dozen chairs, you name it!  Becky Lynch retained her championship, to the crowd's delight, and it was awesome!

The closing match of the night was Ronda Rousey defending the RAW Women's Championship against Nikki Bella.  Ronda really proved herself in this match. It wasn't a squash match, as a lot of people had said her career would consist of.  
Each time Ronda is in the ring she proves that she's here to stay, and that she's taking it serious as a member of the WWE roster.  Ronda and Nikki pulled off an enjoyable match. I popped big time for Ronda carrying both Bellas on her shoulders. The finish saw Ronda making Nikki tap out.
Overall Thoughts
The live crowd in Uniondale was red hot all night long.  This was such a great show from top to bottom, and the crowd knew it.  My expectations for this event weren't necessarily high, but they weren't low either.  Did WWE Evolution pass my expectations? Big time! Major props to the workers and crew members for putting on a hell of an event.  I hope WWE does more events that are exclusive to their women's division. There is no doubt in my mind that WWE Evolution was a major success.