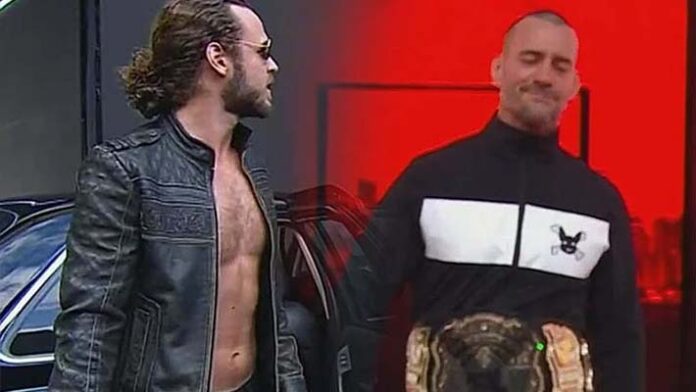 All Elite Wrestling has a serious management problem.
Once again, instead of the success of a major pay-per-view being in the headlines, the narrative around AEW is based on the backstage chaos. During the first half of the event, instead of viewers ready for the main event of the Wembley Stadium show, fans flocked to social media to get updates on yet another backstage fight that involved CM Punk.
This time, the real-life Phil Brooks got into an altercation with Jack Perry, who worked a pre-show match against Hook. In the weeks prior to All In, a story surfaced online of a behind the scenes disagreement between Perry and Punk at a Collision, CM Punk's personal show to play the top star, taping where Punk refused to let Jungle Boy use real glass for a segment. During the pre-show bout, Perry arrived in a car that was parked in the entrance way and then the two grapplers brawled toward the vehicle. At one point, Perry looked into the camera and said, "it's real glass, cry me a river" as a jab at Punk.
What happened next depends on what account of the incident that you read, with some saying that Perry approached Punk before Brooks went through the curtain for his match with Samoa Joe. That side of the story claims that Perry tried to get physical with Punk, who put him in a choke hold before security broke it up. Another version claims that Punk confronted Perry and then threw a punch. Regardless of who initiated the fight, it's confirmed that the incident happened, which Tony Khan mentioned briefly in the post-PPV press conference. Bryan Alvarez reported that Perry was immediately escorted from the building by security, and Punk was also eventually asked to leave the venue. More news was revealed since the show went off the air as Sports Illustrated reported that both Jack Perry and CM Punk were suspended, pending an investigation of the altercation.
If this is true, it would probably rule Punk off of this weekend's All Out show, the pay-per-view scheduled for his hometown of Chicago.
There are a few different ways to look at this scenario, but it's difficult to ignore that CM Punk is the common denominator of much of the backstage drama within the organization. Ironically, I penned an article just two weeks ago and explained why I didn't think CM Punk was worth the hassle that he brings to the company after he buried Adam Page on the mic during a post-show promo following a Collision taping. The Punk/Elite drama dominated much of the news cycle that surrounded AEW following the infamous All Out brawl last year, and Punk went out of his way to put the drama back in the headlines after it looked like the tension finally settled between the two sides.
It didn't take long for CM Punk to provide another reason why the baggage he brings to the table eclipsed his level of star power.
That being said, this whole debacle is a glaring example of the continuous mismanagement of the organization. I've praised Tony Khan for his efforts to spark the industry, but at some point, it must be recognized that many of the issues that plague AEW boil down to the fact that Tony Khan seemingly would rather be a wrestler's friend than their boss. Don't get me wrong, there are going to be issues between talent and promoters as long as the wrestling business exists, but there's also a reason that many successful promoters were criticized by disgruntled talent. That's just a part of the nature of the industry, tough decisions have to be made and you can't keep everyone happy all the time. Paul Roma probably thought it would've been a great idea to beat Hulk Hogan for the WWF championship, but Vince McMahon had other plans.

It's still a rather murky situation, but does CM Punk essentially run Collision? Is he now a part of AEW management? If he is, who thought that would be a good idea, and more specifically, other than his ego, what qualifies Phil Brooks to run a weekly national television show? Apparently, Punk had the power to veto Jungle Boy's angle with glass so it appears that he has some type of office role. Given the previous fight backstage, should Punk have that type of power over other talent? Now, don't get me wrong, the notion to use glass for a television taping is ridiculous, and someone should've overruled Perry, but should it have been Punk? Furthermore, who booked the car for Perry to use at the pay-per-view? Was this Tony's way of appeasing Jack Perry?

As far as what happens next, unless Tony Khan takes a direct stance on the issue, nothing will be resolved and the track record of backstage fights suggests that another incident would happen in the future. It sounds simplistic, but the talent must be willing to work together to draw money. They don't have to send each other Christmas cards every year, but the common goal of drawing money so that everyone can continue to make a full-time living in the industry must be the priority. That's how professionals work, and more often than not, that hasn't been the case in AEW. CM Punk seemed content to continue to be one of the highest paid wrestlers on the roster when he took cheap shots at the company on social media when he was still on the sidelines earlier this year.
That's also another major problem, CM Punk claims he wants to settle things, but those things only stay settled until CM Punk decides they're not settled. He got a chance to throw cheap shots on the mic at The Elite when he returned for the debut episode of Collision, but then buried Adam Page in the post-show promo a few weeks ago. It's extremely ironic that Punk's original rant that started all of this was his claim that wrestling is a business, but he certainly isn't doing business if he's suspended from the All Out pay-per-view. Will his absence sell more tickets or PPV buys?
Clearly, CM Punk was under the impression that another backstage fight would have minimal consequence or he just didn't care what the potential consequences would be. Either way, it's obvious that doing business for AEW isn't a matter of importance to him.
This all speaks to the ineptitude of Tony Khan as a pro wrestling boss. Make no mistake about it, by all accounts, Tony Khan is a great guy that actually cares about his roster, but that doesn't automatically make him suited to be the boss of a company. There wasn't really any decisive action taken after the All Out incident last year, particularly because The Elite were kept on Dynamite and then CM Punk was given his own show. Again, if the talent can't work together to draw money then the problem wasn't addressed, it was avoided to attempt to keep everyone happy. At the very least, if Punk and The Elite didn't want to work with each other, Tony could've said that he expects them to be professionals and at least be in the same building for weekly television without incident. That's not an unrealistic expectation, and Tony could've released any of those involved if they refused to show up for work or couldn't be in the same venue without another fight.
But, Khan didn't draw the line in the sand, and as far as CM Punk goes, the situation is almost back to square one.
At this point, if Phil Brooks continues to work for AEW, what message does that send to the rest of the roster? If Jack Perry started the fight and Brooks was defending himself then Perry should be fired. Some type of statement of actual management must be made or the story of AEW will probably always be an organization that had a lot of potential in front of the camera, but wasn't run properly behind the scenes to truly continue to expand as an organization.
If there's not a zero tolerance policy for backstage fights going forward, I honestly think it proves that Tony Khan won't be an effective pro wrestling boss. He has absolutely done a lot of great things for the industry, but again, if the talent are fighting behind the curtain then they aren't drawing money in the ring.
If Jack Perry gets his walking papers, it's very doubtful that it will have a major impact on the standing of the organization. He plateaued as a performer, and after the infamous convention appearance earlier this year when he appeared completely aloof and indifferent to pro wrestling, the majority of the AEW fan base soured on him. It's really disappointing because it looked like Perry had the potential to be a major star, but the harsh reality is, he's probably expendable on the AEW roster.
The other side of the coin is CM Punk, and I have to say that I honestly believe that he would have a major issue any place he worked. He couldn't get along with management in WWE, and the majority of his AEW stint he had several disagreements. The common denominator is Phil Brooks, and as I've said before, Punk is about Punk, not the prosperity of pro wrestling so Tony Khan should be very careful, not only how he handles this situation, but if Punk should have any power in the company in the future.
Given that the company did fine when Punk was injured for several months, I'd say that CM Punk is also expendable to the organization. If you need proof of that, it looks like they are going to run this week's TV and the pay-per-view without him. The bottom line is, this entire situation does nothing to generate business for AEW and that says a lot about the mismanagement of the company.
What do you think? Share your thoughts, opinions, feedback, and anything else that was raised on Twitter @PWMania and Facebook.com/PWMania.
Until next week
-Jim LaMotta
E mail drwrestlingallpro@yahoo.com | You can follow me on Instagram, Facebook, & Threads @jimlamotta89