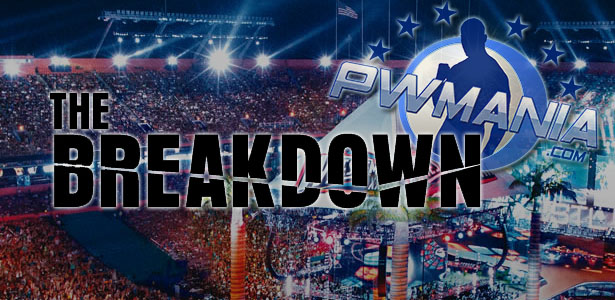 I'll never let you down, I'm a shine on sight
Keep your mind on your grind, and off mine's alright? Right
Hard I'm a ball on them squares I float
Quarter million dollar cars everywhere I go
I know in the lead it may seem they might be
But no matter what they doin', they don't do it like me
Like a G I hold it down for the town I'm at
And I flash like that
Recognize I'm back!
What's good PWMania? I'm Rey Ca$h, and this is The Breakdown. I've been a bit burnt out on writing lately. When I was brought on to work here, I was supposed to write about the news of the week and put my own spin on it. I thoroughly enjoy doing that and plan on continuing to do that, but news has been pretty bland for the past two weeks. So, I had to think of something else to do. For those of you that read this column, you know I'm pro-wrestling and pro-WWE. With that being said, I believe that WWE did a pretty good job with the build to Survivor Series. In fact, I bet a good friend of mine over at LordsofPain.net, Dr. Chad Matthews (The Doc) a WrestleMania 30 DVD that the Survivor Series buyrate would be over 230,000.
Since I bet that with Chad, and since Chad started his wrestling writing career as a show reviewer, I figured I'd "review" the show and really see if I have a chance at winning this bet. So, let's see if I have a chance. (By the way, Chad just wrote a book called The WrestleMania Era: The Book of Sports Entertainment.) Also, Chad and I talked about doing something for our readers involving the bet. If you have any ideas, please, let me know in the comments, email me at reycash88@gmail.com, or tweet me @ItsReyCash.)
The main talking (or complaining) point of this show was the main event, the WWE Championship Match between Randy Orton and Big Show. A lot of fans seem to think that Big Show isn't over, but every show, he's getting a massive reaction. And Randy Orton is playing his chickenshit, front running heel act brilliantly. From his tantrums to him calling out the Shield, you almost get the idea that he really is terrified of losing his title to the Big Show. Based on both men's styles, this was guaranteed to be a slow match. While there were points that bordered on boring, both men told a good story. Orton tried to get away from Show at every turn, refusing to fight him straight up. Once he finally got the upper hand, he began to gloat like he was never worried in the first place. The match ended when The Authority (Triple H, Stephanie, and Kane) came to the arena, and Big Show seemed to forget he was in a championship match, being distracted by them. Orton hit him with an RKO and a Punt Kick (welcome back!) to win.
The biggest news from this match seems to be that we are headed towards a John Cena/Orton feud over both championships and over who is truly the face of the company. It's perfectly fitting, if you remember the only reason WWE needed a new face was because Cena was hurt in the first place. While I would rather not see Cena VS Orton WrestleMania, we very well could be getting that. I think, however, that we see a Unification Championship Ladder Match at TLC. Then Orton and Cena feud until Elimination Chamber, with the Royal Rumble Winner getting their shot at WrestleMania. Either way, fans that think that the titles lack credibility are being shown that the WWE is giving them proper respect.
Speaking of John Cena, him and Alberto Del Rio had an absolutely great match last night. Say what you will about Del Rio, but he is easily one of the best wrestlers in the company. It will be refreshing to see Del Rio in a feud that's not over a World Title, but he is definitely a useful commodity.
If you've been looking for the next big star in WWE and wrestling in general, he began his ascent last night. Roman Reigns is a freak of nature. The guy is a legitimate spectacle. In the Traditional 5 on 5 match, Reigns eliminated 4 of the 5 participants on the other team, with Rollins eliminating the other. Not only did he eliminate 4 of the 5 participants, but he dominated them. It was an absolute star making moment, even with him getting some extra minutes after the match to pander to the crowd. The truth of where Reigns is going is in the follow up, but last night, he looked as good as anybody.
The match that everyone was looking forward to the most was The Wyatt Family VS Daniel Bryan and CM Punk, affectionately called the "G.O.A.T.S." by Punk (Greatest Of All Teams). This match definitely didn't disappoint. While all four men gave a hard hitting, competitive contest, you could tell they were holding something back, possibly for the rematch. And I can't rave enough about how great Luke Harper is. He has to be one of the best big men to come into wrestling since Brock Lesnar. JBL compared him and Erick Rowan to Bruiser Brody and Stan Hansen, and having watched some of both men, that is a totally apt comparison. I'm looking forward to the moment when Bray locks up with Bryan and/or Punk.
The Diva's 7 on 7 match was refreshingly entertaining. While it was rapid fire eliminations (to hide most of the Diva's lack of wrestling prowess), a lot of the eliminations were well done and very interesting. The JoJo/Tamina spot and the Nikki Bella/Summer Rae spots were very memorable in my mind, and Natalya has once again been put in a spot of prominensce, making both Tamina and the Diva's Champion AJ submit to the Sharpshooter.
The pre-show match between Miz and Kofi Kingston was a refreshingly good opener, with both men having a nice exchange of chain wrestling and near falls, then turning a hard hitting contest. Kofi is finally starting to show some aggression, and Miz is showing some character with turning his back on Kofi Monday, only to shake his hand last night. Also, the Intercontinental Championship match between Big E Langston and Curtis Axel was a glorified squash. Big E seems genuinely proud to hold the Intercontinental Title, and I'm extremely happy for him. He has a ton of potential.
I think the Boston crowd, from my vantage point, was great. They were on fire for the entire show, with the exception of some of the main event. I enjoyed the show from top to bottom, and I'd rate it a 6.5 out of 10. I'd recommend it to you guys, but I know a bunch of you guys have already told yourself that the show would suck without watching it. That's fine. I enjoyed a hell of a show, and hopefully, I'll be getting a free DVD in the mail in a few months.