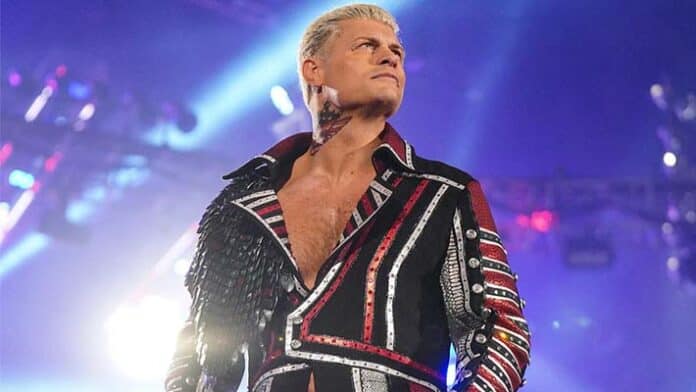 I recently attended WWE's Road To WrestleMania Supershow at Madison Sq Garden. It was a great evening with a very much like PPV feel at the Garden on a Sunday night. The steel cage that awaited Austin Theory and Seth Rollins hung above the arena as if we were in for a treat. However, besides the cage, and the championship banners, there was one more strain of energy in the air, and it all rang: The Amerrrrrrican Nightmareeeee CODY RHOOODES.
The show started HOT with a fantastic 10-woman tag team match! Damage CTRL, Piper Niven and Carmella vs. Becky Lynch, Asuka, Bianca Belair, Nikki Cross, and Candace LaRae. Lots of back and forth, fun spots, and love for Asuka and Becky. The faces beat the heels in a great opening contest worthy of a main event spot on a Saturday night PLE.
The show then continued to a really fun and revealing 18-man battle royal to determine who would go on to face Gunther. The revealing part of all of this was how much love LA Knight was getting. And deservingly so. I genuinely hope that they give him a spot at Mania night 2. This was not the last we would see of LA this show…
Ricochet would go on to win this match, not before an amazing spot where Dominik eliminated his dad, and Sheamus tried to eliminate his friend Drew, and vice versa.
Giovanni Vinci and Ludwig Kaiser both came out to taunt the crowd and Ricochet. They reminded us that the mat is sacred and that Gunther is our ring general. My gosh, I love these guys.
Gunther comes out, Imperium make their way down, and a big BIG big BIG pop at the Garden for Gunther and these guys. They really deserve a shot at the tag titles down the line. Gunther and Ricochet have an excellent back-and-forth bout but sadly, only a few chops from Gunther. They really save those for the TV, and I can understand why. Gunther wins.
You can already imagine the energy in the building. Up next was Solo Sikoa, along with the Usos. And this energy kept going, up until the moment the man's music hit and Byron Saxton, in his best Howard Finkel impression, uttered Cody's name. The roof blew off the damn place, and here we were: Cody entering the Garden and signing autographs, taking pictures. The only thing missing was the pyros.
Cody showed his grace and his charisma. He was excellent in the ring. It was my first time seeing him in a long time, and I was indeed reminded of how special he is. The TV does not do it justice. He and Solo had a nice back-and-forth. Solo even went through a table. The match ended with a DQ when the USOS got involved. Sami ran out of the crowd to make a save. Cody gave him the "I did not need help look, but thank you for the thought" look, and it told me that we might see a similar scenario plan out at Mania somehow. I do not know, it just felt like a re-do of Smackdown with a possible rehearsal for something to go down at Mania—just a thought.
Anyways, back to Cody.
His charisma, actual ability in the ring, and persona were evident and radiating with everyone in the crowd, including me.
His grace, his professionalism, and his love for fans is genuine. But what else is true is that Cody loves wrestling, and wrestling loves Cody.
And I do too.
Cody. You belong. You deserve it. You have earned it.
We then headed to a 15-minute intermission.
One moment during this break in action saw Byron talk to a VIP loyal fan ringside. A nice guy by the name of Bob who was shy. He was awarded a special championship belt. The reason is that he has been attending events ringside at MSG for over 40 years now, and with all the freebies and cool stuff that he got with it, he donated/donates all of it to people who would otherwise not be able to afford it. Indeed a remarkable man, and it was nice of the WWE to acknowledge him.
After the break, LA Knight comes out again. He says he was supposed to face Bray Wyatt tonight, but Bray basically did not have the balls to see him again in the ring. So he did an open challenge. Braun came out..and it was NOT a squash match. The producers backstage realized that the man was getting real love. So it turned into a nice 3-4 minute match with LA Knight getting some good moves in. Braun wins but does not squash.
We then had our Triple Threat match for the WWE SMACKDOWN WOMEN'S CHAMPIONSHIP. Out first is Sonya Deville. Out next is Liv to a huge pop. Sonya got some nice cheers but was mainly booed by the crowd. Charlotte came out to a huge pop and a lot of WOOOOS, naturally. Lots of great back-and-forth action with many fun spots, including Charlotte and Sonya rolling around the ring in a cradle formation, pinning each other back and forth. They did this bit for about a good minute, and it received a huge round of applause and cheers from the crowd, and rightfully so. Charlotte wins this one, obviously.
And finally, our MAIN EVENT.
THE CAGE LOWERS. AND STANDS THERE, WITH THE SUSPENSEFUL MUSIC…..for like two minutes. AUSTIN THEORY comes out to a mixed crowd. Nice pop from his fans in the crowd, like me, and many boos. This guy knows how to play a heel very well. Seeing what he does night after night is a lot of fun. The same exact thing can be said for Seth Rollins, who ALSO blew the roof off the place. People were singing his song from the moment Austin Theory's stopped, all the way down to West 30th and 7th. SETH IS OVER, and rightfully so! The man has a winning character and also a winning personality. This was a really, really good match that had a lot of close pinfalls. It looked like Seth was about to win the match at many points, and many people were truly starting to accept the possibility that he will walk into mania as US Champion instead of Theory. It was that realistically close, that dramatic. If we forgot we were in Mania season, this would have been an amazing main event on a PLE. It was a good match.
I had a great time at MSG, as I always do. WWE had a lighter roster in December, but the snow was to blame. The crowd and the roster were HOT all night!
What do you think? Share your thoughts, opinions, feedback, and anything else that was raised on Twitter @PWMania and Facebook.com/PWMania.
Follow me @thearibarkan on Instagram!