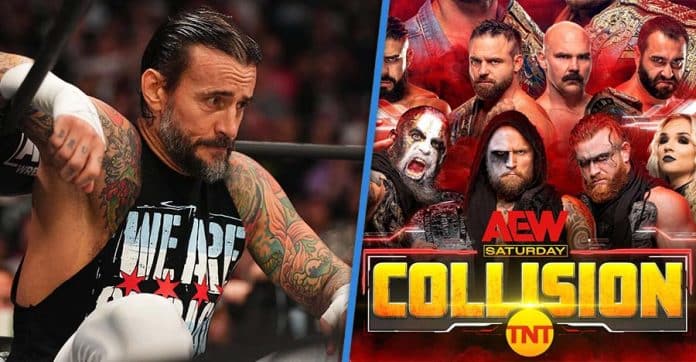 After a few months of speculation, Warner Brothers Discovery officially announced that All Elite Wrestling will get the rumored "Collision" show added to it's line-up with a two-hour time slot on Saturdays, with the graphic and the placement on the TNT network as a nod to the Nitro era. While Saturday night pro wrestling was a staple a few decades ago, it remains to be seen if a weekend television show will draw anything similar to the numbers that Dynamite draws on Wednesdays, which were sluggish recently because of sports playoffs. Outside of more cash for a third show, the addition of Collision to the AEW schedule also gave the rumor mill the notion that it would be a way to bring CM Punk back into the company without any involvement from The Elite after their backstage brawl last September. As I said previously, it's middle school drama if supposed professionals aren't willing to work together so everyone gets their own place on the play ground, but if Warner Brothers Discovery is willing to pay a hefty rights fee for a third show, and Punk is still under contract anyway, it makes sense to book him for something in an attempt to get a return on the investment.
The Wrestling Observer's Dave Meltzer reported a few weeks ago that a meeting took place with CM Punk, Chris Jericho, and some of AEW management in an attempt to smooth things over. However, after that, Punk went backstage at the Raw taping in Chicago and mended some fences, specifically with The Miz and Triple H before he was asked to leave, simply because he's still under contract to Tony Khan, and that might prompt accusations of contract tampering. As I wrote at the time, CM Punk is a masterful politician and make no mistake about it, he was letting Tony Khan know that he has options for big money outside of All Elite. In truth, it shouldn't be all that shocking that the door would still be open for Punk to return to WWE before he hangs up his boots. If Ultimate Warrior and Sable re-signed with WWE, it's definitely possible Punk could make a comeback. As much baggage as Punk brings with him, when you take the Dynamite ratings into account, there's still a portion of the WWE audience that hasn't seen Punk in the ring since his exit in 2014 so there would undoubtedly be a demand for him to return to Raw. If that level of demand is worth the hassle of dealing with the real-life Phil Brooks is a different scenario.
After his visit to Raw made headlines on social media, Punk also attended the Impact tapings when the company was in Chicago, but I think that was more Punk trying to spin the narrative that his visit to Raw wasn't a power play against Tony Khan than that he just wanted to welcome the Impact crew to his hometown.
Still, with the premiere date of Collision scheduled for Chicago, many assumed that Punk's return to the company and the rumors that he will be a staple on the Saturday show were more or less confirmed. However, that was until earlier today when PWInsider's Mike Johnson, one of the most accurate journalists in the sport, reported that CM Punk wasn't featured on the promotional material of the Collision announcement from Discovery because there was yet another disagreement in the negotiations to bring him back to television. According to Johnson, CM Punk was under the assumption that his trainer and longtime friend, Ace Steel, who worked backstage for AEW until the All Out brawl, would be brought back as well. Steel, who worked extensively in Ring Of Honor and had a stint in WWE as a coach, was released from All Elite because of his involvement in the backstage fight, biting Kenny Omega during the melee. Based on the current reports, Punk doesn't want to come back to the organization unless Ace is brought back with him to work backstage again.
PWInsider with an update on the CM Punk/Ace Steel situation.

This doesn't sound good. pic.twitter.com/kKbMzLCFL2

— Drainmaker 🌧️ 💵 (@DrainBamager) May 17, 2023

If this is true, and if it's being reported by Mike Johnson, I'd say that the news is credible, this should be the absolute last straw for Tony Khan if he actually wants to run a business instead of a vanity project. Keep in mind, Phil Brooks is being paid millions of dollars and the majority of that time that he was paid those millions, he was sitting on his couch because he's injury prone. Along with that, Punk trashed the company at the infamous All Out press conference while Tony sat there like a deer in the headlights. He also posted on social media more recently to lash out against Jon Moxley, Chris Jericho, the booking of the AEW title match. AEW has paid CM Punk millions, but has the company truly benefited from his association?
"You don't know me, you don't know anybody else, so go touch grass" – CM Punk pic.twitter.com/xrsiqcqEeH

— Wrestle Ops (@WrestleOps) May 17, 2023

The bottom line is, if the employment of Ace Steel is honestly the determining factor for CM Punk to be willing to show up for a television taping then Tony Khan should release him before the company wastes any more money on this failed experiment. Don't get me wrong, I think "Crazy" Ace is great, but there's a much bigger picture involved with this and potentially millions of dollars on the line. Phil Brooks is smart enough to know that, but might be too petty to return to draw for the company that already paid him major money. The cash that Discovery is willing to pay for the Collision show is more important than if Ace Steel has a job, and if that is a deal-breaker for CM Punk then it's not a smart business move for Khan to keep him under contract.
Finally, and this might be the biggest takeaway from all of this fiasco, if Tony Khan caves to Punk's demands and brings Ace back, it lets CM Punk know that he can do anything he wants in AEW. Most importantly, it would prove that Tony Khan can't be an effective boss in professional wrestling. That's not a knock on his passion and the credit he deserves for being willing to fund a sports entertainment project when he didn't have to, but rather to point out that he can't truly make the tough decisions as a promoter. Granted, maybe after all of this hassle, Tony will put his foot down and tell Punk to hit the bricks, there will be more disagreements in the company.
CM Punk was too difficult to work with in WWE and the majority of his stint in AEW was based on disagreements, which said a lot more about Phil Books than anything else.
What do you think? Share your thoughts, opinions, feedback, and anything else that was raised on Twitter @PWMania and Facebook.com/PWMania.
Until next week
-Jim LaMotta
E mail drwrestlingallpro@yahoo.com | You can follow me on Instagram & Facebook @jimlamotta89