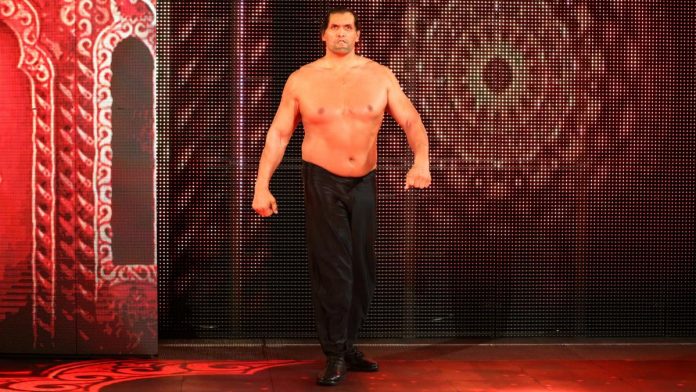 Former World Heavyweight Champion The Great Khali made his return to WWE at Sunday night's Battleground pay-per-view from Philadelphia.
Khali returned during the Punjabi Prison main event between Randy Orton and WWE Champion Jinder Mahal. After Orton fought off The Singh Brothers and looked to be close to winning the match, Khali came out and choked Orton from the other side of the structure as Jinder escaped to win.
The post-match celebration saw Jinder and Khali celebrate with the WWE Title while Orton sold the attack on the floor. Battleground went off the air with Jinder and Khali standing tall with the title.
Khali last worked for WWE in 2014. He left the company in November of that year after his contract expired. His last WWE match came on October 28th, 2014 – a SmackDown loss to Rusev. No word yet on Khali's current status with WWE but we will keep you updated.
Below are some photos and videos from Sunday night's Punjabi Prison match, including Samir Singh's big table bump:
Soon, #WWEChampion @JinderMahal and @RandyOrton will be TRAPPED in this dreaded structure… #WWEBattleground #PunjabiPrison @WWENetwork pic.twitter.com/nMhQrdrehe

— WWE (@WWE) July 24, 2017
This is happening…and it's all about the #WWEChampionship! #PunjabiPrison #WWEBattleground @JinderMahal @RandyOrton pic.twitter.com/yTYTPfqhhP

— WWE (@WWE) July 24, 2017
There is absolutely NO GIVE to the #PunjabiPrison structure, and @JinderMahal just felt that first-hand! #WWEBattleground #WWEChampionship pic.twitter.com/YyFAkh3dcL

— WWE (@WWE) July 24, 2017
#Khallas time for @JinderMahal? NOPE… #RKO! #WWEBattleground #WWEChampionship @RandyOrton pic.twitter.com/cX6e3J7oLF

— WWE Universe (@WWEUniverse) July 24, 2017
Both @RandyOrton and @JinderMahal are OUT of the first structure…
ONE MORE TO GO! #WWEBattleground #WWEChampionship pic.twitter.com/hOrPrWUPgQ

— WWE Universe (@WWEUniverse) July 24, 2017
With the @SinghBrosWWE neutralized, @JinderMahal goes to a new plan… #WWEBattleground #WWEChampionship #PunjabiPrison pic.twitter.com/mbeakv1lwm

— WWE Universe (@WWEUniverse) July 24, 2017
Dear @SinghBrosWWE,

Bye-bye.

– @RandyOrton #WWEBattleground #WWEChampionship #PunjabiPrison pic.twitter.com/9IoLgN4xeI

— WWE (@WWE) July 24, 2017
THE GREAT KHALI?! The innovator of the #PunjabiPrison has emerged, and his target is @RandyOrton! #WWEBattleground #WWEChampionship pic.twitter.com/s54zkQlaXA

— WWE (@WWE) July 24, 2017
Here is your winner…and STILL @WWE Champion @JinderMahal! #WWEBattleground #WWEChampionship #PunjabiPrison pic.twitter.com/A3HIEqiTt6

— WWE (@WWE) July 24, 2017
The celebration is ON as The #GreatKhali RETURNS to help his countryman @JinderMahal retain the #WWEChampionship! #WWEBattleground pic.twitter.com/xgbLCoe2Ro

— WWE Universe (@WWEUniverse) July 24, 2017
The #ModernDayMaharaja @JinderMahal rides on…with help from the MONSTROUS #GreatKhali! #WWEChampionship #WWEBattleground #PunjabiPrison pic.twitter.com/kPdU9uxsI9

— WWE (@WWE) July 24, 2017
.@JinderMahal has a GIANT surprise for @RandyOrton as The #GreatKhali comes to the aid of his fellow countryman at #WWEBattleground!!! pic.twitter.com/YeFs2o3kD8

— WWE (@WWE) July 24, 2017