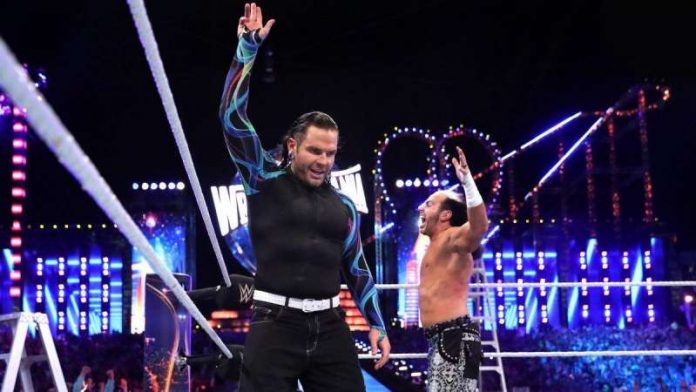 — The Hardy Boyz cut a promo at a WWE live event to answer whether they would accept the Miz's offer to "sit under the learning tree" as well as hype the Intercontinental Title match on RAW.
"We get to sit underneath the learning tree of @mikethemiz! Is this REAL LIFE!?!" – @MATTHARDYBRAND#GetWoke @JEFFHARDYBRAND #WWEKansasCity pic.twitter.com/5HfXB9inNh

— WWE (@WWE) September 4, 2017
.@mikethemiz & The #Miztourage were NOT amused by @MATTHARDYBRAND & @JEFFHARDYBRAND's response to their offer. #WWEDesMoines pic.twitter.com/HxQq2iNLH0

— WWE (@WWE) September 4, 2017
— WWE held a live event on Sunday night in Cedar Falls, IA at the McLeod Center and drew a small crowd. Fans in attendance noted that the crowd size was estimated between 1,000-2,000 people in a 7,000 seat building.
First up we've got #NewDay vs #Breezango vs #TheUsos for the Tag Titles! #WWECedarFalls pic.twitter.com/qb79WYaVyC

— Dustin Smothers (@SmoHawk) September 4, 2017
Great event last night in the McLeod Center!Glad to have WWE Live back!Thanks to a great staff for making this event awesome!#WWECedarFalls pic.twitter.com/o8tSJp5PMe

— Brooke C-Sidebotham (@Brooke_C_S) September 4, 2017