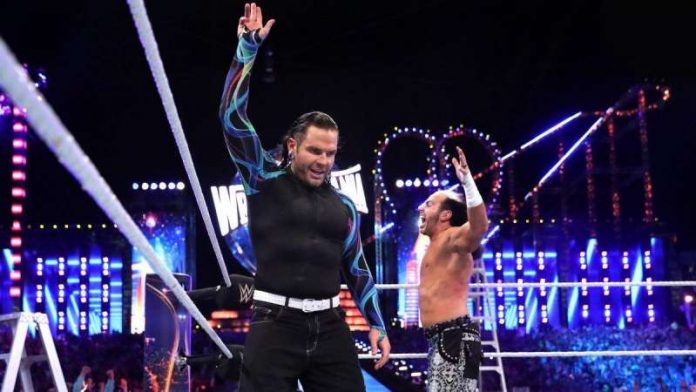 – Above is video from Corey Graves' interview with The Hardys on last night's "Bring It To The Table" episode on the WWE Network. Graves mentions how they both have had demons they battled in the past but they seemed focused & healthy now. Graves asks if it's a struggle being on the road with the WWE lifestyle once again. Matt Hardy says it's not for him as it was about learning and accepting the fact that you age. Matt looks back to the end of his last WWE run and says he kept working even though he was hurt and beat up. Matt says once he took time off and addressed his issues, he got healthy – physically, mentally and emotionally.
Jeff Hardy says temptation is now obsolete to him. He says he's been there, done that and was one of the lucky ones to survive it. Jeff says he just looks forward to going to work and then going home to see his family because he's doing this for them. He says there's no temptation to ever fall victim to addiction ever again. Matt says having kids did a lot for both of them and that's what they focus on now.
– WWE stock was up 1.31% today, closing at $20.92 per share. Today's high was $21.03 and the low was $20.69.
– Heath Slater has been re-tweeting fan comments about going for the WWE Intercontinental Title after he got the pin on current champion The Miz in last night's RAW match. Slater teamed with Rhyno to defeat The Miz and Congratulations Bear, who started out with an enhancement talent under the mask but ended up being Dean Ambrose. Slater wrote the following on going for the gold:
Woooooooooooooo!!!!! I'm finally going to get my wrestling dream…. I beat @mikethemiz and now I'm going for the #Intercontinentaltital

— Heath Slater (@HeathSlaterOMRB) June 13, 2017