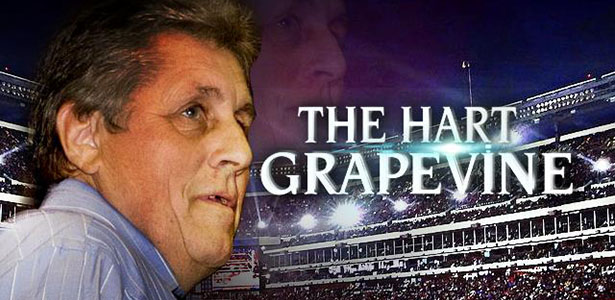 As WrestleMania season approaches, so does the question of who will be inducted into the 2014 Hall of Fame class. Inevitably each year I am barraged by fans wondering if/when my brother Owen will be inducted. I too share everyone's feelings as Owen's career and accomplishments deserve recognition. However with my sister-in-law, Martha, still at odds with WWE, the likelihood of the two coming to terms on Owen's individual induction remains highly unlikely.
However WWE has an obvious loophole. Much like the 2011 collective induction of the Four Horsemen, I feel WWE could induct the Hart Foundation as a unit. All five, Bret, Owen, Davey, Jim and Brian Pillman made great contributions and had stellar Hall of Fame calibre careers. By inducting them as a unit, it would offer the fans and my family the ability to honor Owen and his incredible career while sparring ill feelings that have yet to fully mend.
So thus begs the question of who else deserves induction in 2014 alongside the Ultimate Warrior. It seems to me that the respected region or territory should have an effect on the selection process. How better to respect the history of the business then to respect the given territory that is hosting WrestleMania.
Ultimate Warrior makes sense because although he had tremendous drawing power and was a primary main event talent during the WWE's global expansion of the 80's/90's, his roots are grounded in the former Mid-South territory where he tag teamed with Sting as the Blade Runners.
Many of the names most resonant of Mid-South (Duggan, Dibiase, Watts, JYD, Ladd & Ross) have already been inducted into the HOF, but a few prime choices still remain. Most obvious would be my friend Jake the Snake Roberts who's recent RAW appearance enthralled fans both live and on the world wide web. Although in years past, Jake's demons had held him back, Jake truly has gone through a rebirth and his induction is long overdue.
The Fabulous Freebirds also come to mind. Comprised originally of Michael Hayes, Buddy Roberts (both of whom I knew as Raw recruits) and Bam Bam Terry Gordy, the trio was originally formed in the Mid-South territory and their legacy as one of the top tag teams of all time is well-earned. With both Buddy Roberts and Terry Gordy having passed, this honor would then be bestowed upon WWE lead writer Michael Hayes and additional tag team partner Jimmy Jam Garvin.
Another good choice would be the Ugandan Giant Kamala. Their should be no question that this savage cannibal who headlined in separate generations against the likes of Andre the Giant, Hulk Hogan and The Undertaker warrants an induction into WWE's hallowed halls. With Kamala's recent health issues, the induction would also be a bright spot in what has no doubt been a rough few years.
And although he never worked for Mid-South, Paul Bearer's posthumous induction seems almost a certainty and certainly enough time has passed that his family can enjoy the induction/memorial. Its also well-known that Percy was born and lived in the gulf region until his untimely passing.
Although the celebrity wing draws the ire of many fans and pundits, their is logic in honoring those that have used their outside influences to bring media and attention to our industry. This being the 30th anniversary of WrestleMania, I feel it long overdue to induct Mr. T and with the rumors of a Hogan-Piper confrontation set for WrestleMania, it would seem fitting to induct the man who helped launch WrestleMania in the first place re-uniting the 3 for the first time publicly in 30 years.
Other names that I could suggest being considered for the ballot include Ivan Koloff, Bruiser Brody, Honkeytonk Man, Terry Taylor, King Kong Bundy, Midnight Express, Rock N Roll Express, Bushwhackers, Magnum TA, Leroy McGuirk and Dr. Death Steve Williams all deserve their respective inductions. As gatekeepers to Wrestling's history, WWE holds the responsibility of making sure in time all of these individuals and many more get the recognition they deserve.
For more chatter please be sure to follow me on twitter @SmithHart1 and post your thoughts, opinions, feedback and comments below.