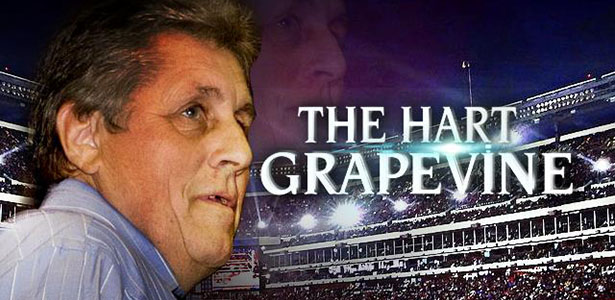 Welcome to another edition of The Hart Grapevine exclusively on PWMania.com.
A question was recently posed to me about who should face Brock Lesnar at Wrestlemania. Obviously the smart money is on The Undertaker. They have a built in history during the early years of Brock's career as well as a well-publicized face-to-face confrontation moments after Brock Lesnar faced Cain Velasquez during the peak of his UFC career.
Certainly at this stage of The Undertaker's career few would pose as much of a threat to the Deadman's streak as that of Brock Lesnar. Since Brock re-debuted in the WWE, this is a match fans have been clamouring for and no doubt with so few matches left in the tank of The Undertaker, now seems like an opportune time to have this epic encounter. However I propose an alternative proposition.
I think Wrestlemania 30 is best suited to have Lesnar face Ken Shamrock. At first this match may sound inferior to the aforementioned Lesnar-Taker. However I pose that having the two biggest draws in the history of UFC head to head for the first time ever at the 30th anniversary of the grandest spectacle on the planet could help draw many UFC fans to the WWE product heading into this crucial year.
As WWE prepares to launch this network in early 2014 without any announced flagship programming, they will need to attract as many new viewers as possible to make this a successful venture. With television contacts for WWE with USA network expiring in 2014, this network can either be incredible leverage to gain a better deal or just as easily it could spell disaster for WWE, losing millions of dollars and putting the company into a detrimental situation.
So as I say, Wrestlemania 30 this year is going to need to have all hands on deck to attract as many new fans as possible. And just as Lesnar helped bring a whole new demographic to UFC, he has the opportunity against Shamrock to equally bring a whole new audience and demographic to WWE. And since Brock's diverticulitis cut short his amazing UFC career, this match is now better suited for the squared circle rather than the octagon. Id also like to point out that Shamrock has kept himself in relatively great shape and is nearly the same age as Undertaker, so although a long-term run with the organization is unlikely, a single program between Lesnar-Shamrock could be huge business.
As for The Undertaker, I'm sure I am part of the large populous of fans who are hoping that Sting lets his current TNA contract expire so that he can have that one epic match against The Undertaker on the grandest stage of them all.
Sting has had numerous opportunities in the past to make this dream a reality and has always passed. But now I think with the financial situation of TNA making his contract more expendable, now is the best time he has ever had to sign a short term WWE contract. Make the big Wrestlemania pay day. Then move onto having a DVD of his career made and certainly a Hall of Fame induction to follow up, would be the best possible exclamation point to the career of Sting.
Just a little arm-chair booking and food for thought; I'm sure everyone has their goals and wishes as to what they would like to see happen at Wrestlemania 30 in New Orleans. For more chatter please be sure to follow me on twitter @SmithHart1 and post your thoughts, opinions, feedback and comments below.