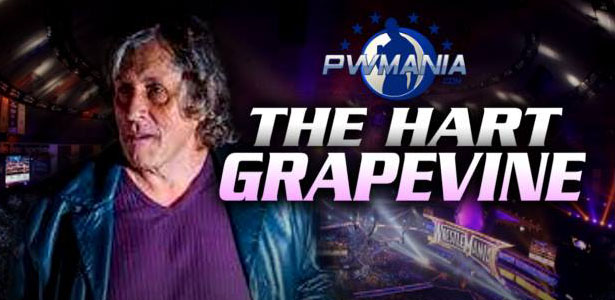 As the annual pilgrimage towards Wrestlemania draws nearer the role of fantasy booker becomes prevalent on the internet and beyond. Recently I read former WWE writer Andrew Goldstein's article on his ideal Wrestlemania 31 card which in turn has prompted me to draft my own version. I need to preface this would be the card I would produce based on current booking and storylines as of January 2015, and not how I would book it, if I was able to properly develop talent, attractions and characters over time as they deserve to be produced.
Pre-Show Match: Damian Mizdow vs. The Miz
Undoubtedly these two will eventually square off and the timing seems perfect for Wrestlemania. Although some would argue this angle is one of the more over angles on TV today, I counter-argue that it is mockery and comedy and although I respect both men as talented wrestlers, I think in the bigger picture wrestling needs to be taken more seriously if your to improve the quality of it. Making your wrestlers whacky, slapstick jokes is why mainstream media looks down on wrestling and Vince feels the need to call it sports entertainment. Perhaps if WWE took themselves more seriously other professional industries would as well.
Opening Match: Tyson Kidd & Antonio Cesaro vs. Usos
Once again as has been the case more often than not over the last 20 years, Vince has decimated his tag team division. Tag team wrestling once upon a time meant something and in some cases would mean more than singles wrestling in certain territories including over notable title matches. With all due respect to the talented athletes that play the characters, Los Matadores, Dust Brothers, Ascension, Rosebud Express, New Day and Slater/Gator are all ridiculously gimmicked tag teams that are booked terribly and are not getting over. With proper booking and character development all of these teams could be far higher on the card than this. In fact after his work at last year's Wrestlemania, I would have assumed to see Cesaro main eventing this year's event. However Vince's kinky cross-dressing closet twinks and their lack of ability have created a glass ceiling that keeps the truly talented at bay.
Grudge Match: Dean Ambrose vs. Dolph Ziggler
I realize a face vs. face match would not be ideal and in this case I do think given the lack of direction Dean Ambrose has had as of late, a heel turn would be in order. By turning heel now and having a brief run that strengthens the depth in the heel division, it would make Ambrose's eventual face turn that much more magnificent and make him that much more stronger as a character. Also I think this would be one hell of a match between two magnificent athletes in their prime.
Battle of Behemoths: Big Show vs. Ryback
I pre-endorsed this match 2 years ago, when Ryback was on his initial push, but that push was quickly done away with and the start stop mentality of WWE came to the forefront. Now 2 years later and this match still hasn't happened on a truly deserving stage. Although a long match is not necessary, that moment of seeing Big Show shellshocked would be a definitive Mania Moment.
Battle of Deliverance: Bray Wyatt vs. Luke Harper
Who would have ever guessed that Luke Harper would have broken out of the Wyatt family with the momentum he has had? I would have guessed that, as I knew years ago watching Harper work the indies as Brodie Lee that he was a can't miss talent. The destruction of the family came too hastily for my liking and typically without reason. A match at Wrestlemania would tie up any loose ends left behind by the shotty booking.
NXT Money in the Bank for a Main roster contract
Adrian Neville vs. Baron Corbin vs. Finn Balor vs. Hideo Itami vs. Kalisto vs. Kevin Owens vs. Sami Zayn vs. Tyler Breeze
I will admit that I am borrowing this idea from Andrew Goldstein. I originally had conceived that Zayn would face Owens one on one, as the war between these two has been one of the best ongoing feuds in wrestling over the last several years. All but Baron Corbin in this match have worked with or for us Harts, so I do feel a vested interest in each talented rising superstars pending success. But seeing the overall success of NXT, I do believe this would be the kind of match to showcase everyone's talents to the top boss himself and show how good NXT really is.
Viper vs. Architect: Randy Orton vs. Seth Rollins
This match is one of the few that seems likely to be a part of WWE's plans as the feud between Rollins and Orton has been brewing since August. Much like Wrestlemania 21 saw the birth of Randy Orton, John Cena and Dave Bautista as top guys in the company, so to can Wrestlemania 31 bring that same fortune to Seth Rollins and Roman Reigns for future years to come. Rollins having a career level match on a stage like Wrestlemania against a top draw like Orton could and should be the catalyst needed for his future to thrive.
Diva Dream Team: Natalya Neidhart w. Bret Hart vs. Rhonda Rousey w. Roddy Piper
Although I doubt WWE would see the benefit in utilizing a contracted UFC fighter on their grandest stage, Rousey has expressed an interest in participating in a WWE ring. She is a lifelong avid fan of WWE and a personal protégé of my Rowdy cousin Roddy Piper. As the self-professed leader of the Four Horsewomen, Rousey has done training with Natalya in the past and the 2 would undoubtedly have a barn burner of a match for the ages. What would really be the ultimate goal would be a tag match with Natalya & Rhonda tagging together against worthy adversaries. Unfortunately I couldn't find any such worthy adversaries, so perhaps the internet audience can suggest some possible ideas of capable divas to challenge the Diva Dream Team.
David vs. Goliath presented by Judas Iscariot: Brock Lesnar vs. Daniel Bryan
With his contract up for renewal after WM, I don't see Lesnar's title run lasting much longer. Knowing the politics of the profession to departing talent, I could see Vince asking the monster Lesnar to put over the substantially smaller Daniel Bryan. I know that there are many out there that would likely think this is the best for business scenario. I personally would prefer to see Lesnar against the likes of a Dave Bautista, Bill Goldberg, Kurt Angle or The Rock, although at this stage I see that as highly unlikely that any of those men would make themselves available for Wrestlemania in this short of time. Likewise I would prefer to see Daniel Bryan against the likes of a Chris Jericho, Tyson Kidd, John Morrison, Cesaro or CM Punk, but likewise they would either not be available or have not been booked properly to warrant such a match in such a short time. Although the psychology of Daniel Bryan being able to compete with a man with far greater technical wrestling accolades, and a former UFC Heavyweight champion, who is a far better athlete and outweighs him by more than 100 pounds of solid muscle, seems far-fetched to us that have been around much longer in the business, that wouldn't in itself dispel the live audience from being engaged in what would undoubtedly be a technical wrestling masterpiece.
Semi-Main: Undertaker vs. Sting
Although the smart money would be on seeing Sting vs, Triple H at Wrestlemania this year, Sting vs. Undertaker is the match fans globally have clamoured to see for nearly 20 years. If Undertaker is at all physically capable of working at this stage of his life, the WWE owes it to their fan base to allow them to see this once and for all. Triple H vs. Sting is a match that in my personal opinion only benefits Triple H and without sight into WWE's layout plan, seems like a SummerSlam match at best.
Main Event: John Cena vs. Roman Reigns
I could very easily foresee John Cena winning the title next Sunday at the Royal Rumble and Roman Reigns winning the Rumble match itself to set this battle up. For more than a year now, Roman Reigns has been pegged by pundits to be the next it guy within WWE. The leader of a future generation and although some may think he is not quite ready enough, he is as ready today as John Cena was to take that same role within WWE in 2005. The proposed plan has been to have Reigns go over on the beast Brock Lesnar, but as Ric Flair said many times," To be the man you got to beat the man." Beating Lesnar would make Reigns a top star no doubt, but beating Cena would inevitably make Reigns the top star.
Again these are simply the booking concepts I think would salvage the lackluster booking of these last several months and make Wrestlemania 31 the best possible event it can be. But I'm always interested to hear everyone else's thoughts, so feel free to weigh on and give your own ideas.
What do you think? Comment below with your thoughts, opinions, feedback and anything else that was raised.