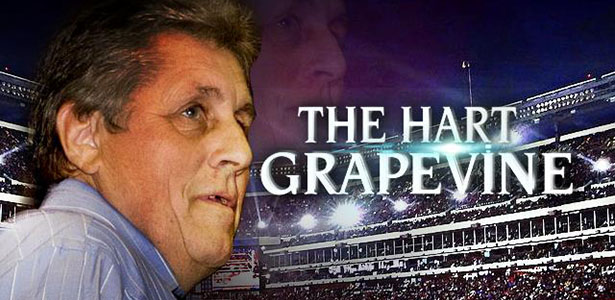 The wrestling world lost 2 greats this past week. First the notable passing of the great Mae Young and also former Stampede Alumni and creative booker George Scott.
The following is a prayer I wrote for Mae days prior to her passing:
Having continued prayers late into the night for the well-being of dear friend, Mae Young, I was not surprised to learn that even without the aid of life support, the grand diva was still in the "fight". So to Miss Johnnie Mae, I'm pleased to say that you surely have the heart of a champion, and to fans, friends and family this stellar competitor may I emphasize that profound within the power of y…'our prayers are infinite answers and almighty miracles. The girl who defied the traditions and barriers of a male only sport an d lifestyle paid and repaid her dues throughout some of the hardest times of our last century; and despite never-ending adversity the dedication and passion of Mae Young has enabled her to blossom into the spectacular attraction she still is. Keep on fighting Mae!
After her passing I shared this eulogy with the world:
The confirmed conclusion to the illustrious life of long reigning wrestling queen, the one and only Johnnie Mae Young delivers her well-entitled spirit from decreed earthly evil unto everlasting peace. Tenacious longevity aside Mae Young the pioneer breakout rookie, the heartthrob, the knockout diva, the (sports) entertainer, the globe-trotting grappler, performer, the athlete, the star, celebrity, champion, thespian, villain and heroine leave her world-wide cult following little to mourn. I, however am disheartened not solely for my own somewhat selfish reasons but because Mae fully intended to share the celebration of her 100th birthday with the wrestling universe by performing before a typically huge Wrestlemania crowd. Now I shan't see you in Amsterdam, CAC or at Wrestlemania 30, but an astounding 9 decade professional career-span that among other momentous honors and awards—was further bolstered by numerous satires where as a jaded insatiably depraved cougar—or was it sabre-tooth?!—The grappling expert was ravaged if not thoroughly bred by the World's strongest power stud. Rather late in Mae's career her character was reinvented by mostly Hollywood twinks hired as matchmakers, but unlike other players who fell by the wayside, Mae remained vital and went on to be inducted into 2 separate pro wrestling Halls of Fame. Now she has been reunited with The Fabulous Moolah and may very well be together conquering wrestling heaven already, with a halo replacing her trademark crown. From my perspective your perfected greatness shall be long remembered. God bless your "wicked" soul Mae Young.
In regards to the passing of George Scott:
To the family and friends of the late George Scott I extend heartfelt condolences and fond recollections of the transition of rising stardom to his record-breaking booking and match making acumen.
I remember those long vanished care free days of my impressionable youth – years before I or any of my brothers would be allowed to attend late night live wrestling events – when the wrestlers would show up at our house every Saturday morning for their weekly wages or on other odd days when some would dare the risk of a subtle workout in the dungeon.
Because of his keen interest in and growing aptitude for the business intricacies of the "noble art" – often in the company of his gracious wife, Elsie, tag partner/brother Sandy, Sampson and about a decade later another plucky bull terrier, Ceasar, both of whom were treated as sons – George often sought my Dad's evaluation of his novel suppositions. With ever-improving speed, agility, timing, mob psychology and synchronized unity upon foundation of optimistic determination and considerable natural skill, the handsome, charismatic, young Hamilton-based team contributed to many a sold out show and gained such unprecedented popularity that they were able to establish in downtown Calgary the well-patronized "Scott Brothers Paddock" restaurant. Formative exposure to both the unquestionable genius of – professional wrestling impresario and our television guru – Sam Menacker and the proven format of big dastardly vicious solitary villains evasively sustaining – with deplorably deliberate brutality – the contention of an endless retinue of emerging local talents and/or internationally procured babyface-hopefuls would, for George, have been akin to graduating from Harvard with a doctorate.
Win lose or draw – still formidable but feared hated legendary heavyweight villain veterans like Al and Tiny Mills and Rube & Jim Wright transformed under-dog rookie babyfaces like the Flying Scotts, Torres Brothers and Brunetti Brother s into worshipped heroes. During their numerous tenures in Western Canada fought such other elite tag greats as the Tolos, Sharpe, Vachon, Baillergeon, Gallagher, Kalmikoff, Smith, Miller, Neilsen and Graham Brothers as well as Kinji Shibuya & Mitsu Arakawa, Shag Thomas & Sky Hi Lee, Fritz Von Erich & Karl Von Schober and the original Fabulous Kangaroos. In single competition often after coming to the aid of brother Sandy, George carried on with such renowned arch villains as Sweet Daddy Siki, Killer Kowalski, Gene Kiniski and Waldo Von Erich to name a few.
A point of interest would be when NWA World Champion Whipper Billy Watson came to Stampede to defend his championship in the late 1960s, he refused to defend his title against Scott as well as Luther Lindsay and George Gordienko. According to Scott, this was the result of their argument in Toronto years before. While defending his title against Kowlaski in Calgary, Watson was taunted by fans who chanted "We want Scott". The following night at an event in Edmonton, ever the diplomat, Watson invited Scott to team with him in Toronto to which Scott declined. Scott later stated that he regretted that decision as the wrestler who eventually teamed with Watson, Billy Red Lyons career would skyrocket.
George became one of the pre-eminent creative minds in the history of wrestling during the early to mid part of the 1970's when he took over creative control of Jim Crockett's Mid-Atlantic promotion. Here he helped launch one of the most financially productive eras of the territorial age of wrestling y helping launch and propel the careers of such greats as Jimmy Snuka, Wahoo McDaniel, Black Jack Mulligan, Roddy Piper and perhaps most notably the long rivalry of Ric Flair and Ricky the Dragon Steamboat which encompassed their universally acclaimed series of matches. In 1983 when Vince McMahon Jr. purchased the WWF from his father, he recruited the greatest minds of the day including George Scott, Pat Patterson and Jim Barnett to expand his product nationally and eventually globally. Some of the more impressive concepts George spearheaded included The War to Settle the Score, Saturday Nights Main Event, Tuesday Night Titans and most notably the inaugural Wrestlemania. His working arrangement with WWF was cut short after a heated argument with primadonna/star Hulk Hogan over the rampant locker room drug use and "shady" characters that lingered backstage.
He would later return to Crockett promotions under the new WCW promotion before eventually retiring to Florida. His impact as a creative ranks highly in history alongside other notable creative heads such as Eddie Graham, Pat Patterson, Bill Watts, Dusty Rhodes, Gary Hart, Jim Ross, Jim Cornette, Jerry Jarrett, Sam Menacker, Terry Funk, Paul Heyman, Ed Farhat, Verne Gagne, The Crabtree Brothers, Antonio Inoki, Giant Baba and my brother Bruce
Incidentally, while attending a live WWE extravaganza in Toronto, I was joined by a favorite protégé of my father, Bulgarian "shooter", Don Kolov who's additional credentials included being Muhammad Ali's bodyguard and mentoring Canadian national light heavyweight silver medalist, Santino Marella, to the extent that via an impromptu debut during the Italian juncture of a European tour Santino impressively captured the WWE Intercontinental championship. Appallingly inexplicable set ups and uninspired "finishes", prompted Don's complement that my brother Bruce had the mentality and imagination to single handedly orchestrate the entire WWE sports entertainment scenarios. Readily agreeing, I had to add that a good many of Bruce's matchmaking concepts and objective innovations had come from yours truly. (Happy belated birthday, brother!)
Rest in Peace George Scott & Mae Young