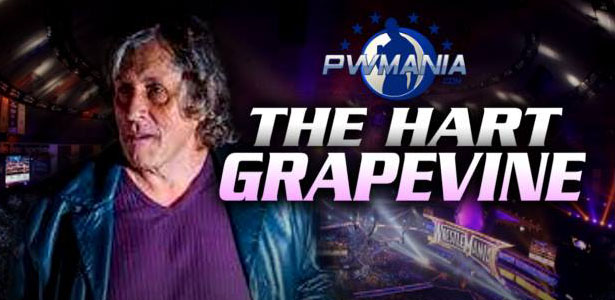 Since I clairvoyantly predicted 100% of the results of last month's Money in the Bank event, I reckoned I would once again provide my opinions, thoughts and forecasts for tonight's Battleground event. I should once again state that due to WWE's often option to swerve their audience that my prophecies are based on what I would consider logical in an otherwise illogical world. Before I get into my predictions I would like to first state that this event thus far seems to be the most rushed and poorly booked events thus far this year in WWE, so the randomness of many matches may skew my view.
USOS vs. WYATT FAMILY
Due to the lack of depth in WWE's depleted tag team division, this match has been produced far too many times without any true forward mobility. The Usos have had a solid run with the tag team titles thus far and I feel that without more diverse teams to work with, their run has or will become stale in short order. Meanwhile the Wyatt's continue to astound audiences with their unique work rate and delivery. Luke Harper especially is a tremendously talented young man with a fantastic future. Making the stipulation 2 out of 3 falls is a logical step in having The Usos lose and still save face in the process thus I predict the Wyatt Family to have their first taste of gold at Battleground. With the recent character developments of Stardust and Goldust, I would have preferred to see this match converted into a triple threat tag team match as opposed to 2 out of 3 falls. For Stardust and Goldust to continue to upwardly evolve as a team, they need to be in that hunt in a relevant manner and could have added a breath of fresh air to this match had they been included.
CAMERON vs. NAOMI
As I suggested in my previous set of predictions, I always feel WWE rushes to these tag team splits without a solid 6 month plan in mind for the respective former teammates and I feel both ladies careers may be in jeopardy with this match. Having said that, after following both ladies careers on WWE TV as well as Total Divas, I would assess that Naomi is the stronger wrestler of the duo while Cameron is the stronger personality. Given that WWE seems to favor personality, I would assume the victory will likely go to Cameron due to nefarious means.
JACK SWAGGER vs. RUSEV
This may be the match that I personally am anticipating the most of this card. It's an old-school, easy-to-follow story with clearly defined faces and heels. Also, I really like this new direction for Jack Swagger as I've always had an affinity to those that come from an amateur background and with his American hero persona he could be made into a modern day mix of Kurt Angle and Hacksaw Jim Duggan; a positive change to say the least. As the character continues to evolve I question the continued need of Zeb Coulter. Rusev has proven himself to be a gifted and athletic talent with a simple platform for which to eject his and Lana's (and Vladimir Putin's) rhetoric. Since both characters are on a fresh new path, I think it would be a mistake to derail either man's momentum so quickly. Thus I think the most logical ending to this match would be either a double count-out or a double disqualification. That would keep both men strong and set up the logical rematch for SummerSlam.
INTERCONTINENTAL TITLE BATTLE ROYAL
Matches like this are often difficult to surmise, especially when they haven't even announced all the potential contenders. A last minute addition can often swerve the match as well as the outcome. I realize most are guessing that Cesaro will be the likely winner, but I feel that his inclusion in this match is superfluous and a run with the IC title would be a waste of his talents and a hindrance to his upward mobility. To be honest had I been able to book this event, I think a secondary PPV like Battleground would have been a tremendous opportunity to give Cesaro a title match against John Cena to test whether he could eventually be sustained as a main event draw, much like Bret was tested at SummerSlam 92. Eliminating Cesaro from the potential winners circle, I am going to controversially pick young Bo Dallas as the new IC champion. WWE often will throw the IC title on a young green talent like Bo, thinking the title will make the superstar, when it should actually be the superstar that makes the championship. My secondary pick for half a point would be the recently returning Miz as a consolation prize for being jobbed so quickly to Chris Jericho.
BRAY WYATT vs. CHRIS JERICHO
Personally I feel with the method to which Jericho returned to WWE 3 weeks ago, I feel that not facing The Miz at Battleground is such a waste to their respective returns. I would have much preferred to see Jericho vs. The Miz with more teasing to build towards a much more anticipated showdown between Wyatt & Jericho at SummerSlam. Despite the rush to booking this bout, this should be a good match with 2 thoroughbreds of the business. I predict that Jericho will likely pick up the victory at Battleground with a rematch with a stipulation being set for SummerSlam where Bray will yield a triumph.
AJ LEE vs. PAIGE
This encounter has me scratching my head. Another clear cut example of the blurred lines between face and heels. Essentially both divas seem to playing the pretentious villain role. I think the smart money is on AJ to win with a follow-up encounter at SummerSlam.
DEAN AMBROSE vs. SETH ROLLINS
If WWE officials let these two go to even half of their potential and both men enter the ring healthy, this match will likely steal the show. The history and build to this match once again suggests this is just a precursor to a bigger match that will likely occur at SummerSlam, however I suggest this rivalry and the inimitable personalities of both men could carry this program on for many months to come. This initial head-to-head blast should set the pace for what is to come. I predict Sunday that Seth Rollins will get his hand raised, likely due to outside interference.
JOHN CENA vs. RANDY ORTON vs. KANE vs. ROMAN REIGNS
I expect this main event to be filled with gimmicks, interference, pomp and circumstance. I also predict that 6 months down the road most will forget this match ever happened. This seems like nothing more than a filler main event to get from one event to the next. This is the kind of main event I would expect to see on your average episode of either RAW or Smackdown. I guess that's what conditioning your audience to certain expectations gets you to. Despite the "stacked odds" against John, I think it is more than likely that SUPER-CENA overcomes all odds once again to stand free and clear this coming Monday for the rumored return of Brock Lesnar, clearing the path for both men to SummerSlam. It is likely and assumed that Reigns and Orton will brawl out of the match setting up a more personal feud between the two, thus I predict that Cena will overcome Kane once again for the finish.
Feel free to tweet me live during tonight's broadcast and tally my prognostications. If any matches are announced last minute I will predict them live during the broadcast.
What do you think? Comment below with your thoughts, opinions, feedback and anything else that was raised.