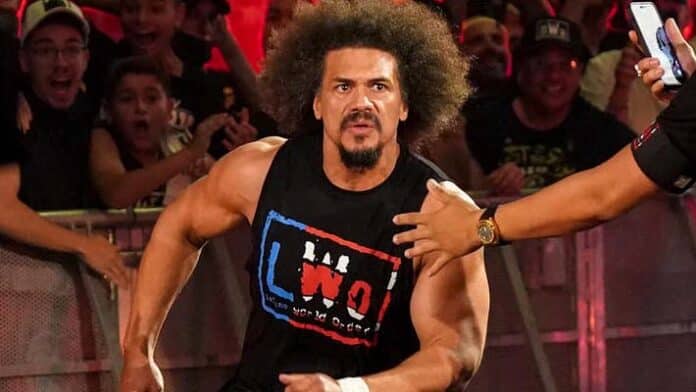 Last night, Backlash took place from San Juan, Puerto Rico and for an event that could've been cannon fodder, as it was the last pay-per-view before the new draft rules were put into affect, the broadcast had much more of an impact than most probably expected from it. The Wrestling Observer's Dave Meltzer previously noted that Backlash was a bought show, or an event that the WWE was paid a rights fee to bring to the island, and usually those types of events, such as the Saudi Arabia shows, are more sizzle than substance. In fairness to management, a bought show is often a deal because those that pay for the event specifically want the spectacle of the WWE brand and thus the office books according since that's what they are paid for with those shows.
First, it should be noted that the Puerto Rican crowd was electric, a stark contrast to most domestic audiences that try to get themselves noticed rather than enjoy the show. As storied as it is infamous, the wrestling history on the island has always generated a passionate response from the audience. This was an example of an energetic crowd that was organically reacting to the spectacle that they paid to watch. Plus, even with the extensive wrestling history of Puerto Rico, it's very rare that they get to see WWE live events.
The broadcast opened with Bianca Belair vs. Io Sky, and while this might sound repetitive, this was yet another example of why the women's division continues to be arguably the best aspect of WWE programming. These two are top notch pros and it showed in this contest. Everything was crisp and the counters throughout the bout allowed for a narrative that saw the momentum tilt back and fourth to create a level of drama toward the conclusion. Most importantly, they didn't sacrifice the credibility of their own finishing moves for a two count, which was something that was done far too often in the past several years. Outside of a scary moment when it looked like Io might've taken a face plant from a press slam, everything in this bout was very well done. Io looked like a worthy challenger, and Bianca shined as the champion. Bianca got the victory, but after such a stellar performance, I don't think a defeat does anything to hinder Io's status in the company.

Next up was Seth Rollins vs. Omos, and all things considered, this was probably the best match over the five-minute mark that you're going to see from Omos. Don't get me wrong, he's an impressive athlete, but as I've mentioned before, sometimes when a competitor is that tall, there can be somewhat of a lack of mobility, simply because they are so big. The point being, Omos, despite the agility he has for that size, isn't going to trade arm drags with Seth Rollins. Despite this being about as good of an extended match as you're going to see with Omos, I still think the match went a little too long. Seth made Omos look good with the bumps he took in the contest, but I have to wonder what the thought process was of the booking that saw Omos get pinned for the second pay-per-view in a row? Granted, we've heard rumblings that Rollins is probably the one that will be booked to win the consultation prize championship later this month, but even if that's the case, if the office saw any potential in Omos at all then it was probably better to book him against someone else. Omos has a look and a presence, but he hasn't won any meaningful matches in recent memory, and if he will only be used to put bigger stars over then the WWE should probably release him because his aura is fading after these high profile defeats. Lesnar vs. Omos wasn't booked to kick start a push for him, it was to give something notable for Lesnar to do at Wrestlemania. Omos was booked against Seth to presumably help further establish him as a top guy on Raw before he wins the new championship. So far, nothing was specifically designed to showcase Omos, and without the mystic, it limits his effectiveness as a character on the shows.
The US title match was short, but entertaining. This contest showcased all three athletes, allowed Bobby Lashley to look impressive, and Theory kept his heat when he stole the win so it was mission accomplished. Micheal Cole mentioned on commentary that Lashley looked to challenge Roman Reigns on the Smackdown brand so prehaps that was an indication of the next feud for the championship. At 46, Bobby is still in amazing shape and can still go in the ring so a title feud would be fine, even if the result is obvious. I'm still not sold on Austin Theory in terms of being the next major star for the organization, but his work in this bout was solid. Bronson Reed also did well with some incredible athleticism for his size, and it's very possible that he might have the potential of a major upside, assuming he doesn't eventually get typecast because of his look. Reed doesn't have ads, and considering that he can go in the ring, he doesn't need them, but there's a track record, at least in the modern era of super heavyweights being booked as comedy guys. Tensai eventually danced, Bull James was booked for a diet, and Brodus Clay was presented as a clown before he actually became one outside of the ring.
It was a very nice moment for Zelina Vega to get the recognition of the Puerto Rican crowd and the match was fine, but nothing too spectacular. That said, it was the right decision to have Rhea Ripley retain, specifically because of how the current title reign can elevate her status in the company.
The San Juan street fight was a sport entertainment spectacle and given that it was booked specifically for the live audience on a bought show, it was mission accomplished. The bout went almost thirty minutes, which was probably too long, but the psychology of the contest was very well done. Bad Bunny got a chance to shine, but it didn't make Damien Priest look weak as far as the amount of selling from a celebrity compared to the full-time wrestler. The crowd reaction was tremendous, and the pop for the Carlito cameo was insane. There was an equally crazy reaction for Savio Vega, a worker that probably doesn't get the credit he deserves for his accomplished career. Bad Bunny getting the win and the scene afterwards in the ring arguably should've been the main event segment of the show.

The six man tag match had a lot of good action, but the result, which saw Matt Riddle get pinned, seemed rather unimportant since the feud against Sami Zayn and Kevin Owens already peaked at Wrestlemania. With The Bloodline drafted to Smackdown, the office will have to look for something else for them to do, which is exponentially more difficult with exclusive rosters.

The Brock Lesnar vs. Cody Rhodes match was physical, entertaining, and rather brief so it was more or less the typical Brock contest, which isn't meant as a criticism. Lesnar got a nasty cut, and despite WWE's almost ridiculous avoidance of blood under any circumstance, it definitely added a level of intensity to this segment. I understand why the office doesn't want to beat Brock, but given how over he is, I honestly don't think a defeat would've done him any harm. On the flip side, the flash pin that Cody got to win the match almost suggested that it was a fluke victory, which doesn't exactly do much to keep him strong on Raw after such a disappointing defeat at Wrestlemania.
What do you think? Share your thoughts, opinions, feedback, and anything else that was raised on Twitter @PWMania and Facebook.com/PWMania.
Until next week
-Jim LaMotta
E mail drwrestlingallpro@yahoo.com | You can follow me on Instagram & Facebook @jimlamotta89