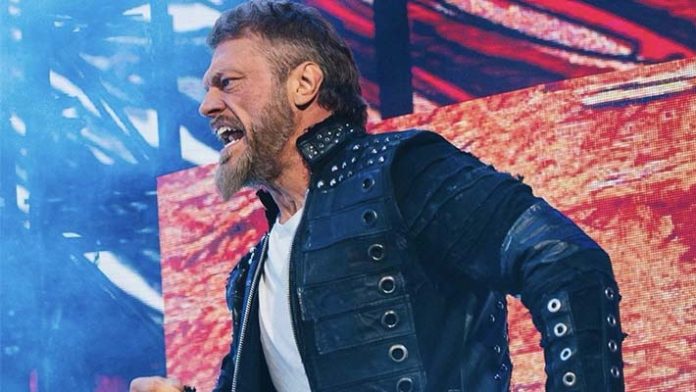 Wrestle Dream, All Elite Wrestling's tribute event to Antonio Inoki, is in the books. Inoki was the founder of New Japan Pro Wrestling and there was a New Japan spin on the show, but the whole concept, at least from AEW, still seemed rather random. Regardless, the event had ten matches on the main card and ran four hours, which made for a rather tedious viewing experience at times, but that is usually the case with AEW pay-per-views, as Tony Khan often books to get as many wrestlers on the card as possible instead of a more concise line-up that focuses on quality matches.
As we know, Adam Cole suffered a legitimate ankle injury that requires surgery, putting him on the shelf for an extended period of time. As pointless as the ROH tag title reign was before, the uselessness of the entire concept was underscored at Wrestle Dream. MJF is the All Elite Wrestling world champion and he was booked in the opening match for meaningless tag titles. How exactly does that scenario present Friedman as a star? If anything, it made MJF's involvement on the show forgettable, especially after a four-hour pay-per-view. What exactly is the payoff to any of this, especially when you take into account Cole's injury? Furthermore, even if there is a payoff, is it worth tanking MJF's title reign? I understand that this segment was more about the story of the contest than the in-ring action, which is fine, but again, what's the point? Vincent and Dutch are solid performers, but it's impossible for them not to be seen as a Bray Wyatt ripoff so nothing was accomplished in this segment. MJF is still half of the ROH tag team champions and that means what in the grand scheme of things? The biggest takeaway from all of this was that this was a misuse of the world champion on a pay-per-view and it actually took away some of the prestige of the title.
Eddie Kingston beat Katsuyori Shibata to retain the ROH and NJPW Strong titles. Outside of the New Japan involvement, there wasn't much logic or build up for this match. These two were a tag team about a month ago and then they were randomly booked for a bout on short notice. The match itself was decent, with the physical striking you'd expect, but had some clunky exchanges early on when the mat work wasn't Kingston's strong suite. Shibata's status still seems somewhat odd, as he hasn't wrestled a match for New Japan in almost two years so maybe he's not cleared to compete there? In truth, I honestly don't think Shibata should continue to wrestle after the serious nature of his injury several years ago, and it was a little concerning anytime he took any type of strike to the head. If anything, it makes sense for him to continue to work as a coach at the LA Dojo, but it doesn't seem worth the risk for him to continue to compete in the ring. Kingston retained both belts after a 10-minute match, but this seemed more like a TV match than something on pay-per-view.

The TBS title match had a similar presentation, as it just never got into second gear or something beyond a Dynamite match. Julia Hart has done really well as a character and seems to have potential, but at least as of right now, her inexperience showed in the ring. Kris Statlander is a solid in-ring worker and for the vast majority of this bout, she kept the train on the tracks. I wouldn't necessarily say that Statlander had to work around Julia to have a good match, but she was definitely the ring general throughout the contest. Statlander retained, which was the right decision, because while this isn't meant as an insult, this segment proved that Julia will need more experience before she's ready to work on pay-per-view in a championship role.
The four-way tag team match to determine the number one contenders for the AEW tag team titles had a lot of action, but it was mostly a mess. This was a prime example of how matches in All Elite become a free-for-all with no rules and disintegrate into the same basic match. Rey Fenix left the contest earlier and as of now, there's no confirmation on if it was an injury or why he exited from ringside. There was also an example of how Tony Khan tries to get as many wrestlers on the show rather than booking a better match that might have to leave a few guys in catering for the night. The Gunns have done extremely well in recent months and maybe it would've served them better to have a competitive standard tag match against The Young Bucks than to have four more wrestlers booked with the majority of the participants getting lost in the shuffle. Did this event really need Hook and Orange Cassidy as a team?
I think The FTR/Bucks card was overplayed, but I'm not disputing the finish. If that was the way that Tony wanted to go, that's fine, but there was definitely a more productive way to get there than a 15-minute spot fest where none of the tag rules are used and the entire presentation lacks logic. If the rules aren't enforced and nobody gets disqualified anyway, why would any of the teams start the match on the apron?
I wasn't sure what it was, but Swerve Strickland vs. Adam Page just didn't seem to matter one way or the other. The match had good action and they are both good in-ring performers, but I was trying to figure out why the segment seemed like cannon fodder. Unfortunately, it goes back to a key aspect that is often missing or mishandled in the Tony Khan playbook, the presentation of the angle. Strickland is a great athlete, but AEW has an entire roster of great athletes that work a similar style. Swerve, through no fault of his own, was dragged down by some horrendous segments and booking patterns. The infamous Rick Ross segment that went completely off the rails, the lame kidnapping angle with Billy Gunn, and the drek that was the Keith Lee feud minimized Swerve's importance to the product. Plus, the Mogul Affiliates are a stable of completely secondary wrestlers. Is anyone clamoring to see more Brian Cage matches on television? Are the Gates of Agony a featured team? Does Parker Boudreaux still have a job? Remember that tattoo guy that disappeared faster than Jimmy Hoffa?
On the other side of the coin, Adam Page still hasn't been able to shed the whiny baby face stigma that he had during the majority of his AEW title reign, and it's surprising when you take into account how far his stock has fallen with the span of AEW's four-year existence. When the company launched, Page looked to be the young star that would carry the company into the future, and there was an argument to be made that he could be the first AEW champion. A combination of the silly booking with The Dark Order that was counter productive to a main event character and the previously mentioned whiny promos, put Adam Page in a lower mid-card spot now. It's really puzzling because the crowd was really behind the blue collar character, but he lost a lot of momentum over the past few years. Obviously, his title reign wasn't booked well, especially when his first title defense against Bryan Danielson was a draw in 2021 and even his television time was minimum when he was champion, but this goes beyond that since Page hasn't reestablished himself at all in the past two years. Swerve got the win, but it didn't seem like anything was really at stake or the victory would boost his status in the company.
Ricky Starks vs. Wheeler Yuta was a really good match and probably the best Yuta match I've seen. If there's a criticism of Wheeler, he more or less has zero expression or intensity when it really counts. He can do all the moves, but didn't look to have the "glue" of the small details that put together a complete performance. However, that wasn't the case here and he did very well. This segment was an example that not everything needs to be booked as some twenty-minute epic segment, which is a pitfall that happened later in the show. This went about ten minutes, showcased both wrestlers, and was an entertaining bout so it was mission accomplished. That being said, Starks getting the win was the right call and he has the potential to be a main event guy. Starks can go in the ring and he's great on the mic so hopefully, there are plans for him to continue to elevate his status in the next few months.
Bryan Danielson vs. Zack Sabre Jr. was a bout that fans talked about for years and to a diehard audience, it's definitely a dream match. That said, the only reason it was booked is because Tony Khan wanted to see it, and in this scenario, there's nothing wrong with that. This was a rare case where the one-off bout that caters to a niche demographic was worth booking because even if some fans aren't completely familiar with Sabre, the quality of this contest gave the fans their money's worth. It was technical, physical, and checked all the boxes for a match that had lofty expectations. There was a scary moment when it looked like Sabre might've legitimately broke his ankle after a dragon screw leg whip, but he continued the contest. Danielson got the victory after he landed a running knee, which was somewhat surprising since American Dragon always seems to be willing to do the favor for his opponents, but it was definitely the right call for him to win. Sabre can win the rematch in Japan, but right now, All Elite needs Danielson as strong as possible, especially because the organization needs a truly centerpiece for Collision.

The six man tag went almost 25 minutes and this was the point where the show started to drag. It was after 11 PM and despite the nature of the grudge match, there wasn't enough at stake for this segment to remain compelling more than three hours into the show. Furthermore, this was another example of Tony shoehorning more names onto the show when there was probably better use of most, if not all of the athletes involved in this contest. Will Ospreay is one of the best workers in the entire industry, is a six man tag the best way to showcase him? Konosuke Takeshita is one of the best young talents on the roster and should be considered a potential top guy for the company in the future, was a six man tag the best use of his talent? Sure, there was a lot of action and a lot of spots, but does that automatically translate to a great match? The four-way tag match had a lot of spots too, and this six man tag more or less recycled that concept with the free-for-all format with no rules enforced or logic behind most of the spots during the match. The Don Callis stable got the victory, but I'm not sure it makes a difference in the big picture.
This is the place on the card where Tony Khan had a familiar booking pitfall that was seen often in early AEW PPVs before it tapered off more recently. Not every match needs twenty minutes and it's almost a lazy booking troupe to attempt to make it easier to format the broadcast to give specific bouts the same time frame rather than considering how much time the segment should get based on the circumstances of the match. FTR vs. Aussie Open was a very good tag match, and FTR maintains their spot as the best tag team in the business. I think more must be done to truly establish Aussie Open within AEW as opposed to just guest stars from New Japan. If Aussie Open are going to be full-time with All Elite, there should be more explanation of their background instead of Tony just assuming the audience knows them from their New Japan stint. As solid as this tag match was, it was the third match in a row that went over twenty minutes, and I really don't think it or even the six man tag prior to this needed that much time on the broadcast. There was either very little thought of very little effort put into the pace of the card when the show was formatted. In a vacuum, this was a very entertaining bout, but almost three and a half hours into the event, it was a tedious viewing experience.
When Christian was slotted for the main event spot, it more or less confirmed the rumors that Edge signed with the company based on their extensive history. Christian is one of the smartest workers in the industry, and in some ways, he's far ahead of the majority of the current AEW roster. I'm not sure if there was a miscommunication, but after a suplex spot to the floor, Darby called for Christian to do the move again and eventually, Christian slammed Allin very awkwardly on the steps. Considering that Allin called for the move again, maybe he was insistence on taking the dangerous bump, but it was completely foolish. If Darby thinks that these car crash bumps are some type of "badge of honor," he's totally misguided and truly doesn't understand the business. There isn't a way to take a bump on the edge of the steps safely and Darby is almost asking for an injury. If a performer is on the sidelines then they can't draw money for the company. If a wrestler can't be a draw for the organization, why should a promoter invest the time and money to establish them as a star? Don't get me wrong, the effort is there, but Darby is too narrow-minded to be a major star in pro wrestling. The ridiculous and unwise bumps will end his career before he get the chance to draw major money. I sincerely hope I'm wrong, but I don't think it would be a smart business decision for Tony Khan to invest more TV time or a promotional push for Allin, especially when he seems more concerned with climbing Mt. Everest than working for AEW.
Christian Cage has no respect for Darby Allin!

Order #AEWWrestleDream right now!
🇺🇸 https://t.co/zd6OvcKUJG
🔗 https://t.co/sT1hBzcprU@Christian4Peeps | @DarbyAllin pic.twitter.com/lnQjmVb5Gp

— All Elite Wrestling (@AEW) October 2, 2023

Nick Wayne turned heel to cost Allin the match so Christian retained the title. It will be interesting to see how Wayne develops as he works alongside the veteran performer. Overall, there wasn't necessarily anything subpar on the card, but rather a few aspects that were mishandled or misplaced. Bryan Danielson/Zack Sabre Jr. was the main selling point of his card, albeit to a niche audience, but if viewers ordered the show for the technical classic then they got their money's worth for the pay-per-view.
What do you think? Share your thoughts, opinions, feedback, and anything else that was raised on Twitter @PWMania and Facebook.com/PWMania.
Until next week
-Jim LaMotta
E mail drwrestlingallpro@yahoo.com | You can follow me on Instagram, Facebook, & Threads @jimlamotta89