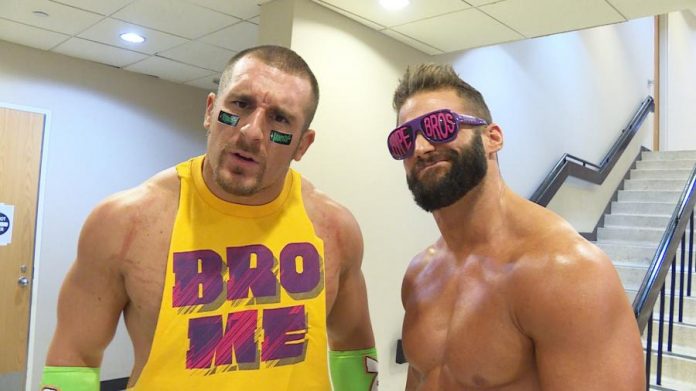 – As noted, Zack Ryder returned to WWE SmackDown on last night's show after going down with a knee injury in December. He reunited with "Hype Bros." partner Mojo Rawley in a backstage segment. Above is video of the team talking to JBL and Renee Young on last night's Talking Smack episode. JBL asks Mojo, who won the Andre the Giant Memorial Battle Royal at WrestleMania 33, if he wants to return to tag team action when he's this hot as a singles wrestler. Mojo says they became #1 contenders in December for a reason as a lot of hard work went into the match and they earned the opportunity. Ryder interrupts and goes on about how they earned the title shot.
JBL asks again if the tag team is the best idea for both of them. Ryder says they both have proven that they're fantastic competitors on their own but they earned a SmackDown Tag Team Title shot and it would be stupid not to go after it. Mojo says their time apart has only made them better as he's become a better performer while Ryder has been injured and Ryder has had enough time away from the game to clear his head and work on things he needed to work on. Mojo says Ryder is ready to go. Ryder says SmackDown Commissioner Shane McMahon wasn't here this week and they do still need to talk to him about the title shot but they both believe it's owed to them.
– WWE has a new poll asking fans which match are they most looking forward to at Sunday's Money In the Bank pay-per-view. As of this writing, 50% voted for the MITB Ladder Match with Shinsuke Nakamura, AJ Styles, Baron Corbin, Sami Zayn, Dolph Ziggler and WWE United States Champion Kevin Owens while 32% went with the MITB Ladder Match with Charlotte Flair, Carmella, Natalya, Tamina Snuka and Becky Lynch. 9% voted for Randy Orton vs. WWE Champion Jinder Mahal while 6% voted for Lana vs. SmackDown Women's Champion Naomi and the rest voted for The New Day vs. SmackDown Tag Team Champions The Usos.
– It's been reported how Eva Marie is not returning to WWE as she's focusing on her acting career. She posted the following on Instagram about progressing towards her Hollywood goals this week:
Putting myself on tape for an absolutely fantastic role
–
Every day I try to do at least one thing that helps me progress towards my goals. There are many people who desire the final result , but shy away from the tremendous amount of work required to attain that result. Often this is perceived as laziness, but I believe that it's something much deeper; #fear. Fear of failure, fear of criticism, fear that even if you give it your all, that you will still fall short. Fear is a liar! You will achieve your dreams, your goals are created to be attained, and your fear is meant to be conquered.
–
Don't let fear keep you from living the life you dream of. Start small , work everyday, progress inch by inch, and every time your fear tells you that you aren't "enough", tell it to kick rocks!
–
#ADayAtATime #IfYouCanDreamItYouCanAchieveIt #WorkHardAndAlwaysBelieveInYourself #LetsGetIt