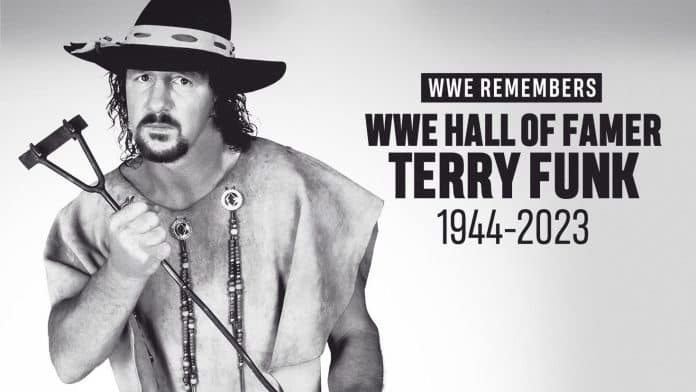 I can't quite find the words to express the sadness I felt when I read the news that Terry Funk passed away at the age of 79 yesterday afternoon. One of the most beloved figures in the history of the industry, news of Terry's death prompted dozens of tributes from peers and fans online. I don't mind telling you, when I confirmed the news that Terry passed, I wept.
Despite his advanced age, over fifty years of wrestling that took a toll on his body, and health issues that required him to receive medical care in an assisted living center in more recent years, it was still a legitimate surprise to hear that Terry died. He was almost too mythical to be mortal, and he was such a pillar of the industry that it seemed difficult to imagine the business without Terry involved in some form or fashion. Just a few months ago, when Funk celebrated his birthday, well wishes poured in on social media, as The Funker posed with a wrestling belt and a ring birthday cake, complete with Funk action figure.
In some ways, it's similar to when Bruno Sammartino passed, it was someone that was too epic to be gone. Bruno did it with power and feats of strength. Funk did it with chairs, barbed wire, and anything that he could get his hands on. The term "larger than life" is often used to describe those in the over-the-top world of sports entertainment, and the aura that Terry had was a textbook example of that. He seemed invincible, as barbed wire, explosions, and any opponent in the ring wasn't enough to stop Funk in over fifty years.

To attempt to tell the full story of the masterpiece of a career that Terry Funk painted on the canvas of the squared circle with any one article, DVD, book, or documentary would be a tough task. He accomplished that much and had that much of an influence on the sport. Instead, I'd like to discuss some key points of his career that illustrate the scope of the impact that he had on the sport.
Breaking into the sport as a part of a famous wrestling family in the 1960s, Terry joined his legendary father, Dory Sr. and his older brother, Dory Jr. in the family business, based in the Amarillo territory. Within a few years, The Funks obtained mythical status in Japan, working as headliners for Giant Baba's All Japan group throughout the 1970s. The Japanese crowds went wild and the Funk name was iconic there. They both had success in the United States as well, being the only brother duo to win the NWA World Heavyweight championship. Terry won the belt from Jack Brisco in 1975 and held it for more than a year before he dropped it to Harley Race. The Funk/Briscos feud between the pair of brothers headlined several cards throughout the 1970s.
As much as Terry was known to modern audiences as the aging hardcore legend, while still wild throughout the duration of his career, the first half of his tenure as a performer was as a traditional style wrestler. Funk could trade maneuvers with Harley or Brisco, as well as trade bloody punches with Bruiser Brody and The Sheik. As stellar as his earlier career was, his later years are more well known, simply because video tape was more widely used throughout the industry after the expansion of television and pay-per-view. Even in his mid-40s when he clashed with Ric Flair for a memorable series of matches in 1989, Funk was still in top form. Funk didn't act crazy, he made fans believe he actually was crazy. Terry Funk didn't play a character, he became the character.

It should be pointed out that Funk's first retirement in 1983 for All Japan didn't last long, and he surfaced for a brief, but memorable run in the WWF in 1985. Before his previously mentioned rivalry with Flair, he worked in Hollywood, appearing in such films as "Over The Top" and "Roadhouse" before he returned to the ring. It's comical to consider that he retired again in 1997 before his success in ECW earlier that year prompted an offer from the WWF where he had a run as Chainsaw Charlie.

Speaking of ECW, it goes without saying that Terry's presence there, especially in the early days of the organization, helped give the company a much-needed boost of credibility. Many fans look back fondly at ECW in retrospect with the knowledge of the impact the renegade group made on the business, but before that, there was no guarantee that the concept would get off the ground. Quite simply, without the name value that Funk brought to the group, which let fans know it wasn't going to be a one-off type of product, ECW might not have been as successful as it was. Keep in mind, ECW's first pay-per-view, which was the test to see if it could be more than just a northeast promotion, was based on Funk's quest for the championship when he was 53 years old. It was a wholesome and hardcore narrative to see Funk emotional at ringside after he won the title.

He provided a similar boost for Onita's FMW promotion in Japan, where the upstart league drew over 30,000 fans to see Funk vs. Onita in an exploding ring match in the early-90s. Terry Funk had an impact around the globe.
Even after a short run in WCW during the Turner organization's latter days, Terry Funk maintained his legendary status, which says a lot about his ability as a performer. Funk was one of the very few that could make people believe that he was dangerous and you honestly weren't sure what was going to happen when he was in the ring. Again, Terry Funk didn't play a character, he became the character. In a sport where everyone thinks they know everything, Terry could make anyone believe he was the wild Texan ready to fight. The audience might think everything else on a show was entertainment, but Funk projected a sense of legitimate danger.

In a business where almost everything is stolen, borrowed, or recycled, Terry was an original. Furthermore, he had so much passion and dedication to his craft. You never saw a match where Terry mailed in a performance, regardless of if he was on national TV or an independent card. Funk was also one of the smartest in the history of the business, as he stayed ahead of the curve his entire career. Funk also knew that he had to help make the next generation stars so that he had someone to work either as he evolved his career. They are several top-notch performers that credit Funk for his influence on their careers.
It must also be said that in an ego-driven business like pro wrestling, it's very rare that you will find someone that nobody has anything negative to say about them. Bobby Eaton, Jerry Lynn, and Jim Duggan are a few of those names, but Terry is also unanimously praised.

If I had to guess, I think that what made Terry so beloved to fans and peers, is that he was genuine. Terry legitimately wanted to make the younger talent bigger stars and did the work to help make it happen. He wanted to give the fans their money's worth and sacrificed his body for it. Finally, it was clear that Funk appreciated the fans and his peers as much as they appreciated him.
I actually had the chance to meet Terry at a random independent show in 2013. The event itself was nothing spectacular as it had a myriad of weekend warriors on the card, with the bigger names there to draw the audience. It was such a thrill to meet Terry and he was really polite. It was almost surreal to meet him in person since he's one of my favorite wrestlers of all time and had such iconic status. I look completely ridiculous in the picture taken with him because I was so pumped to get the chance to meet the legendary grappler.

He was one of a kind in the pro wrestling industry and they will never be another Terry Funk in the sport. He had a dedication and passion that very few have, and his influence had an impact on generations. Terry Funk passed away, but legends never die.
Terry Funk forever
What do you think? Share your thoughts, opinions, feedback, and anything else that was raised on Twitter @PWMania and Facebook.com/PWMania.
Until next week
-Jim LaMotta
E mail drwrestlingallpro@yahoo.com | You can follow me on Instagram, Facebook, & Threads @jimlamotta89