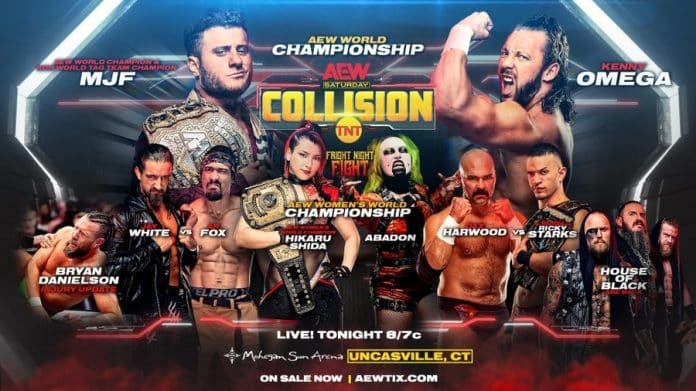 When Collision, the Saturday night show that was largely put together with the idea that CM Punk was going to be the face of the addition to AEW's weekly line-up, debuted on the air in June, the expected concerns were expressed with any Saturday night TV venture. Perhaps now more than any other time previously with the expansion of sports programming and pay-per-view distribution, there are countless options on the weekend for viewers. Typically, Saturday isn't considered a "TV night," not only because of events that might take viewers away from their television sets, but also because of the previously mentioned myriad of other options.
Unfortunately, after the very disappointing rating for this past Saturday's Collision, which garnered 472,000 viewers, a decrease from the prior week's 518,000 viewers, the harsh reality is that the show has a minimal audience. Regardless of if the reason is an oversaturation of All Elite programming or simply that people will watch other sports programming on Saturday, the current number is more or less a clear indication that there's probably not a realistic way to draw numbers similar to Dynamite for Collision. I say this because this past Saturday's episode included a stellar MJF/Kenny Omega match for the world championship, a bout that probably should've been saved for a pay-per-view, and there was actually a decline in numbers.
Again, none of this is surprising, as with the fall season, college football dominates Saturday TV line-ups across multiple networks, but management will have to ask themselves, what can they realistically hope to accomplish with the Collision brand? MJF vs. Omega is one of the biggest matches that the company can book right now, and given that it didn't maintain or gain viewers, it definitely should've been put on pay-per-view, but if that match can't generate ratings for Collision then the show itself might end up being cannon fodder in the grand scheme of things. Granted, there's an inherit disadvantage competing for viewers against college football, UFC events, and WWE pay-per-views on Peacock, but Turner executives, as well as All Elite management knew that before the concept was launched.
If a major title match with two of the best talents on the roster isn't going to draw ratings, why waste that valuable bout on a Saturday broadcast? I think it's fair to say that when you take into account that Collision numbers, both in the ratings and attendance, have dipped that Tony Khan booked the world title match as an attempted temporary fix, but since it didn't draw, it almost underscores the fact that the organization's best stuff shouldn't be used for a show that will have a minimal audience either way.

Make no mistake about it, MJF vs. Kenny Omega was a pay-per-view quality main event that was put on free television. They delivered and proved that despite some of the rightful criticism of the company, All Elite absolutely has something to offer to wrestling fans that they aren't going to see on WWE TV. The bout wasn't simply a one-week band aid for the ratings either, as far as a world title match with an obvious result, considering that if Omega had won then he would've maintained his position as the longest-reigning champion in the history of the company. There was something at stake, but the audience wasn't there for it.

In truth, I don't think there's anything that Tony Khan can book on Collision, especially on a consistent basis, that will draw better numbers than something similar to the average Rampage ratings. Saturday night at 6:05 was a great wrestling tradition, but cable distribution and the internet have changed media consumption over the past thirty years. More than anything, the concept of weekend wrestling, outside of pay-per-views, became an antiquated concept on the national level after the Monday night wars put such an emphasis on that particular night. In many ways, Wednesday is the AEW night for viewers and it was a major accomplishment that they could establish that routine for the audience. That said, the lack of translation of that viewership could be either that the viewers don't necessarily need another two hours of AEW programming every week or the previously mentioned sports competition.
At a time when there's such an emphasis and a premium placed on broadcast rights fees, which prompt networks to pay hefty cash to security programming that can sift through the crowded TV landscape, this might sound counterproductive, but an excessive amount of programming might actually hinder the organization than help it, particularly on the long-term basis beyond just the duration of a specific TV contract. With seven hours of weekly television from the WWE, when the AEW brand had just two hours of content each week, it was much easier for the audience to consume, as it was literally a fraction of the time that was required to commit to following the product. Too often, especially in the modern era, WWE viewing seemed more like a chore than an entertainment option. That narrative has flipped in many ways with the current direction of the organization, but for several years, fans were subjected to paint-by-the-numbers drek just to get to the payoff of the major events on the calendar. Raw was tedious, skippable, and predictable in 2015, but if the audience made it through that, the memorable moments of Sting's involvement after years of anticipation provided highlights.
AEW didn't have that problem prior to the launch of Rampage or Collision because to be an AEW viewer, the company only asked for a two-hour commitment of your time each week, an ironic throwback to the early Monday night wars when the business yielded record ratings. That made the product, even with Tony Khan's slapstick booking approach, much easier to follow because again, it was restricted to just Wednesdays for only two hours.
Listen, we all know that the almighty dollar is what truly makes the decisions, and Turner executives were willing to pay more money for the addition of another two-hour show since the general consistency of wrestling numbers give them some leverage when they sell commercial time during the broadcasts. The concern is, the addition of Collision doubled the amount of shows that Tony Khan has to book and thus the angles or storylines aren't as fresh. You can only run a certain angle so many times before it becomes cliche or recycled so instead of a potentially stacked storyline for Dynamite, it must be stretched across two shows. If you spread an angle too thin, either in the segments or overexpose it then it dilutes the quality of the presentation. If that dynamic causes an overall drop in the quality of the product, could it impact the total audience? Furthermore, when Kenny Omega vs. MJF was put on television instead of pay-per-view, the argument could be made that Tony sacrificed some potential revenue.
The bottom line is, more wrestling doesn't automatically translate to better wrestling, and in a year where there was a noticeable decline domestically for the company, both in ticket sales and ratings, Collision truly wasn't needed or serves a purpose beyond the relative short-term money of the current TV contract. CM Punk was fired, and Bryan Danielson is back on the sidelines with another injury so in terms of legitimate star power that might actually move the needle, Collision doesn't have the "must watch" atmosphere for most episodes. It will be interesting to see the direction of Collision next year, but last weekend's ratings decline was an indication that AEW doesn't have enough of the market share to justify three weekly shows.
What do you think? Share your thoughts, opinions, feedback, and anything else that was raised on Twitter @PWMania and Facebook.com/PWMania.
Until next week
-Jim LaMotta
E mail drwrestlingallpro@yahoo.com | You can follow me on Instagram, Facebook, & Threads @jimlamotta89