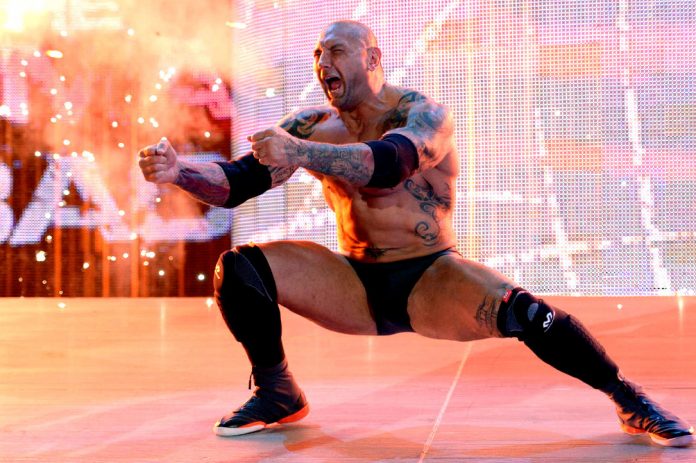 Author: Ashley Munson
Wrestlemania 35 has happened and gone, leaving now wrestling fans around the globe paying tribute to Batista who officially announced his retirement from the ring following his 'No Holds Barred' defeat at the hands of his old ally and fellow WWE legend Triple H.
Batista was a late arrival on the wrestling scene; he was rejected by WCW and told he wasn't cut out for elite level wrestling but the then named WWF disagreed and he joined their 'academy' tier before finally bursting onto our screens on Smackdown in 2002 at the ripe old age of 33 and his first ring appearance promptly followed in a tag team match where he and his partner, Reverend D'Von took on Faarooq and Randy Orton, who he pinned to claim a debut victory.
A roster transfer to Raw didn't take too long to follow and his legacy really started to build as he quickly joined forces with the experienced Ric Flair, Triple H and Randy Orton, who had also transferred from Smackdown, to form the group Evolution. Unfortunately, a number of triceps injuries kept Batista out of action. Nevertheless, on his return he would become one half of the World Tag Team Champions – the other half being Flair – after a triumph at Armageddon; it was an event that put Evolution on the map as all four members left with title belts.
Evolution were always seen as a 'heel' group but Batista slowly began to align himself more closely with the fans and he would eventually turn entirely as he entered – and won – the famous Royal Rumble, giving him the right to fight for the World Heavyweight Championship, which was held by his 'leader' Triple H. Despite being against the will of his stable, Batista agreed to challenge for the belt and has done so at Wrestlemania 21.
He would go on to win and so became Champion – it was the first of four times he'd hold the World Heavyweight Championship; one of which put his name into the history books of the WWE as he became the longest reigning Champion with a run of 282 days, which only ended when another injury forced him to vacate.
However, the Washington born wrestler began to grow disillusioned with the direction wrestling was taking to his career and parted company with the brand on a couple of occasions, as focus switched towards his acting job. He's starred in several Hollywood movies with his appearances in the Marvel films, where he plays Drax from Guardians of the Galaxy, later joining with the Avengers in the Infinity War against Thanos. Undoubtedly it was his biggest role to date and it's an area that doesn't look like slowing up for him.
His final flirtation with wrestling was with his one-time partner, and one-time nemesis, Triple H on the biggest stage of them all, Wrestlemania, where defeat was quickly forgotten as he announced his full retirement from the sport. As fans it's impossible to begrudge a move for such a dominant character of the franchise who's played hero and villain so convincingly throughout and the majority will undoubtedly follow his career post WWE.
In fairness, regardless of what 'The Animal' does in his career moving forwards it's almost inevitable that he'll be seen again in the ring. A man who is a four time World Champion, a two time WWE Champion and a four time tag team champ – one triumph of the WWE Championships and a hat-trick of Tag World Championships – and who is to this day the longest serving World Champ in wrestling history is a safe bet to be inducted into the Hall of Fame at some point, where he'll rightly be given legendary status.
It's been fun whilst it lasted. Thanks for the memories, Batista.