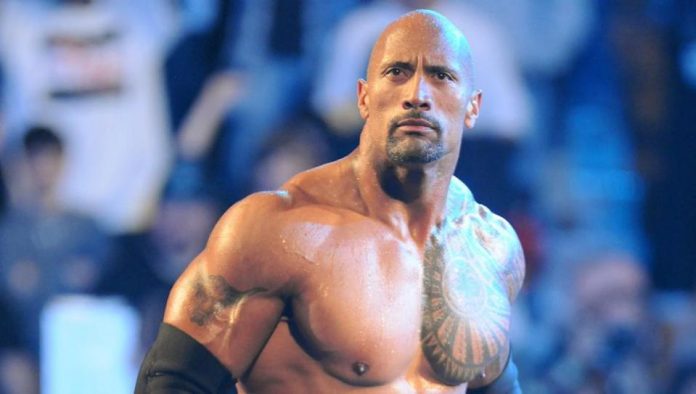 – Above is video of noted pro wrestling fan and rapper Wale talking to TMZ Sports about The Ball Family appearing on last night's RAW in Los Angeles. Wale was in the crowd and says outspoken basketball dad LaVar Ball "f*****g killed it" in his first WWE appearance.
– The dark match before tonight's WWE SmackDown in San Diego saw Tye Dillinger defeat Erick Rowan.
– Former WWE Champion The Rock posted the following to congratulate former TNA Knockout Thea Trinidad on officially signing her WWE contract. The former Knockouts Tag Team Champion has made appearances in WWE NXT as of late with Andrade "Cien" Almas but has not made her official in-ring debut. She did lose a TV match to NXT Women's Champion Asuka in October 2016 but that was before she signed. Thea, who is engaged to Austin Aries, will portray AJ Lee in the upcoming "Fighting with My Family" movie from WWE Studios and Rock's Seven Bucks Productions. That movie is based on Paige and her wrestling family.
After years of hard work and grind.. Congratulations to my good bud/mentee @theatrinidadtmt on finally signing her @WWE contract.
When we met years ago, I always felt she had star potential but more importantly, I knew she was a good quality human being. When the opportunity came along, I cast her in a starring role in our @sevenbucksprod's #FightingWithMyFamily. Her performance was brillIant. So much so, upon wrapping our movie, WWE saw that star potential and offered her a contract.
Her relentless drive and resilience to "make it" comes from a very powerful and emotional backstory with her father. They bonded by watching wrestling and she made a promise to him that one day she would make it in the WWE. Sadly, her father passed away in the 9/11 attacks and never saw Thea's dream come true. But you know he's right there with her and so proud.
We're rooting for her every step of the way.
Congrats Thea and as we always talk about, be the hardest worker in the room.
#Respect #Trinidad #WWE