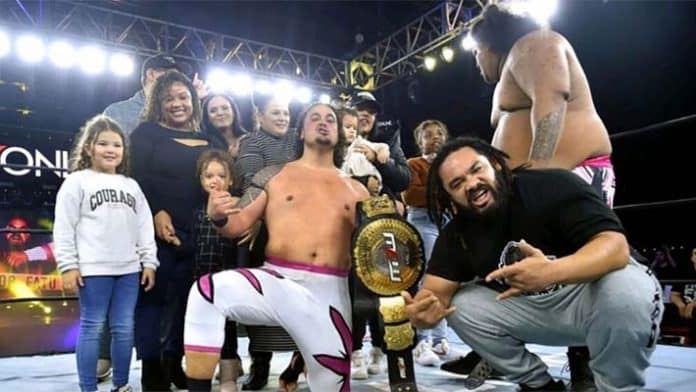 Juicy Finau and Lance Anoa'i of the Samoan SWAT Team are your new MLW World Tag Team Champions.
The main event of Tuesday night's MLW Underground episode on REELZ saw Finau and Anoa'i win the MLW World Tag Team Titles in a Street Fight against Hustle & Power's EJ Nduka and Calvin Tankman.
This is The Samoan SWAT Team's first title reign. The match was actually taped at MLW Blood & Thunder on January 7. Nduka and Tankman began their first reign on February 26, 2022, when they defeated 5150 at MLW SuperFight. Last March 31st, the title change aired. Nduka and Tankman reigned for 348 recognized days, the second-longest reign in company history.
Here are several shots of this week's taped title change from the 2300 Arena in Philadelphia, PA:
It's main event time – Hustle (@CalvinTankman) & Power (@EjTheJudge) do not waste any time against #SST! (@lanceanoai & @JuicyFinau) #MLWUnderground @ReelzChannel @betonline_ag pic.twitter.com/p6v3gZlSZ4

— Major League Wrestling (@MLW) March 15, 2023
A titan takes flight in @EjTheJudge! #MLWUnderground @ReelzChannel @betonline_ag pic.twitter.com/Et9xrHbD4Y

— Major League Wrestling (@MLW) March 15, 2023
Close call! #MLWUnderground @ReelzChannel @betonline_ag pic.twitter.com/tVcOS1D7Ma

— Major League Wrestling (@MLW) March 15, 2023
Hustle + Power = Synergy. #MLWUnderground @ReelzChannel @betonline_ag @EjTheJudge @CalvinTankman pic.twitter.com/6QVuDt5FSh

— Major League Wrestling (@MLW) March 15, 2023
NEW CHAMPS! @lanceanoai & @JuicyFinau did it! #MLWUnderground @ReelzChannel @betonline_ag pic.twitter.com/jwZa05zz7R

— Major League Wrestling (@MLW) March 15, 2023
Way to go, Uce! #SST #NewChamps #MLWUnderground @ReelzChannel @betonline_ag pic.twitter.com/ayGwrQVmQq

— Major League Wrestling (@MLW) March 15, 2023