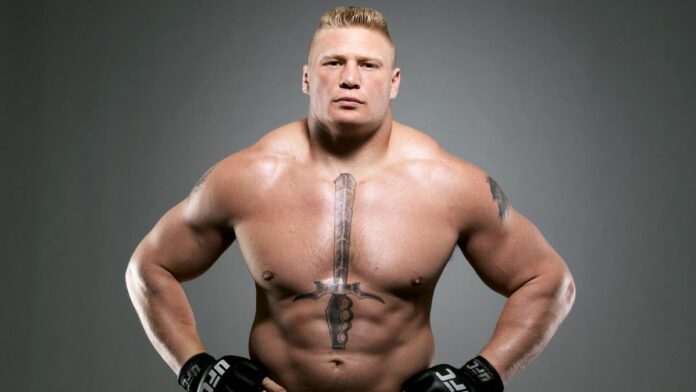 Rumors of Brock Lesnar making a return to mixed martial arts were inevitably going to come up with his WWE contract set to expire later this year, and UFC President Dana White isn't doing anything to quiet them down.
After posting a photo with Lesnar from Las Vegas, Nevada on his social media accounts on Sunday, White appeared on "Happy Hours" with Kevin Harvick on SiriusXM Tuesday night and was very optimistic about Lesnar potentially returning to the UFC.
— Dana White (@danawhite) February 26, 2018
"They're very, very, very good," White said when Harvick asked what the chances were that we'd see Lesnar fight in the UFC again.
"They're very, very, very good." –@ufc President @danawhite to @KevinHarvick on @BrockLesnar's chances of fighting again in UFC. Listen in ?#HappyHours pic.twitter.com/p8ZCdrR9Kt

— SiriusXM NASCAR Radio (Ch. 90) (@SiriusXMNASCAR) February 28, 2018
On Monday's episode of Raw, White's photo with Lesnar became part of the storyline for the Universal Championship Match at WrestleMania 34. Reigns cut a promo saying he thought Lesnar would be there, but Lesnar was hiding behind his contract and didn't come, and then cut a promo about how everyone resents Lesnar's status of working when he wants in the cities he wants while they all work a full-time schedule. He also said Lesnar was taking pictures with White in Las Vegas instead of coming to the Elimination Chamber pay-per-view.
Reigns, who was booed heavily coming out, was cheered at the end of the segment. He tried to give the impression he was doing an unscripted promo and would get in trouble for it, but that's not the case.
While the reason for Lesnar's absence on Raw still wasn't entirely clear, Dave Meltzer of F4WOnline.com reported on Tuesday that the goal of the build to the WrestleMania main event is to get Reigns cheered to lead to his win. Meltzer also noted that the idea is for the build to come across as much like a shoot as possible.
Lesnar is advertised for WWE's house show in Chicago on Saturday night and is scheduled to return to television on the March 12th episode of Raw.
The last pro wrestling dates on Lesnar's current contract with WWE run through after WrestleMania in April, though the company has certain rights to him after that until early August. If Lesnar were to fight again, he'd also need to resolve the one-year suspension that he received from USADA for his drug test failures stemming from UFC 200. With about six months remaining, the suspension was frozen when he retired from MMA in July 2017.