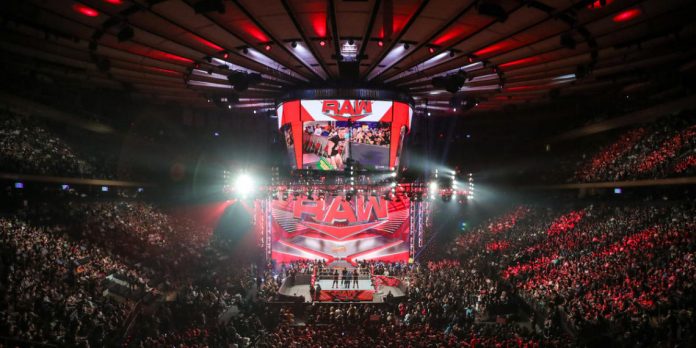 In a week that has been overall positive for WWE, Monday Night Raw and Friday Night Smackdown have both improved under Triple H, there is a positive atmosphere within the company via reports and there have been returns to the company as well. So far being Io Sharai, now under the name Iyo Skye, Dakota Kai, and Karrion Kross.
Monday Night Raw
Changes to the show aplenty, new stars being born and an importance being brought back to the United States Championship. The amount of wrestling on the show was a huge plus compared to Raw in recent years even.
The U.S title was given new life on the show with Raw being centered around who would become the number one contender, two triple threat matches were held. AJ Styles, Mustafa Ali and The Miz in one, with Tommaso Ciampa, Dolph Ziggler and Chad Gable in the other match.
Styles won, as did Ciampa, which set up the one on one match between them, which was great. Ciampa won the match making him the number one contender for Bobby Lashley's U.S title in a match for this upcoming Raw.
I think Miz costs Ciampa the match, out of jealousy, because Lashley isn't losing that title anytime soon. Now with Raw being in Cleveland, Ohio, does this set up a possible return for Johnny Gargano?
Now it might be fantasy booking but if he was brought back it would make sense for two reasons.
1. The history between Gargano and Ciampa
2. Reform DIY and add a huge asset to the tag team division that is desperately needed for the time being
I would like to think that is where it is going, but regardless of whether he comes back or not, I think Ciampa and Miz will be no more.
Edge's return, big news coming out of Summerslam, back to the old Edge, with his usual Metalingus theme. This is will obviously lead to Edge vs some form of Judgment Day, which will eventually be disbanded at the hands of Edge.
However at the end of Raw, Edge inadvertently speared Dominik after Rhea pushed him into the spear, however by the time Rey got back up Edge was gone, so I'm assuming this leads to some sort of dissension between Rey and Edge, so could be interesting.
The women on the show was a big plus, they had their time on the show and Iyo Skye had a match with champion Bianca Belair, good match, ended in a DQ because neither woman could afford to lose. I am definitely excited for the clear faction warfare that is coming between Bayley, Iyo, Kai against Belair with whoever she brings alongside her.
Does this lead to a potential war games match? Triple H brought the war games match to NXT, so it is possible that he brings the match stipulation to the main roster later this year, we will have to see though.
The Street Profits look like they're leading to break up, it's unfortunate because they are a great tag team and if they break up, that is one less team at your disposal, which is an issue for the division. I think if you want to break them up, get more teams in the division, then break them up when the division is strong enough to handle a break-up.
Now if you look at the positives, Montez Ford is going to be a huge star, and after Raw, it looks like Dawkins will be the one to turn heel. A lot has been made of how Dawkins feels about this talk, and that will probably end up being one of the reasons he turns, as well as jealously.
So it'll be interesting to see where they go and how they go about it, and after Ford had a great match with Seth Rollins, it is hard to see them being a tag team for much longer.
Friday Night Smackdown
Smackdown was okay but needs a lot more work for the show to be where it needs to be. But positives on the show included Shayna Baszler being crowned number one contender for the Smackdown Women's championship, Ricochet opened the show and got a win, the Intercontinental title is set to be defended next week. The biggest talking point was Karrion Kross with his return to WWE in the biggest way possible.
Ricochet finally may get his chance to shine, he got a win over Baron Corbin, and looked very good on the show. Hopefully this establishes Ricochet as important, which he should already be. Corbin, hopefully this results in a change of character which is sorely needed, his current gimmick is just terrible and should be changed to something like he had in NXT and his early main roster run.
A gauntlet match was made with the women, Raquel Rodriguez mainly won in the match, up until Shayna Baszler pinned her and won the match. This is a fantastic move, and it will position Baszler where she should be, at the top of the card. So it will be Shayna Baszler vs Liv Morgan for the women's title at Clash at the Castle, this will probably lead to Shayna winning the title, which would be long overdue.
Ronda is currently written off the show at the moment, but I could see them becoming a duo and being a huge force in the women's division, especially with the women's tag titles being brought back. Eventually we may see a Ronda vs Shayna match which would be fantastic.
The Intercontinental Championship wasn't as highlighted as the U.S title for Raw, but Shinsuke Nakamura beat Ludwig Kaiser, and he will now get a chance at the title next week on Smackdown against Guenther. Seems like something will happen during the match, and maybe save it for the PPV at Clash at the Castle, which would be alright seeing the title should be defended on PPV.
Throughout the show, Sami Zayn was shown trying to talk to Roman in his locker room, only to be stopped by the Usos, the last segment of these being the most important where Jey just snaps at Sami saying he's not pulling his weight around as the "honorary Uce". Eventually this will lead to Sami getting kicked out, and hopefully recruiting Kevin Owens to his side, where they will go after the tag titles and take them off the Usos.
The biggest thing on the show, Karrion Kross returned to attack Drew McIntyre and stare down world champion Roman Reigns, he had a brilliant presentation in NXT and I am very happy to see that presentation being brought back after Vince and his team ruined Kross last year.
This presented Kross as an instant main eventer, which is where he should be, and the world title picture is now healthier because of it. I can not wait to see where this goes between Drew, Roman and Kross.
Overall a good week for WWE and hopefully this continues, as we go into the Triple H era of creative on the main roster, and the build for Clash at the Castle continues.