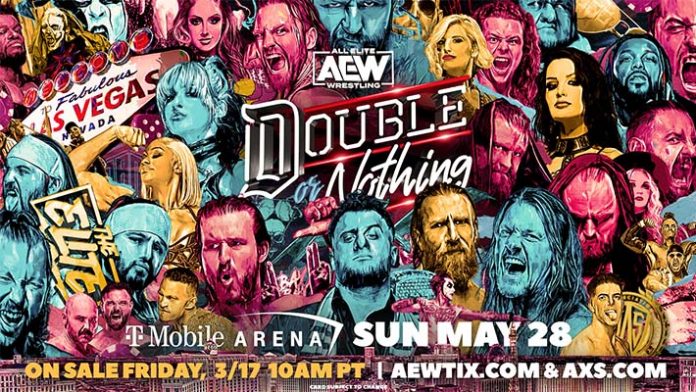 The Double Or Nothing pay-per-view event, which will take place on May 28 from the T-Mobile Arena in Las Vegas, Nevada, will be one of several upcoming AEW events for which tickets are now on sale.
AEW will also be taping live episodes of Dynamite and Rampage at the MGM Grand Garden Arena in Las Vegas, Nevada on May 24th and the Viejas Arena in San Diego, California on May 31st.
Tickets for the shows will be available for purchase at AEWTix.com and Ticketmaster.com beginning at 1 p.m. Eastern time. Tickets begin at $29 before facility fees and service charges are applied.
Here is a list of the updated AEW touring schedule:
* AEW House Show: March 18 – Troy, Ohio, at the Hobart Arena
* AEW Dynamite/Rampage: March 22 – Cable Dahmer Arena in Independence, MO
* AEW Dynamite/Rampage: March 29 – St. Louis, MO at the Chaifetz Arena
* AEW Dynamite/Rampage: April 5 – UBS Arena on Long Island, NY
* AEW Rampage/Battle of the Belts 6: April 7 – Ryan Center in Kingston, RI
* AEW Dynamite/Rampage: April 12 – UW-Milwaukee Panther Arena in Milwaukee, WI
* AEW Dynamite/Rampage: April 19 – Petersen Events Center in Pittsburgh, PA
* AEW Dynamite/Rampage: April 26 – FLA Live Arena in Sunrise, FL
* AEW Dynamite/Rampage: May 2 – CFG Bank Arena in Baltimore, MD
* AEW Dynamite/Rampage: May 10 – Little Caesars Arena in Detroit, MI
* AEW Dynamite/Rampage: May 17 – Moody Center in Austin, TX
* AEW Dynamite/Rampage: May 24 – MGM Grand Garden Arena in Las Vegas, Nevada
* AEW Double or Nothing: May 28 – T-Mobile Arena in Las Vegas, Nevada
* AEW Dynamite/Rampage: May 31 – Viejas Arena in San Diego, CA
* AEW Dynamite/Rampage: June 28 – FirstOntario Centre in Hamilton, Ontario
* AEW Dynamite/Rampage: July 5 – Rogers Place in Edmonton, Alberta
* AEW Dynamite: July 12 – SaskTel Centre in Saskatoon, Saskatchewan
* AEW Rampage live: July 14 – from Brandt Centre in Regina, Saskatchewan
* AEW House Rules: July 15 – Saddledome in Calgary, Alberta
#AEW returns to Las Vegas, NV on Sunday, May 28th, 2023, for one of #AEW's biggest events of the year: #AEWDoN #DoubleOrNothing LIVE from the @TMobileArena!
🎟️ Tickets go on sale TOMORROW at 10am PT!https://t.co/rFcIFUPD6k | https://t.co/eg2PabNTJf pic.twitter.com/hCK6EW0I9E

— All Elite Wrestling (@AEW) March 17, 2023
Feel the fallout from #AEWDoN #DoubleOrNothing when #AEW makes its San Diego, CA debut with #AEWDynamite LIVE & #AEWRampage at the @ViejasArena on Wednesday, May 31st!
Tickets go on sale Friday, 3/17 at 10am PT
🎟️: https://t.co/UN1cNj1SFY | https://t.co/xD1UKLjZkR pic.twitter.com/9p66J1x3Zu

— All Elite Wrestling (@AEW) March 13, 2023
Due to network scheduling, the #AEWRampage show leading up to #AEWDoN #DoubleOrNothing will now air on Saturday, May 27th at 10pm ET, or after the NBA conference finals on TNT
Tickets go on sale THIS FRIDAY March 17th at 10am PT!https://t.co/UN1cNj1SFY | https://t.co/eg2PabOryN pic.twitter.com/XpwZEM8F2Y

— All Elite Wrestling (@AEW) March 13, 2023