– TNA will air a one-hour "Unfinished Business: The Beautiful People" pay-per-view beginning November 1st. The synopsis reads like this:
"Angelina Love and Velvet Sky are the original "mean girls" of TNA IMPACT Wrestling. Witness the most dominant women's tag team in wrestling history."
– TNA's One Night Only: Knockouts Knockdown 2014 pay-per-view will premiere on November 7th. Below is the synopsis and poster: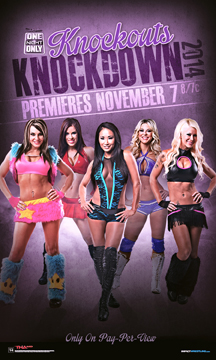 "Eight aspiring Knockouts will take on eight current TNA Knockouts to determine who is crowned Queen of the Knockouts."
– TNA star Robbie E turns 31 years old today while agent & announcer Hector Guerrero turns 60 and former TNA Knockout Leticia Cline turns 36.
– Tonight's episode of TNA Impact Wrestling will feature Havok vs. Gail Kim for the Knockouts Title, MVP vs. Mr. Anderson, Austin Aries picking his title shot and more.