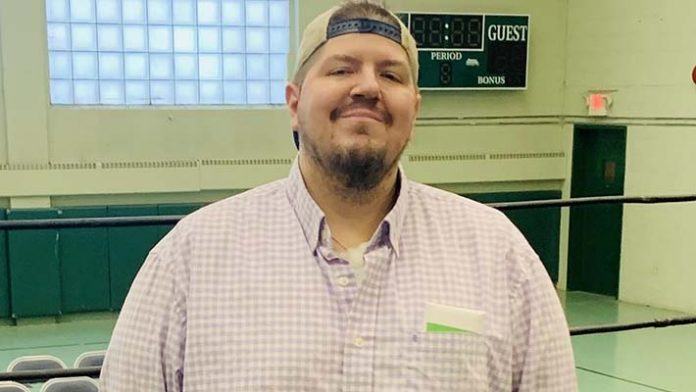 Wrestling promoter Tommy Fierro recently spoke with PWMania.com in an exclusive interview. During the discussion, Fierro talked about his career, his time in WWE, promoting ISPW Wrestling, and more.
You can check out the complete interview below:
You've been running events since you were 16, what inspired you to run an event so young, and what have been some of the challenges you've had running events?
"I grew up a huge fan as a kid. My parents would take me every month to the Meadowlands Arena in New Jersey for WWF. Back then, they came to our market monthly. When I was a freshman in high school, I overheard two kids talking about a wrestling radio show that was going to be on William Paterson College's radio station later that night called Who's Slamming Who. I went home that day from school and listened to it. At the time. I had no idea about newsletters or inside information. I was just a fan. So to hear them talk about what was going to happen at SummerSlam back in May was shocking to me. There was a contest that week to win a chance to become the guest co-host for a week. I entered the contest and won. I started doing my own wrestling newsletter called Ringside Wrestling Newsletter. I started going to all the local independent wrestling shows and interviewing guys for it. It just kind of snowballed from there. I remember going to John Arezzi's Weekend of Championships convention in New York and was completely blown away by it. One thing led to another and made the right connections and ran my own convention at the age of 16. I missed my own High School Graduation because I was promoting an event that night."
Did you have any mentors to guide and teach you about promoting events?
"At first, I didn't. I ran a few conventions all by myself and just pretty much taught myself. I was always into promoting and advertising; even as a child. It was just something that interested me. At my second convention in 1994, Dennis Coralluzzo attended it and was blown away when he found out a 17 year old kid just had 1,000 people at his event. He immediately took me under his wing and taught me a ton. At the time, Dennis was the President of the NWA and probably the biggest name Independent promoter in the United States. It was a huge deal. He helped open so many doors for me and really taught me the inner workings of the wrestling industry. He deserves credit for any success I had in this business. Afa The Wild Samoan is another one that took me under his wing and taught me a ton. He took a liking to me and really went out of his way to help me. He even came out of retirement back in 2000 and wrestled for me twice in a few six-man tag team matches with my ISPW guys against his WXW guys.I also got a chance to be a part of Batista's first match ever for Afa's group. It was a battle royal and it came down to him and two of my guys. He eliminated them both to win and then I came in from behind and he bumped me. I love that entire Anoa'i family."
You had a brief stint working with WWE when the WWE Network launched. How did the opportunity come around and what was the reason for your departure?
"At the time I was 33 years old and I was promoting wrestling events since I was 16. I had been grinding for a while at that point to try and get hired by them and I came close a few times but it never panned out. I saw they were hiring for WWE Network and applied and got the job. While logging wrestling footage all day wasn't what I wanted to do in the company, I thought that this was at least a foot in the door. The first day on the job was awesome. As soon as I got there, I ran into Howard Finkel who was super surprised to see me. He had just done my convention a few months prior. He brought me into the WWE.com office and I hung out with him and Joey Styles for a while. I felt confident going home the first day that this would lead to many doors opening for me in the company. For the next month, I was stuck in a trailer all day logging footage and never saw anyone. I was just about to get married and the money I was making didn't justify all the travel I was doing. It just didn't work out financially for me and had to leave. They were very understanding about it. It was an awesome experience though."
Tell us about your experience as an extra at WrestleMania 15, and how the opportunity arose.
"So the day before WrestleMania 15, I was running a live event. WM15 was in Philadelphia the next day. They added a segment at the last minute with The Big Show getting arrested. Back then, there weren't any cell phones. Jim Cornette, who was in charge of booking the extras at the time, couldn't get a hold of anyone because they were all on their way to my show. I got a message on my pager to call Cornette. When I called him, he said he couldn't get a hold of anyone and told me to book a dozen guys to be cops and include myself as one of them. So here I am, 21 years old and not only going to be in a WrestleMania but I get to book the guys for the segment as well. It was a pretty freaking amazing experience. If you go back and watch it, I was dying to have a speaking role in it. So I just made it up. You can see me saying "Close that, close that" to the cop sitting in the driver's seat of the cop car- like he didn't know he had to close his door to drive. It's really funny if you go back and watch it knowing that I was going to do anything possible to speak during this segment."
Would you consider returning to WWE if the opportunity came, or would you consider working with AEW if the opportunity arose?
"I would consider working for any company if the opportunity was right for me and my family. At the end of the day this is a business and I treat it like one. I am very confident that I could produce big results for any major wrestling company in this world. I understand this business very very well. Right before the pandemic I was just about to do some work with Ring of Honor. But yes, I'm interested for sure."
You run the popular 80's Wrestling social media pages; tell us about the process of creating the pages and growing them to the following they have now.
"I stepped away from promoting for a while because I got a job as the marketing director for the restaurant California Pizza Kitchen. I still wanted to feel like I was somehow connected to the business still, so I started 80's Wrestling pages on Twitter, Facebook, and Instagram just as a hobby. Little did I know, it blew up and now I have almost a million followers between all the different accounts I run. Everyone from Steve Austin, Hulk Hogan, The Rock, Randy Orton, Edge, Chris Jericho, Rondey Rousey, Drew McIntyre, and tons more follow the accounts. So after running the socials for a while, I said to myself that I would be a fool not to capitalize on the following I had and do something with it. So I thought of the idea of doing a wrestling convention with all 80s talent called 80's Wrestling Con. One thing led to another and now it's one of my brands."
Your passion for the wrestling business proves to be significant with running ISPW Wrestling, 80's Wrestling Con, The Wrestling Collector store, and a co-producer for The Last Match musical all at the same time. Tell us a bit about your experience with all these projects and what are your goals for the future.
"It's a lot to juggle all at the same time. I love it though. The Last Match: A Pro Wrestling Rock Musical is actually having a huge show this Monday, September 26th in Jersey City, NJ at White Eagle Hall that I am so excited for. Seeing all the behind the scenes stuff during the rehearsals has just been fascinating. Ramin Karimloo is a huge Broadway star; he's like The Undertaker on broadway. It's a huge deal he's a part of this. Matt Cardona is also a part of it and anything he touches turns to gold. So I have that this Monday and this coming Friday is our King of ISPW Tournament in Totowa, NJ at the Totowa PAL. I'm always grinding. Pro Wrestling is my job and how I support my family, so I'm always looking for that next opportunity and project."
The King of ISPW Tournament takes place this Friday night in Totowa, NJ, what can fans expect from the event?
"An awesome show. If you haven't experienced an ISPW show yet and you live in the New Jersey area, I promise you that you will not be disappointed. There are literally dozens of Independent wrestling groups in my area. The difference is though that I have nearly 30 years experience running live events and I'm only 45 years old. I am very excited for this tournament, featuring eight of our top guys "The Superstar" Danny Morrison, Bull James, Afa Jr, LSG, Shawn Donavan, Rick Recon, Traxx, and Michael Mars. We are going all out-we have the throne, scepter, the purple cape and crown, etc. It's going to be super cool. Bill DeMott will be there that evening to educate fans more about the Keri Anne DeMott Foundation and present the winner with the cape and crown. You can't have a party in NJ without having Real 1 (FKA Enzo Amore) in the house so he will be there as well. There will also be two non-tournament matches featuring Justin Corino (with his manager former WWE Superstar Maven) defending against HC Loc (with TJ Epixx) and a Tornado Tag Team Match with The Now against The Birds of The Sun. For tickets and more info on ISPW, you can visit ISPWWrestling.com."