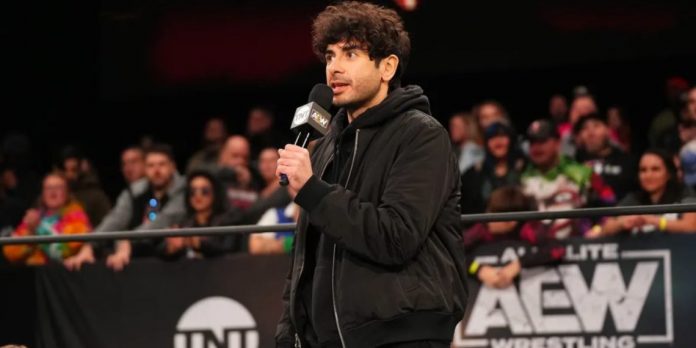 This week, AEW President Tony Khan had another interesting Friday night on Twitter.
As PWMania.com previously reported, Cubsfan, who has been covering lucha libre for many years, recently tweeted on his @luchablog account about users who simply write "who?" in response to various posts about others. Khan responded to the random post by commenting about anti-AEW supporters.
Cubsfan wrote, "you're not expected to know who everyone is, i know a lot of people and there still are others i'm learning about every day but also if you have the time to type 'who?', and click post you also have the time to google. posting 'who?' is just waving a 'I'm a goof, ignore me" flag."
Khan responded, "They aren't doing it to be genuine. A large % of those replies aren't from real people, a lot of them are accounts that upon inspection seem to only exist to question and rip AEW and most of their other content seems to be a cover story to justify the existence of these accounts."
Khan then tweeted again to continue on anti-AEW supporters.
"One of my favorite bits they do is when they claim they used to love AEW in the old days, but not anymore, yet when you dig into their old posts, there's nothing positive on AEW ever. Yes, I'm sure you all used to be great fans despite no evidence of that whatsoever. #AEWRampage," he wrote.
When a fan asked if he'd "ever been this perpetually online before?" Khan responded by recalling how long he's been following pro wrestling online.
"I've been online since the Grandstand Wrestling Forum on dial-up America Online. #AEWRampage tonight," Khan wrote.
Khan previously stated that he frequently uses Friday nights to correct the record on Twitter. This conversation started when a fan asked Dave Meltzer if wrestlers, presumably in WWE, still pay for their own car rentals and hotel rooms. Meltzer responded that it is taken care of for overseas tours but not for domestic tours. Meltzer's tweet was sent around midnight on Saturday, March 11.
"Overseas it's taken care of. Domestic they still pay for cars and hotels," Meltzer wrote.
Khan said Meltzer was wrong, because while that may be true for other companies, Khan makes a significant weekly investment in hotel rooms for talent, while the company also spends millions on hotels and transportation for the wrestlers.
"That's false Dave. Your statement's true about other companies but doesn't apply at all to AEW. AEW invests millions of dollars every year on very good quality hotel rooms + safe transport to take care of our wrestlers. It's a huge investment I make on hotels weekly #AEWRampage," Khan wrote.
A fan joked with Khan that Meltzer's account had been hacked, but Khan didn't get it.
Khan wrote back, "That may be, but he wrote that before he got hacked, and tonight is Friday night, when I often correct the record on things I find to be inaccurate before #AEWRampage on @TNTdrama."
Several AEW stars, including Dax Harwood, Kip Sabian, Alex Abrahantes, Madison Rayne, and referee Bryce Remsburg, responded to Khan's tweet about covering expenses. Their tweets are listed below.
Khan argued with one fan, who has since deleted their posts, but it was clear Khan didn't understand what Meltzer meant when he said "domestic" in the original post.
Khan previously stated that the anti-AEW online community is a "army of bots," citing an independent study he conducted.
All of the aforementioned posts are listed below:
They aren't doing it to be genuine.
A large % of those replies aren't from real people, a lot of them are accounts that upon inspection seem to only exist to question and rip AEW and most of their other content seems to be a cover story to justify the existence of these accounts.

— Tony Khan (@TonyKhan) March 17, 2023
One of my favorite bits they do is when they claim they used to love AEW in the old days, but not anymore, yet when you dig into their old posts, there's nothing positive on AEW ever. Yes, I'm sure you all used to be great fans despite no evidence of that whatsoever.#AEWRampage

— Tony Khan (@TonyKhan) March 17, 2023
I've been online since the Grandstand Wrestling Forum on dial-up America Online.#AEWRampage tonight

— Tony Khan (@TonyKhan) March 17, 2023
That's false Dave. Your statement's true about other companies but doesn't apply at all to AEW

AEW invests millions of dollars every year on very good quality hotel rooms + safe transport to take care of our wrestlers.

It's a huge investment I make on hotels weekly#AEWRampage https://t.co/bXPGVTSt51

— Tony Khan (@TonyKhan) March 17, 2023
That may be, but he wrote that before he got hacked, and tonight is Friday night, when I often correct the record on things I find to be inaccurate before #AEWRampage on @TNTdrama.

— Tony Khan (@TonyKhan) March 17, 2023
Anyone who works for @aew can validate that what TK is saying is true. We get treated extremely well. Our safety and well being is top priority.

— Alex Abrahantes (@ontheairalex) March 18, 2023
— Kip Sabian (@TheKipSabian) March 18, 2023
Speaking from a female perspective, this is so much appreciated. Showing up to a hotel where our security team is always nearby, being taken to and from the arenas and having peace of mind that our safety is of the utmost importance speaks to the integrity of AEW leadership 🙌🏼

— Madison Rayne (@MadisonRayne) March 18, 2023
No company, wrestling or other, has taken care of me the way AEW has. First class. Ill never forget that.

— Uncle Dax FTR (@DaxFTR) March 18, 2023
Can proudly confirm. Wrestlers and all staff (refs, announcers, medical staff, security, hair/makeup, coaches, etc.)

Shuttles/from arena. Flights to/from home. 3/4 star hotels reserved for them.

I believe this extent of hospitality is unprecedented in pro wrestling history.

— Bryce Remsburg (@dabryceisright) March 17, 2023
Really, Corey21891? You could've fooled me, because he said domestic wrestling companies in his tweet, and I own two of those. Thank you for your totally unbiased thoughts.

— Tony Khan (@TonyKhan) March 17, 2023
So when you read all "domestic wrestlers", you're assuming all domestic wrestlers work for WWE?

— Tony Khan (@TonyKhan) March 17, 2023