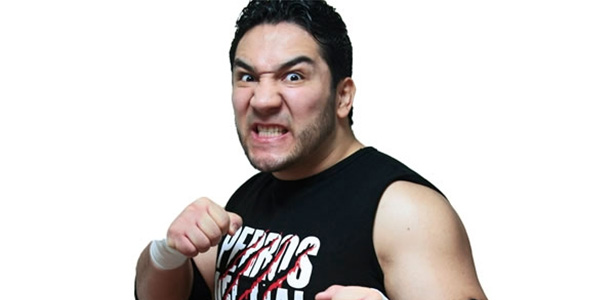 Reports that El Hijo del Perro Aguayo, one of the Mexico's top stars, died earlier this morning due to injuries he sustained during a match on Friday night, has been confirmed by the Mexico-based AAA and CMLL professional wrestling promotions.
Aguayo's death comes after competing in a match on Friday night against former WWE Superstar Rey Mysterio, Tigre Uno and Manik. The video below shows Aguayo getting hit with a missile dropkick. He takes a bump, flops over and lands on his stomach before getting up and taking a scissors from Mysterio to the floor, twisting while running to go through the ropes. Aguayo comes back in the ring and is dropkicked into position for the 619. It's possible Aguayo suffered the spinal trauma while taking the bump to the floor and then worsened the injury by coming back in and taking the dropkick. Once he falls into position, he's clearly out of it. You can see that Rey never connected with the 619 and looked confused. They improvised as the referee checked on Aguayo. Konnan, who was on the outside of the ring, tended to Aguayo as did Mysterio at one point. The match ended and EMT's came to the ring to tend to Aguayo and take him to an ambulance.
You can watch a video of the full match below:
News On El Hijo Del Perro Aguayo's Death Being Investigated
Aguayo was initially reported to be in stable condition despite being unconscious, it was then reported that Aguayo later died at 1:00 AM local time.
AAA later confirmed the news on their official Twitter page, with AAA tweeting "The grief overwhelms our hearts. Rest in peace, El Hijo del Perro Aguayo."
La pena embarga de nuevo nuestros corazones. Descansa en paz, Hijo del Perro Aguayo. pic.twitter.com/YGX4Zy6iYc

— Lucha Libre AAA (@luchalibreaaa) March 21, 2015
Rival promotion CMLL also tweeted a statement early Saturday morning joining the lucha libre community in mourning El Hijo's death.
El CMLL se una a la pena que embarga a la comunidad luchistica por el sensible fallecimiento del Hijo del Perro Aguayo
— CMLL Lucha Libre (@CMLL_OFICIAL) March 21, 2015
Prior to his death, Aguayo also competed in a tag team match against Mysterio at the AAA Rey de Reyes event, which was Mysterio's first match since leaving WWE.
On behalf of everyone at PWMania.com, we would like to offer our sincere condolences to the family and friends of El Hijo del Perro Aguayo.
El Hijo Del Perro Aguayo Cause Of Death Revealed, Why The Doctor Wasn't At Ringside