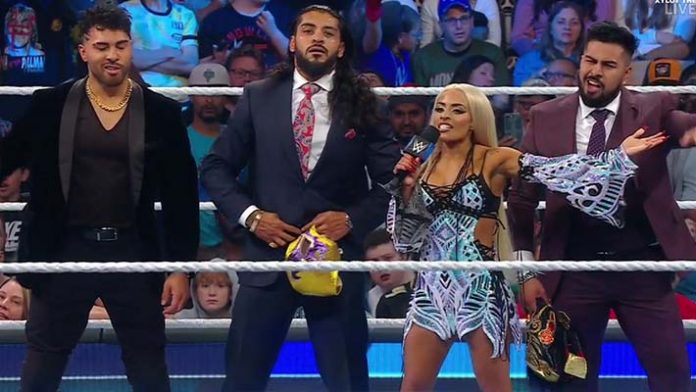 Leading into Extreme Rules tomorrow. Smackdown had its season premiere. It was a great show with debuts, returns and a fantastic Intercontinental Championship match between Sheamus and Gunther. RAW was a little less exciting with not much going on into the PPV.
Monday Night RAW
There was a U.S title match between Bobby Lashley and Mustafa Ali. It was a good match and it could be leading to a Ali storyline. As during the match he refused to give up. But it is hard to tell because he has had so many stop/start pushes it will be hard to get invested. But if they will give it a try then I'm all for it as Ali deserves a chance to show what he can do.
Seth Rollins has a U.S title match on the season premiere of RAW following Extreme Rules. I'm thinking they may give the title to Rollins here. Because he could lose at Extreme Rules in the fight pit to Matt Riddle. Which I think will happen. Then go on and win the U.S title from Lashley. This may be partly to reward him for his work this year by giving him a championship. But I could be wrong and Lashley continues to hold it for a while longer. But he does needa proper feud if that does happen.
Friday Night SmackDown
Logan Paul and Roman Reigns come face to face in the ring. Paul asked who the tribal chief really is, Roman or Jey. There was a moment of tension between Roman and Jey which was very interesting. This going back to their feud 2 years ago. The situation was diffused by Sami Zayn. A couple of segments later, Roman told Sami that Jey's hotheaded nature will be his problem now. They end up having a 6-man tag against The New Day and Braun Strowman. The dissension continues to be a big factor between Jey and Sami because Sami made the challenge to the new day. However, not a fan of the Usos taking the pin here. It happened because of Jey and Sami arguing continually. But it still resulted in a champion losing which should not be happening.
Legado del Fantasma are officially on Smackdown. This is fantastic. They attacked Hit Row when they came out, with a returning Zelina Vega as what appears to be a managerial role. She shined in that role when she was with Andrade. I have faith it will work here too. Since they went after Hit Row, it looks like this could be their first feud. Which would mean Hit Row would need another member, possibly a new leader. Just something worth thinking about.
Finally. We get LA Knight on Smackdown. He attacked the maximum male models in the back. Proclaiming he is now LA Knight. This is the move that has been needed and now it gives another great asset to the Smackdown roster. He will be in a match against Mansoor next week. This is very exciting.
Sheamus and Gunther delivered once again for the Intercontinental championship. This got the big match treatment. As it should. The introductions in the ring just before the match. Perfect. These guys went to war again. While there was similarities to their match at Clash at the Castle. The difference was the story. Gunther had to cheat this time to beat Sheamus. Using the shillelagh to hit Sheamus with, that Kaiser passed it to him while dealing with Ridge and Butch on the outside. Gunther took the win but there will be a rematch down the line and that's where I think Sheamus takes the intercontinental title. The match at extreme rules between the brawling brutes and Imperium should be phenomenal.
Extreme Rules is looking to be a fantastic show. Hoping it delivers on the hype that it has been built on. It has a shot of being the PPV of the year with the way the card looks.
What do you think? Share your thoughts, opinions, feedback, and anything else that was raised on Twitter @PWMania and Facebook.com/PWMania.