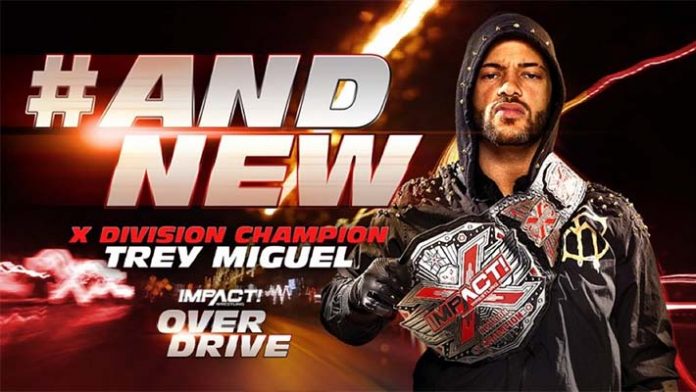 Your new X-Division Champion in Impact Wrestling is Trey Miguel.
At Friday night's Impact Over Drive event, the tournament finals for the open X-Division Title were held. Miguel defeated Black Taurus to win the title.
Miguel is currently in his second reign as champion. When Frankie Kazarian used Option C to exchange the title for a chance to face Impact World Champion Josh Alexander in Friday night's Over Drive main event, the title was officially declared vacant on the October 20 episode of Impact. At Bound For Glory on October 7, Kazarian defeated Mike Bailey to claim the championship.
Click here for complete Impact Over Drive results.
Here are a few shots from Friday night's championship match at Louisville, Kentucky's Old Forester's Paristown Hall:
Best Entrance #TreyMiguel #OverDrive pic.twitter.com/SIX4yZ2Qvt

— NailsAndNY – Egomaniac (@NailsAndNY) November 19, 2022
Spider Trey is in the building and has X-Divison gold on his mind!@TheTreyMiguel #OverDrive pic.twitter.com/NqOAscHtsy

— IMPACT (@IMPACTWRESTLING) November 19, 2022
.@Taurusoriginal and @TheTreyMiguel are going TOE TO HOOF!#OverDrive pic.twitter.com/L6V4ZavY0L

— IMPACT (@IMPACTWRESTLING) November 19, 2022
.@Taurusoriginal wants his FIRST X-Division Championship!#OverDrive pic.twitter.com/So3yT3DS64

— IMPACT (@IMPACTWRESTLING) November 19, 2022
BEAUTIFUL Combo from @TheTreyMiguel!#OverDrive pic.twitter.com/6UkzHXw0bl

— IMPACT (@IMPACTWRESTLING) November 19, 2022
Both these men are giving EVERYTHING they have for the X-Division Championship!@TheTreyMiguel @Taurusoriginal #OverDrive pic.twitter.com/PDr4qf6B3b

— IMPACT (@IMPACTWRESTLING) November 19, 2022
HOW did @TheTreyMiguel kick out?!@Taurusoriginal #OverDrive pic.twitter.com/Kt6RpBiwrN

— IMPACT (@IMPACTWRESTLING) November 19, 2022
WHY @TheTreyMiguel!?#OverDrive pic.twitter.com/QZleL79zv3

— IMPACT (@IMPACTWRESTLING) November 19, 2022
#ANDNEW X-Divison Champion@TheTreyMiguel #OverDrive pic.twitter.com/B9D0UTD5nj

— IMPACT (@IMPACTWRESTLING) November 19, 2022