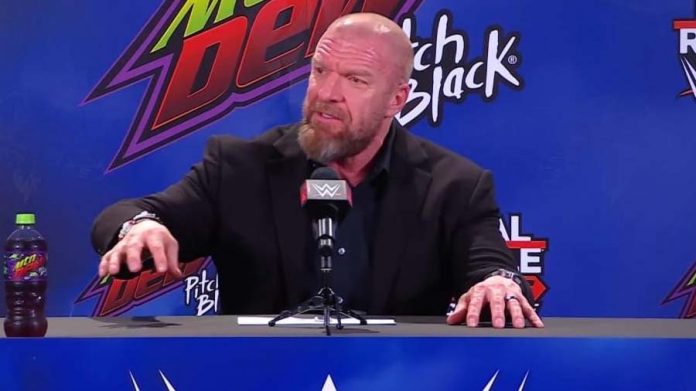 The WWE Royal Rumble post-show press conference was hosted by Byron Saxton Saturday night at The Alamodome in San Antonio, Texas. Rhea Ripley, Bray Wyatt, Cody Rhodes, and WWE Chief Content Officer Triple H all spoke at the press conference.
The complete video of the post-show press conference is available below. Here are the highlights:
* Ripley was asked if she had tweaked her knee during the Women's Royal Rumble. She stated that while she is obviously bruised, her knee is in good condition. She mentioned smelling blood in her nose but stated that her knee was fine.
* Wyatt was questioned regarding the Alexa Bliss teasers. Wyatt believes he will always be linked to Bliss. He has no idea where this is all going, but there will be a moment, and it will be memorable.
* Rhodes said the Mountain Dew Pitch Black soda was outstanding and damn good, but it was the first sugar he'd had in three months. When discussing the reaction he received, Rhodes became emotional. He mentioned talking to Randy Orton the night before and recalled Orton winning the 2009 Royal Rumble. Cody said he saw Orton celebrate his Rumble victory that night and wanted to be that guy. Rhodes expected to be there in a year or so, but that was more than a decade ago. He stated that the connection with the fans was something he was missing and that he picked it up somewhere along the way, possibly in 2015 when he took time away to better himself. You can hit clotheslines, Cody Cutters, and CrossRhodes until you're blue in the face, but connecting with people is where it's at, according to him. Cody says he has the privilege, honor, and burden of being himself and not pretending to be someone else. He said Saturday night, he was good enough, and that feels good.
Rhodes praised WWE Intercontinental Champion GUNTHER as a stud, a special and incredible Superstar.
Rhodes was asked about his return from injury with Chairman Vince McMahon in charge of creative and now with Triple H in charge. He said it was simple when he returned and Vince was in charge, and it is still simple now. He stated that Triple H has no reason to be a fan of his because he smashed the throne and took many shots, all of which were light-hearted. Triple H, according to Rhodes, knew where that was coming from, the fact that he was hungry. He recalled being frustrated as Stardust one night when he walked out of the Gorilla Position and was told to go rattle the cages by Triple H. He stated that it could have meant anything, such as meeting with creative. Cody claimed to have shaken the cages. He's overjoyed that the relationship has blossomed, and he's clearly a huge Triple H fan, as evidenced by how he models his performance. Cody is relieved that Triple H is the coach and that he will be able to play quarterback. Cody reiterated his gratitude to Triple H for many things, including how he handled his father, WWE Hall of Famer Dusty Rhodes. Cody stated that he does not want Triple H to look at him and see his father, but rather Cody, and today he believes Triple H saw Cody, which is very important. He stated that his last name has done a lot for him, but he is now at the point in his career where his first name must do the same, and he believes he is off to a great start, and we will see where he goes from here.
Cody was asked how it felt to point at the WrestleMania 39 sign. When you don't work in WWE, pointing at the sign is a meme, he said, and it didn't really register until he had the opportunity to point. He said you're not just pointing at a sign, you're saying you have a chance to go on last at the biggest WrestleMania ever in 60 days, and he punched a ticket that no one else in his family has punched.
Cody stated that he has nothing but admiration and admiration for Undisputed WWE Universal Champion Roman Reigns. He said that unless their name is Roman Reigns, no one can claim to be the best wrestler in the world. Cody would like to think he's number two, and if the match happens, he'll need all of his strength. He stated that Reigns' glow-up is ongoing, and that he saw him on The Tonight Show with Jimmy Fallon and thought Reigns was an excellent ambassador for the sport. Reigns, according to Cody, is the only man who can call himself the best wrestler in the world.
Cody stated that he has never and will never re-watch the Hell in a Cell victory over Seth Rollins. He said there will be a lot of merchandise based on the torn pec, including action figures. He claimed that if you thought his AEW action figures were bad, wait until you see these new ones.
* Triple H praised and congratulated Rhodes on his recovery. He also had high praise for Ripley. He thanked the WWE Universe and the world's greatest roster of talent, saying none of this would be possible without them. Triple H referred to this as the world's greatest form of entertainment.
GUNTHER was praised by Triple H as a special talent. He stated that GUNTHER had a successful night and that he is excited to see where he takes it next.
Triple H was asked how he felt about his first Rumble as creative director. He mentioned pressure and excitement, and the excitement is enhanced by the pressure. He praised set designer Jason Robinson and his crew, as well as Executive Producer & Chief of Global Television Distribution Kevin Dunn and his crew.
The Rock came up in a question for Triple H. He joked about Rock's lack of time to get into ring shape, saying, "that's what you guys" or the media are telling him. He stated that Rock is extremely busy. There is nothing like WWE, according to Triple H, and if Rock could attend WrestleMania in Hollywood, he would turn over every stone or walk through fire to do so. Triple H does not believe it is in the cards, but he is not certain, and there is always next year. He stated that this is Rock's home, that he has an open invitation, that WWE never closes the door, and that Rock can always walk through whenever he wants. He reiterated how busy Rock is and stated that Rock would not want to return unless he could do it all the way. He claimed that Rock would never sow and half-ass it, and that he would always want to put everything he had into making it the best. He stated that unless Rock can accomplish this, the return will not take place. He stated that Rock is aware that the door is open and that if he has the time and availability, he can come in and electrify everyone.