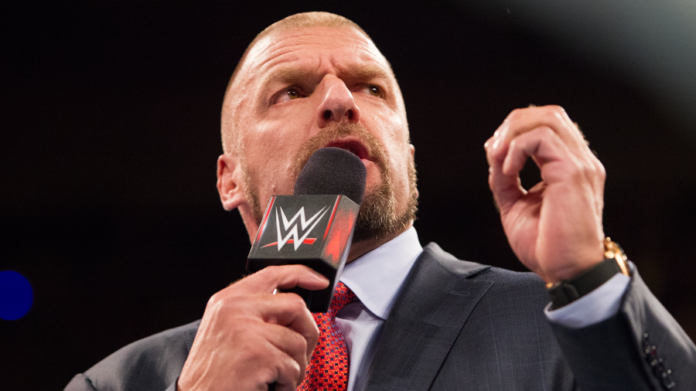 As previously noted, Triple H recently liked and then un-liked a few tweets that were critical of the current WWE product.
There appears to be some real-life frustrations from Triple H and other people within WWE. A close friend of three WWE writers recently called into PWTorch.com's post-RAW podcast and discussed the WWE creative process. The writers had allegedly been drinking and vented to the caller about Vince McMahon.
Here is what the caller said about the criticism of WWE:
"No one should rip on WWE creative. They have some of the most brilliant, unbelievable cool ideas that I've ever heard… We're writing for an audience of one and never forget that [and if not] you're out of here."
"The most frustrated person in the back every single night is Triple H. He'll always take, especially the NXT guys, under his wing. It looks like he's consoling them. It looks so much like he was the most frustrated person in the building every single night."
Here are some additional notes from the caller courtesy of WrestlingNews.co:
– The Wild Card Rule was not in the script on the morning of the show.
– The Superstar Shake-Up changed week to week and it didn't pan out how it was originally laid out months prior. Everything changed because Vince just decided to change it.
– He talked about the turnover with so many backstage people quitting or being fired.
– SmackDown and Raw writing teams are the same for both shows. They used to be separate but that changed recently after the Shake-Up.
– The caller emphasized that the problems in WWE are not creative's fault and Vince McMahon is the one person who deserves the blame.
– Vince wants suggestions from everyone but it never gets on TV. 99 out of 100 times you can come up with an idea for Vince and it won't be used.
– The entire creative team has pitched to have Raw and SmackDown look completely different with different production, a different way of shooting things, etc. and McMahon shoots it down.
– Vince McMahon doesn't keep track of what is going on with NXT. He "maybe" watches Takeover shows.
– The writers say he just watches WWE and works out and is not aware of things going on in the real world.
– The writers say there is no chance of Vince stepping down.
– Dana Brooke has been the hardest worker for the last 3 years. She goes to the Performance Center, she shows up early and helps set up the ring and she gets in the ring so she can get better. Creative will pitch something for her and she gets nothing up until recently with MITB.
– The caller offered to tell Wade Keller off the air of some cool storylines that were pitched and never used.
– The writer he talked to said, "we're all working for Dana Warrior and it's really awkward."
– The WWE-Fox contract prohibits Fox from moving the show to FS1 even if the ratings drop.
– One writer is very close to quitting because he is so "unbelievably unhappy" and many of the writers are paranoid and think they are close to being fired.
– "It's such a toxic atmosphere and it's all because of one person."
– When Neville walked out, there was a crazy shouting match and he flipped out on Vince McMahon and that was the last time they saw him. The writers praised Neville for being so easy to work with.
– Ideas never pan out as originally planned because writers will come up with stuff and then Vince loses interest after a week or two. He used Mojo Rawley as an example.
– The money is good and it's a dream job for many writers but it gets frustrating. The talent is very unhappy and people are trying to get out of their contracts.
– The writers say Bruce Prichard is a pleasure to work with. "He's a funny guy and a pleasure to work with but he's not getting through to Vince either."
– Shane McMahon, Triple H and Stephanie McMahon have tried to talk to Vince but it hasn't worked.
– The people on the writing staff listens to podcasts and they hear fans bashing them. "It breaks their heart," he said.
– Vince is in the announcer's ear "to a sentence" and he gets on them for tiny mistakes.
– On Sami Zayn: "That's not Sami Zayn's promos. That's Vince McMahon talking through Sami Zayn."
– There are 37 total writers and they are now working on both shows.
– NBCUniversal and FOX both want the top stars.
– Andrade went into Vince's office and asked for a legit push. Vince looked at him and said, "learn some English and get back to me." Andrade spoke some English last week and he's been taking English lessons.
– The Firefly Fun House stuff is all Bray Wyatt's idea. Bray is described is an "absolute genius" and he helps other wrestlers with their promos. "He's one of the best guys in the locker room."
– The writers he talked to say they loved when there was a real brand split.
– He mentioned The Revival/Usos storyline being done because Vince just thinks its funny.
Listen to "WKPWP – WWE Raw Post-Show w/Keller & Jason Australia: Inside today's WWE Creative process, on-site correspondent notes, more (5-14-19)" on Spreaker.