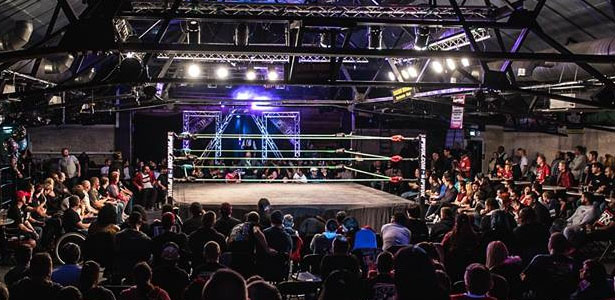 Upcoming Indy Wrestling Events
** Below is a listing of independent wrestling events for the next two weeks. This listing is sent weekly.
** Send events you would like added to Nate Stein at nate_stein@hotmail.com or on Twitter @PSPhenom.
** Need a ride from the airport or to a party? Take Uber and use code 'y424d' – get your first ride free (up to $20).
Wed, Jan 20 – American Combat Wrestling – Tropical Island Breeze, Gulf View Square Mall, 9409 US Highway 19, New Port Richey, FL – 8 pm – facebook.com/acwpasco
Wed, Jan 20 – Ohio Valley Wrestling – 4400 Shepherdsville RD, Louisville, KY – 7 pm – ovwrestling.com
Wed, Jan 20 – Rockstar Pro – Rockstar Arena, 1106 E 3rd ST, Dayton, OH – rockstarprowrestling.com
Thu, Jan 21 – American Combat Wrestling – Kickers South, 12142 US Highway 19, Hudson, FL – 8 pm – facebook.com/acwpasco
Thu, Jan 21 – WWA4 – WWA4 Wrestling School, 4375 Commerce DR, Atlanta, GA – 8 pm – wwa4.com
Fri, Jan 22-Sun, Jan 24 – SCW – 2624 6th ST, Bremerton, WA – Fri 7 pm, Sat 6 pm, Sun 1 pm – facebook.com/SCW.Media
Fri, Jan 22 – Pro South Wrestling – 627 Southern Ave, Piedmont, AL – 7 pm – facebook.com/ProSouthWrestling
Fri, Jan 22 – Big West Wrestling – Lake City Bowling & Billiards, Kelowna, BC – facebook.com/CNWABigWestWrestling
Fri, Jan 22 – Big Time Wrestling – Newark Memorial High School, 39375 Cedar Blvd, Newark, CA – 7:30 pm – btwrestling.com
Fri, Jan 22 – Pro Wrestling Academy CT – 327 Sandbank RD, Unit C6, Cheshire, CT – 8 pm – facebook.com/PWACT
Fri, Jan 22 – Evolve – The Orpheum, 1915 E 7th Ave, Ybor City, FL – 9 pm – dgusa.tv
Fri, Jan 22 – Alternative Pro Wrestling – 305 Cherry ST, Royston, GA – 8:15 pm – facebook.com/apwalternative.prowrestling
Fri, Jan 22 – Southern Indiana Championship Wrestling – Jefferson Arena, 1416 Spring ST, Jeffersonville, IN – 7 pm – facebook.com/southernindianachampionshipwrestling
Fri, Jan 22 – Wild Championship Wrestling Outlaws – WCWO Arena, 1151 S Kentucky Ave, Indianapolis, IN – facebook.com/groups/WCWOArena/
Fri, Jan 22 – Canadian Wrestling's Elite – Rookie's Sports Bar, 201 Melrose Ave E, Winnipeg, MB – 8:30 pm – facebook.com/CWECanada
Fri, Jan 22 – Adrenaline Championship Wrestling – Obi, 8855 Veterans Hwy, Millersville, MD – 7 pm – facebook.com/adrenalinechampionshiipwrestling
Fri, Jan 22 – Global Force Wrestling – Mid-Hudson Civic Center, 14 Civic Center Plaza, Poughkeepsie, NY – 5:30 pm – globalforcewrestling.com
Fri, Jan 22 – IWF – Brockport Elks LOdge, Brockport, NY -7 pm
Fri, Jan 22 – Ring of Honor – WNC Ag Center, 1301 Fanning Bridge RD, Fletcher, NC – 7:30 pm – rohwrestling.com
Fri, Jan 22 – AIWF First Class – Miami Valley Sports Center, 6972 S Dixie Hwy, Franklin, OH – 7 pm – facebook.com/1cwohio
Fri, Jan 22 – Rockstar Ludus – Rockstar Pro Arena, 1106 E Third ST, Dayton, OH – 7:30 pm – rockstarprowrestling.com
Fri, Jan 22 – Extreme Dwarf Wrestling – Perry Johnston's Broken J Bar, 3101 S Twin Mounds, Yale, OK – 9 pm – facebook.com/ExtremeMidgetWrestling
Fri, Jan 22 – Sanctuary – 172 N Wyoming ST, Hazleton, PA – 7 pm – facebook.com/sanctuarypa
Fri, Jan 22 – Adrenalin Rush Wrestling – ARW Arena, 103 Old McDonald School RD, McDonald, TN – 7 pm – facebook.com/arwrestlingdotcom
Fri, Jan 22 – SWE – 106 Southside DR, Tullahoma, TN – 7:30 pm
Fri, Jan 22 – Grand Pro Wrestling – The Rose Club, Hindley (Formerly "The Monaco Ballroom"), WN2 3EU Hindley, Wigan, UK – 2 pm – facebook.com/grandprowrestling
Fri, Jan 22 – Welsh Wrestling – Palace Theatre, Redditch, UK – facebook.com/welshwrestling
Sat, Jan 23-Sun, Jan 24 – Evolve – Orlando Downtown Recreation Complex, 363 N Parramore Ave, Orlando, FL – Sat 8 pm, Sun 2 pm – dgusa.tv
Sat, Jan 23 – Prairie Wrestling Alliance – Northgate Lions Senior Recreation Centre, 7524 139 Ave NW, Edmonton, AB – 7:30 pm – facebook.com/PrairieWrestlingAlliance
Sat, Jan 23 – Night Cap Wrestling Federation – Mornington Freemasons Masonic Lodge, 69 Barkly ST, Mornington, Victoria, Australia – 6:30 pm – facebook.com/Night-Cap-Wrestling-Federation-787497731334305/
Sat, Jan 23 – Live Pro Wrestling – 3175 Kluk LN, Riverside, CA – 6 pm
Sat, Jan 23 – NGW – Stardust Club, 7643 Firestone Blvd, Downey, CA – 7 pm
Sat, Jan 23 – Underground Empire Wrestling – Underground Auditorium, 926 Clela Ave, East Los Angeles, CA – 7 pm – uewwrestling.com
Sat, Jan 23 – XWW – VFW Post 10040, 8548 Lankershim Blvd, Sun Valley, CA – 8 pm – facebook.com/thexwwpro
Sat, Jan 23 – NWA New Revolution Wrestling – Grudge Training Center, 5405 W 56th Ave, Arvada, CO – 6 pm – facebook.com/NRWSportsEnt
Sat, Jan 23 – Power Pro Wrestling – Greater Milford Boys & Girls Club, 101 Delaware Veterans Blvd, Milford, DE – 6 pm – facebook.com/POWERPROWRESTLING1
Sat, Jan 23 – Bang – 2501 SW 57th Ave, Unit 605, Ocala, FL – 7 pm – dory-funk.com
Sat, Jan 23 – Continental Championship Wrestling – Fernandina Rec Center, 2500 Atlantic Ave, Fernandina Beach, FL – 7:30 pm – facebook.com/pages/Continental-Championship-Wrestling/340770456023778
Sat, Jan 23 – Full Impact Pro – Orlando Downtown Recreation Complex, 363 N Parramore Ave, Orlando, FL – facebook.com/fullimpactpro
Sat, Jan 23 – Mid-Florida Wrestling – Palmetto Baptist Chirch, 2626 S Palmetto Ave, Sanford, FL – 7 pm – facebook.com/Mid-Florida-Wrestling-1618787271740111
Sat, Jan 23 – WWN & Evolve – Orlando Downtown Recreation Complex, 363 N Parramore Ave, Orlando, FL – 8 pm
Sat, Jan 23 – Xtreme Wrestling Xperience – National Guard Armory, 608 W McKinnon Ave, Bonifay, FL – 7 pm – facebook.com/pages/XWX-Wrestling/534907309882552
Sat, Jan 23 – AIWF Georgia Premier Wrestling – Atlanta River Gymnasium, Woodstock, GA – 7 pm
Sat, Jan 23 – American Premier Wrestling – Southern Dance Academy, Statesboro Studio, 1097 Hwy GA-24 E, Statesboro, GA – 7 pm – apwonline.net
Sat, Jan 23 – Deep Southern Championship Wrestling – Atlanta River Gym, 2335 Sixes RD, Canton, GA – 7 pm – dscw.org
Sat, Jan 23 – Renegade Championship Wrestling – Big Red & Blue Building, 806 N 2nd Ave, Chatsworth, GA – 8 pm – Facebook.com/RCWWrestling
Sat, Jan 23 – Why We Wrestle – 4236 Level Grove RD, Cornelia, GA – facebook.com/AnarchyCornelia
Sat, Jan 23 – POWW – Twood Banquet Hall, 1051 Wooddale RD, Wooddale, IL – 7 pm – facebook.com/POWW-Entertainment-346070140645
Sat, Jan 23 – Proving Ground Pro – The Petersburg Fire Department, 302 E Taylor ST, Petersburg, IL – facebook.com/PGPwrestling
Sat, Jan 23 – Funkdafied Entertainment – Kosciusko County Fair Grounds, 1400 E Smith ST, Warsaw, IN – 5 pm – facebook.com/Funkdafied-Entertainment-181973713801
Sat, Jan 23 – Infinity Pro Wrestling – National Guard Armory, 3380 S Walnut ST, Bloomington, IN – facebook.com/ipwbloomington
Sat, Jan 23 – New Wave Pro – New Wave Pro Arena, 1439 Ash ST, Terra Haute, IN – 6 pm – facebook.com/NewWavePro
Sat, Jan 23 – Wrestling (Benefit for Demolition McLean's headstone) – Reh Center, Owensville, IN – 8 pm
Sat, Jan 23 – Impact Pro – Forte', 615 3rd ST, Des Moines, IA – 7 pm – facebook.com/ImpactProWrestling
Sat, Jan 23 – Over the Top – Tivoli Theatre, 135-138 Francis ST, Dublin, Ireland – 7:30 pm – facebook.com/OTTwrestlingLive
Sat, Jan 23 – AIWF Kentucky Zone Wrestling – Old Shopville Gym, 144 Shopville RD, Somerset, KY – 7:30 pm – facebook.com/newKZW
Sat, Jan 23 – New South Championship Wrestling – Boys and Girls Club, 103 S Court ST, Franklin, KY – 7:30 pm – nscwrestling.com
Sat, Jan 23 – MCW – MCW Arena, 1000 Joppa Farm RD, Joppa, MD – 7:30 pm – MarylandWrestling.com
Sat, Jan 23 – Showcase Pro Wrestling – Club Raven, 258 Pleasant ST, Worcester, MA – 8:08 pm – ShowcaseProWrestling.com
Sat, Jan 23 – Imperial Wrestling Entertainment – MAC TV Studios, 312 W Michigan ST, Mount Pleasant, MI – 4 pm – facebook.com/imperialwrestlingentertainment
Sat, Jan 23 – Underground Wrestling Society – Legacy Sports Complex, 9299 Goble DR, Brighton, MI – 8 pm – facebook.com/UndergroundWrestlingSociety
Sat, Jan 23 – American Wrestling Federation – Stillwater Junior High, 523 Marsh ST, Stillwater, MN – 7 pm – facebook.com/proAWF
Sat, Jan 23 – Pro Wrestling Battleground – Wilebski's, 1638 Rice ST, St. Paul, MN – 6 pm – facebook.com/ProWrestlingBattleground
Sat, Jan 23 – Steel Domain Wrestling – Richfield American Legion, 6501 Portland Ave, Richfield, MN – 7 pm – facebook.com/steeldomainwrestling
Sat, Jan 23 – Pro Wrestling Ego – Hideaway, 5100 1-55 N, Jackson, MS – 7 pm – facebook.com/prowrestlingego
Sat, Jan 23 – Magnum Pro – Firefighters Union Hall, 6005 Grover ST, Omaha, NE – 7 pm – magnum-pro.com
Sat, Jan 23 – East Coast Wrestling Association – Woodbury Heights Community Center, 741 Helen Ave, Woodbury Heights, NJ – 7 pm – facebook.com/groups/ECWAwrestling1967
Sat, Jan 23 – Old Time Wrestling – Monroe Business Center, 1041 Glassboro Rd, Building C, Suite 1, Williamstown, NJ – 2 pm – OldTimeWrestling.net
Sat, Jan 23 – Ultimate Wrestling – Lyons Community Cener, 9 Manhatta ST, Lyons, NY – 6 pm – ultimatewrestling.us
Sat, Jan 23 – World of Hurt – Hadley Luzerne Elementary School, 273 Lake Ave, Lake Luzerne-Hadley, NY – 7 pm – Facebook.com/wohwrestling
Sat, Jan 23 – Impact Pro Wrestling New Zealand – Mt. Albert Hall, Auckland, New Zealand – 7 pm – facebook.com/ImpactProwrestlingNZ
Sat, Jan 23 – Dangerzone Sports Entertainment – The Salvation Army & Boys & Girls Club, 316 S Tarboro ST, Wilson, NC – 7:30 pm – facebook.com/pages/Danger-Zone-Sports/532725210128741
Sat, Jan 23 – Milestone Wrestling – Hickory National Guard Armory, 1251 8th ST NE, Hickory, NC – 8 pm – facebook.com/milestonewrestling
Sat, Jan 23 – Millennium Wrestling Federation – Lincoln County Veterans Center, 508 Howards Creek School RD, Lincolnton, NC – 8 pm – facebook.com/mwflive
Sat, Jan 23 – New Ohio Wrestling (Benefit for Groveport Madison Marching Band) – Groveport Madison Middle School Central, 751 E Main ST, Groveport, OH – 7 pm – facebook.com/newohiowrestling
Sat, Jan 23 – Real Action Pro Wrestling – Highland Center, 14 Highland Ave, Struthers, OH – 5:30 pm – facebook.com/RealActionProWrestling
Sat, Jan 23 – Extreme Dwarf Wrestling – Ada Agriplex, Ada, OK – 7 pm – facebook.com/ExtremeMidgetWrestling
Sat, Jan 23 – Capital City Championship Combat – Vanier Columbus Club, 260 McArthur Ave, Ottawa, ON – 6:45 pm – c4wrestling.com
Sat, Jan 23 – Excellence Professional Wrestling – Forrest Lodge VFW, 2118 Old Bethlehem Pike, Sellerville, PA – 7 pm – excellenceprofessionalwrestling.com
Sat, Jan 23 – International Wrestling Cartel – Court Time Sports Center, 95 Enterprise ST, Suite 100, Elizabeth, PA – 7:30 pm – iwcwrestling.com
Sat, Jan 23 – Renegade Pro Wrestling – West Newton Gymnasium, 113 S 5th ST, West Newton, PA – 7 pm – facebook.com/RWAPROliveWrestling
Sat, Jan 23 – Montreal Wrestling Federation – Centre du Nouvelle Envol, 115 rue St-Charles, Salaberry-De-Valleyfield, QC – 7:30 pm – facebook.com/lutte.mwf
Sat, Jan 23 – Northern Championship Wrestling – Centre Culturel Et Communautaire, 120 Blvd Du Seminaire, Sainte-Therese, QC – 7:30 pm – ncw.qc.ca
Sat, Jan 23 – Insane Championship Wrestling – Barrowlands, 244 Gallowgate, G4 0TT Glasgow, Scotland – 7 pm – facebook.com/InsaneWrestling
Sat, Jan 23 – WrestleZone – Summerhill Hotel & Suite, 20 Summerhill Court, Lang Stracht, AB15 6LB Aberdeen, Scotland – 7:30 pm – facebook.com/wrestlezonescotland
Sat, Jan 23 – Xtreme Wrestling Entertainment – Protea Heights Academy, Brackenfell, Cape Town, South Africa – 8 pm – facebook.com/XWEwrestlingSA
Sat, Jan 23 – AIWF Total Wrestling Experience – 4825 Dayton Blvd, Chattanooga, TN – 8 pm – facebook.com/TWEofChattanooga/
Sat, Jan 23 – Mountain Championship Wrestling – Old Sweater Factory, 97 Tom Pope RD, Pikeville, TN – 7 pm – facebook.com/pages/Mountain-Championship-Wrestling/836983106364696
Sat, Jan 23 – New Breed Pro – New Breed Arena, 508 W Main ST, Humboldt, TN – newbreedpro.webs.com
Sat, Jan 23 – Ultimate Extreme Wrestling – UEW Arena, 410 Scruggs RD, East Ridge, TN – 8 pm – facebook.com/UEW15
Sat, Jan 23 – Big Texas Wrestling – Kauffman Leadership Academy, 1108 N Anglin, Cleburne, TX – 7 pm – facebook.com/btpwcleburne
Sat, Jan 23 – Metroplex Wrestling – 1820 Reliance Pkwy, Suite 100, Bedford, TX – 8 pm – metroplexwrestling.com
Sat, Jan 23 – 4FW – MECA Town Centre, Regent Circus, SN1 1PR Swindon, UK – 6 pm – 4fw-online.com
Sat, Jan 23 – All Star Wrestling – Alban Arena, St. Albans, UK
Sat, Jan 23 – Alpha Omega Wrestling – Winter Gardens, Marine Road, LA4 4BU Morecambe, UK – 6 pm – facebook.com/AOWUK
Sat, Jan 23 – Britannia Wrestling Promotions – Denbigh Town Hall, Crown Lane, Denbigh, Denbighshire, North Wales, LL16 3TB, Denbigh, UK – 7:30 pm – facebook.com/britanniawrestling
Sat, Jan 23 – Elevation – Brockington College, Biaby RD, LE19 4AQ Enderby, UK – 2:30 pm – facebook.com/lcwelevation
Sat, Jan 23 – Empress Pro Wrestling – Arts3Every1 Centre, Desborough RD, HP11 2PU High Wycombe, Buckinghamshire, UK – 3:15 pm – facebook.com/EmpressPro
Sat, Jan 23 – Entertainment Wrestling Association – Arts4Every1, Desborough RD, HP11 2PU High Wycombe, Buckinghamshire, UK – 6:30 pm – facebook.com/entertainmentwrestling
Sat, Jan 23 – International Pro Wrestling: UK – Selsdon Community Centre, 132 Addington RD, Selsdon, Surrey, CR2 8LA, UK – 7 pm – ipwuk.com
Sat, Jan 23 – Preston City Wrestling – PCW Academy, 31 St. Marys ST, PR1 5LN, Preston, UK – 7 pm – facebook.com/PrestonCityWrestling
Sat, Jan 23 – RAD Pro Wrestling – Chuter Ede Community Association, Galesworthy RD, NE34 South Shields, UK – 5:30 pm – facebook.com/RadProWrestling
Sat, Jan 23 – RWA – New Images Youth Centre, CW72HG Winsford, Cheshire, UK – 7 pm – facebook.com/RwaWrestlingWinsford
Sat, Jan 23 – Slam! – Solvay Function Suite, Station Road, B69 4LU Oldbury, Sandwell, UK – 7 pm
Sat, Jan 23 – Superslam – Alban Arena, Civic Centre, AL1 3LD St. Albans, UK – 7:30 pm – facebook.com/All-Star-Wrestling-UK-126812054052018
Sat, Jan 23 – Wisconsin Professional Wrestling – Baba Louie's, 419 Main Ave, De Pere, WI – 7 pm – facebook.com/wisconsinprowrestling
Sun, Jan 24 – Kentuckiana Diehard Wrestling – Jefferson Arena, 1416 Spring ST, Jeffersonville, IN – 5 pm – kdwrestling.com
Sun, Jan 24 – Lucha Toronto – Variety Village Gym, 3107 Danforth Ave, Scarborough, ON – 4:30 pm – luchatoronto.com
Sun, Jan 24 – NWA Blue Collar – North Portland Eagles Hall, 7611 N Exeter, Portland, OR – 6 pm – facebook.com/NWABLUECOLLARWRESTLING
Sun, Jan 24 – Anarchy Championship Wrestling – The Mohawk Austin, 912 Red River ST, Austin, TX – 5:15 pm – facebook.com/AnarchyChampionshipWrestling
Sun, Jan 24 – All Star Wrestling – The Hexagon, Reading, UK
Sun, Jan 24 – HOPE – Walkabout Derby, 9-11 Market PL, DE1 3QE Derby, UK – 8 pm – facebook.com/HOPEWrestling
Sun, Jun 24 – Insane Championship Wrestling – Barrowlands, 244 Gallowgate, G4 0TT Glasgow, UK – 7 pm – facebook.com/InsaneWrestling
Sun, Jan 24 – Phoenix Events – Crookes Social Club, Mulehouse RD, S10 1TD Sheffield, UK – 6:30 pm – facebook.com/wrestlinginsheffield
Sun, Jan 24 – Pride Promotions – Wellsprings Leisure Centre, Cheddon RD, TA2 7QP Taunton, Somerset, UK – 5:45 pm – facebook.com/pridepromotion
Sun, Jan 24 – PROGRESS – Electric Ballroom, 184 Camden High ST, NW1 8QP London, UK – 2 pm – facebook.com/ProgressWrestling
Sun, Jan 24 – Superslam – Hexagon, Queens Walk, RG1 7UA Reading, UK – 3 pm – facebook.com/All-Star-Wrestling-UK-126812054052018
Sun, Jan 24 – TNT Extreme Wrestling – Walkabout Liverpool, Concert Square, 26 Fleet ST, L1 4AN Liverpol, UK – 9 pm – facebook.com/tntwrestling
Sun, Jan 24 – American Pro Wrestling Alliance – Stonewood Volunteer Fire Department, Clarksburg, WV – 5 pm – facebook.com/apwawrestling
Mon, Jan 25 – Tasmanian Championship Wrestling – Royal Park Launceston 7250, Bathurst ST, Launceston, Tasmania – 2 am – facebook.com/tcwlaunceston
Wed, Jan 27 – American Combat Wrestling – Tropical Island Breeze, Gulf View Square Mall, 9409 US Highway 19, New Port Richey, FL – 8 pm – facebook.com/acwpasco
Wed, Jan 27 – Ohio Valley Wrestling – 4400 Shepherdsville RD, Louisville, KY – 7 pm – ovwrestling.com
Wed, Jan 27 – Rockstar Pro – Rockstar Arena, 1106 E 3rd ST, Dayton, OH – rockstarprowrestling.com
Wed, Jan 27 – Megan Boys Entertainment (Benefits Action 4 Austism) – The Avenue Banquet Hall, 1600 Steeles Ave W, Vaughan, ON – 7:30 pm – meganboys.com
Thu, Jan 28 – WWA4 – WWA4 Wrestling School, 4375 Commerce DR, Atlanta, GA – 8 pm – wwa4.com
Thu, Jan 28 – Premier British Wrestling – Maybole Town Hall, KA19 7AH Maybole, UK – 7 pm – facebook.com/pbwwrestling
Fri, Jan 29 – Pro South Wrestling – 627 Southern Ave, Piedmont, AL – 7 pm – facebook.com/ProSouthWrestling
Fri, Jan 29 – Extreme Dwarf Wrestling – Whiskey Bent Saloon, 6613 John Harden DR, Cabot, AR – 9 pm – facebook.com/ExtremeMidgetWrestling
Fri, Jan 29 – All Star Wrestling – Cloverdale Fair Grounds, Alice McKay Building, 6050 176 ST, Surrey, BC – 7:30 pm
Fri, Jan 29 – Pro Wrestling Academy CT – 327 Sandbank RD, Unit C6, Cheshire, CT – 8 pm – facebook.com/PWACT
Fri, Jan 29 – Destiny Christian Championship Wrestling – Destiny People Worship Center, 7445 S State RD 121, Macclenny, FL – 6 pm – facebook.com/Destinywrestling
Fri, Jan 29 – Shine – Orpheum, 1915 E 7th Ave, Tampa, FL – 9 pm – shinewrestling.com
Fri, Jan 29 – All Star Wrestling Network – AWN WrestlePlex, 1361 Peach Pkwy, Fort Valley, GA – 8 pm – allstarwrestlingnetwork.com
Fri, Jan 29 – Alternative Pro Wrestling – 305 Cherry ST, Royston, GA – 8:15 pm – facebook.com/apwalternative.prowrestling
Fri, Jan 29 – NWA Supreme – The Point, 311 Myers ST, Seymour, IN – 6 pm – facebook.com/nwasupreme
Fri, Jan 29 – Wild Championship Wrestling Outlaws – WCWO Arena, 1151 S Kentucky Ave, Indianapolis, IN – facebook.com/groups/WCWOArena/
Fri, Jan 29 – Detroit Style Wrestling – Trinity Lutheran Church Gymnasium, 465 Oak St, Wyandotte, MI – 7 pm – tinyurl.com/ha98jas
Fri, Jan 29 – Pure Pro Wrestling – Birch Run Expo Center, 11600 N Beyer RD, Birch Run, MI – 7 pm – prowrestlingatitsfinest.com, facebook.com/pages/Pure-Pro-Wrestling/201474633206765
Fri, Jan 29 – Prime Time Wrestling – Knights of Columbus, 1114 American Blvd W, Bloomington, MN – 7 pm – ptwrestling.com
Fri, Jan 29 – Superstars of Wrestling Federation – Columbian Club of Avenel, 109 Morrisey Ave, Avenel, NJ – 7 pm – facebook.com/1GCW.WRESTLING
Fri, Jan 29 – Premier Wrestling Federation – SBSA Bingo Hall/Hashimoto Hall, 400 Hubert Blvd, Hubert, NC – 7:30 pm – ProWrestlingPWF.com
Fri, Jan 29 – AIWF First Class – Miami Valley Sports Center, 6972 S Dixie Hwy, Franklin, OH – 7 pm – facebook.com/1cwohio
Fri, Jan 29 – Showcase Pro Wrestling – SPW Arena, 126 Main ST, Woonsocket, RI – 7:30 pm – showcaseprowrestling.com
Fri, Jan 29 – Adrenalin Rush Wrestling – ARW Arena, 103 Old McDonald School RD, McDonald, TN – 7 pm – facebook.com/arwrestlingdotcom
Fri, Jan 29 – NWA BOW – Pinballz Kingdom, 15201 S IH 35 Frontage RD, Buda, TX – 8 pm – thenwabow.com
Fri, Jan 29 – 4 Front Wrestling – Marlborough Town Hall, 5 High ST, SN8 1AA Marlborough, Wiltshire, UK – 6:30 pm – facebook.com/Official4FW
Fri, Jan 29 – GOOD Wrestling – The Craufurd Arms, 59 Stratford RD, Wolverton, MK12 5LT Milton Keynes, UK – 7 pm – facebook.com/goodwrestlinguk
Fri, Jan 29 – All Star Wrestling – Floral Pavilion, New Brighton, UK – facebook.com/Official4FW
Fri, Jan 29 – Good Wrestling – The Craufurd Arms, 59 Stratford RD, MK12 5LT Milton Keynes, UK – 7 pm – facebook.com/Goodwrestlinguk
Fri, Jan 29 – Main Event Wrestling – Innisfree Sports & Social Club, Chesters Ave, Longbenton, NE12 8TY Newcastle upon Tyne, UK – 6:30 pm
Fri, Jan 29 – Tidal Championship Wrestling – Dolphin Centre, Darlington, UK – facebook.com/tidalchampionshipwrestling
Fri, Jan 29 – River City Championship Wrestling – American Legion Post 52, 711 6th ST S, La Crosse, WI – 7 pm – facebook.com/RiverCityCW
Fri, Jan 29 – Superslam – Floral Hall New Brighton, CH41 0 Liverpool, UK – 7:30 pm – facebook.com/All-Star-Wrestling-UK-126812054052018
Sat, Jan 30 – Global Championship Wrestling – Pell City Civic Center, 2801 Stemley Bridge RD, Pell City, AL – 7 pm – GCWPro.com
Sat, Jan 30 – Real Canadian Wrestling – Moose Hall, Hiway 2A, Ponoka, AB – 7:45 pm – facebook.com/groups/realcanadianwrestling
Sat, Jan 30 – Arizona Wrestling Federation – AWF Academy, 5658 N 51st Ave, Glendale, AZ – 5:30 pm – facebook.com/arizonawrestlingfederation
Sat, Jan 30 – Insane Championship Wrestling – Belconnen Community Theatre, Belconnen, Australia – 5:30 pm – facebook.com/ICWinsaneasylum
Sat, Jan 30 – Elite Canadian Championship Wrestling – Sapperton Pensioners Hall, 318 Keary ST, New Westminster, BC – 7:30 pm – eccw.com
Sat, Jan 30 – Vancouver Island Pro Wrestling – K'omoks Band Hall, Courtenay, BC – 7 pm – facebook.com/VIProWrestling
Sat, Jan 30 – Empire Wrestling Federation – Esther Snyder Community Center, 4100 N Baldwin Park Blvd, Baldwin Park, CA – 7 pm – EmpireWrestlingFederation.com
Sat, Jan 30 – Gold Rush Pro – Ingrid B. Lacy Gym, 1427 Palmetto Ave, Pacifica, CA – 7 pm – facebook.com/goldrushprowrestling
Sat, Jan 30 – Insane Wrestling League – Industrial Hills Expo Center, 16200 Temple Ave, City of Industry, CA – 2 pm – insanityatindustryhills.com/
Sat, Jan 30 – Knokx Pro – The Domain, Sun Valley, CA – 6 pm – knokxpro.com
Sat, Jan 30 – Northeast Wrestling – NEW Arena, 40 Peck RD, Bethany, CT – 7 pm – northeastwrestling.com
Sat, Jan 30 – I Believe in Wrestling – Team Vision Dojo, 6923 Narcoossee RD #620, Orlando, FL – 8 pm
Sat, Jan 30 – NWA Florida Underground – Yucatan Live, 2016 Town Center RD, Brandon, FL – 8 pm – facebook.com/fuw.pro
Sat, Jan 30 – Ronin Pro – Broward College Gym, 7200 Pine Blvd, Pembroke Pines, FL – 7:30 pm – facebook.com/RONINPROWRESTLING
Sat, Jan 30 – World Xtreme Wrestling – Minneola Recreation Center, 800 N. Highway 27, Minneola, FL – 6:30 pm – WXWwrestling.com
Sat, Jan 30 – X Wrestling Force – Polish American Club, 1250 NW Ave, Miami, FL – 7 pm – facebook.com/xwrestling
Sat, Jan 30 – AIWF Georgia Premier Wrestling/Deep Southern Championship Wrestling – Pickens County Middle School Gymnasium, 1802 Refuge RD, Jasper, GA – 7 pm – dscw.org
Sat, Jan 30 – Mid-Atlantic Championship Wrestling – Habersham Central High School, Mt. Airy, GA – 8 pm – midatlanticwrestling.com
Sat, Jan 30 – Renegade Championship Wrestling – Big Red & Blue Building, 806 N 2nd Ave, Chatsworth, GA – 8 pm – Facebook.com/RCWWrestling
Sat, Jan 30 – Westside Xtreme Wrestling – KUZ Kreuz, Schlitzer Str 81, 36039 Fulda, Germany – 7 pm – facebook.com/WestsideXtremeWrestling
Sat, Jan 30 – Frontier Championship Wrestling – Rock Hollow, 1971 Rt. 75 E, Freeport, IL – 7 pm – facebook.com/Frontier-Championship-Wrestling
Sat, Jan 30 – Zero1 USA – Burgess Osborne Auditorium, Mattoon, IL – 8 pm – facebook.com/zero1supreme
Sat, Jan 30 – Crash Tested Wrestling – Calumet New Tech High School, 3900 Calhoun ST, Gary, IN – 7 pm – facebook.com/crashtestedwrestling
Sat, Jan 30 – Infinity Pro – Indiana National Guard Armory, 3380 S Walnut ST, Bloomington, IN – 7 pm – facebook.com/ipwbloomington
Sat, Jan 30 – Metro Pro Wrestling – Turner Rec Center, 831 S 55th ST, Kansas City, KS – 7 pm – metrowrestling.com
Sat, Jan 30 – Limitless Wrestling – City Side Restaurant & Banquet Hall, 393 N Main ST, Brewer, ME – 7:30 pm – facebook.com/LimitlessWrestling
Sat, Jan 30 – Pioneer Valley Pro – PACC South Hadley, 515 Granby RD, South Hadley, MA – 6:30 pm – facebok.com/PioneerValleyPro
Sat, Jan 30 – American Wrestling Federation – Elk River High School, Saint Cloud, MN – 7 pm – facebook.com/proAWF
Sat, Jan 30 – Minnestora Indpenedent Wrestling – American Legion Post, 290 E Lake DR, Chanhassan, MN – 8 pm – facebook.com/groups/150580712706/
Sat, Jan 30 – Extreme Dwarf Wrestling – Stratford Bar, 800 S Highway DR, Fenton, MO – 9 pm – facebook.com/ExtremeMidgetWrestling
Sat, Jan 30 – Pro Wrestling Showdown – Poppodium Volt, odasingel 88, Sittard, Netherlands – 7 pm – prowrestlingshowdown.nl
Sat, Jan 30 – Future Stars of Wrestling – Silverton Casino, 3333 Blue Diamond Rd, Las Vegas, NV – 7:30 pm – FutureStarsofWrestling.com
Sat, Jan 30 – Independent Wrestling Federation – IWF Centre, 75 Franklin Ave, Nutley, NJ – 7 pm – campiwf.com
Sat, Jan 30 – Old Time Wrestling – Monroe Business Center, 1041 Glassboro Rd, Building C, Suite 1, Williamstown, NJ – 2 & 7 pm – OldTimeWrestling.net
Sat, Jan 30 – New York Wrestling Connection – 435 Brook Ave Unit 13, Deer Park, NY – 7 pm – NYWCwrestling.com
Sat, Jan 30 – AML – Winstom-Salem Fairgrounds & Annex, 421 W 27th ST, Winston-Salem, NC – 6 pm – facebook.com/AMLWrestling
Sat, Jan 30 – CWF Mid-Atlantic – Mid-Atlantic Sportatorium, 1001 Springwood Ave, Gibsonville, NC – 8 pm – CWF247.com
Sat, Jan 30 – Hardcore Championship Wrestling – National Guard Armory, Spindale, NC – 7:30 pm – facebook.com/HardcoreChampionWrestling
Sat, Jan 30 – North American Wrestling Alliance – Rock Gym, 185 Shady ST< Newland, NC - 7:30 pm - facebook.com/NAWA-Professional-Wrestling-1665340640360074 Sat, Jan 30 - Premier Wrestling Federation - Camp Lejeune, NC - 7:30 pm - ProWrestlingPWF.com Sat, Jan 30 - Main Event Wrestling - 301 East Lake Ave, Bellefontaine, OH - 6:30 pm - facebook.com/MEWpro Sat, Jan 30 - Mid Ohio Wrestling - Tadmor Shrine, 3000 Krebs DR, Akron, OH - 7 pm - facebook.com/pages/Mid-Ohio-Wrestling/174312449321673 Sat, Jan 30 - Wrestling & Respect - UAW Hall, 1440 Bellefontaine Ave, Lima, OH - 6 pm - facebook.com/WARWrestling Sat, Jan 30 - AIWF Barrie Wrestling - Ferris Lane Community Church, 49 Ferris Lane, Barrie, ON - 6 pm - facebook.com/BarrieWrestling Sat, Jan 30 - Fringe Pro Wrestling - Bay City Music Hall, Pier 4 Park, 50 Leander DR, Hamilton, ON - 7 pm - facebook.com/FringeWrestling Sat, Jan 30 - Pure Wrestling Association - K'Omoks Band Hall, 3320 Comox RD, Courtenay, ON - 7 pm - facebook.com/pwacanadawrestling Sat, Jan 30 - East Coast Pro Wrestling - A1 Wheels & Deals, 5676 US Highway 15, Montgomery, PA - 7:30 pm - facebook.com/ecpwshowcase Sat, Jan 30 - Phoenix Pro - Bulldog Arena, 420 Main ST, Johnstown, PA - 7 pm - facebook.com/PhoenixProfessionalWrestling Sat, Jan 30 - Pro Wrestling Express - PWX Wrestleplex, 2125 Beacon ST, McKeesport, PA - 7:30 pm - pwxtv.com, facebook.com/nwaeast.pwx Sat, Jan 30 - Scottich Wrestling Entertainment - Ardler Complex, Turnberry Avenue, Dundee, Scotland - 6:15 pm - sweonline.co.uk Sat, Jan 30 - UltraWrestle - The Union County, SC Recreation Department, 111 Thomas ST, Union, SC - 7 pm - facebook.com/UltraWrestle Sat, Jan 30 - AIWF Total Wrestling Experience - 4825 Dayton Blvd, Chattanooga, TN - 8 pm - facebook.com/TWEofChattanooga/ Sat, Jan 30 - New Breed Pro - New Breed Arena, 508 W Main ST, Humboldt, TN - newbreedpro.webs.com Sat, Jan 30 - Ultimate Extreme Wrestling - UEW Arena, 410 Scruggs RD, East Ridge, TN - 8 pm - facebook.com/UEW15 Sat, Jan 30 - Kamikaze Pro - The Collingwood Centre, Collingwood DR, Great Barr, B43 7NF Birmingham, UK - 6 pm - facebook.com/KamikazeProUK Sat, Jan 30 - IHWE - Crowley Recreation Center, 405 S Oak ST, Crowley, TX - 6 pm - facebook.com/IHWEProWrestling Sat, Jan 30 - Lone Star Championship Wrestling - 21902 Northwest Fwy, Cypress, TX - 7:30 pm - facebook.com/lonestarchampionshipwrestling Sat, Jan 30 - Reality of Wrestling - World's Gym Arena, 10000 Emmett F Lowry, Suite 1152, Texas City, TX - 7 pm - facebook.com/BookerTsRealityOfWrestling Sat, Jan 30 - Elite British Wrestling - Queens Social Club, Queens RD, S2 4DG Sheffield, UK - 6 pm - facebook.com/ncwauk Sat, Jan 30 - Kamikaze Pro - Collingwood Centre, Collingwood DR, Great Barr, B43 7NF Birmingham, UK - 6 pm - facebook.com/KamikazeProUK Sat, Jan 30 - New Generation Wrestling - Pudsey Civic Hall, Dawsons Corner, LS28 5TA Pudsey, UK - 7 pm - ngwuk.com Sat, Jan 30 - Superslam - Victoria Hall, Hanley, Bagnall ST, ST1 3AD Stoke on Trent, UK - 7 pm - facebook.com/All-Star-Wrestling-UK-126812054052018 Sat, Jan 30 - TNT Extreme Wrestling - The Krazyhouse, 16 Wood ST, L1 4AQ Liverpol, UK - facebook.com/tntwrestling Sat, Jan 30 - Vertigo Pro - Masonic Hall, 8 Guildford Street, Cardiff, CF10 2HL South Glamorgan, UK - 6 pm - facebook.com/vertigoprowrestling Sat, Jan 30 - World Association of Wrestling - Epic Studios, 112-114 Magdalen ST, NR3 1JD Norwich, Norfolk, UK - 3 pm, 7:30 pm Sat, Jan 30 - Fusion - Body By D Gym & Fitness Center, 106 N Constitution DR, Yorktown, VA - 6:30 pm - facebook.com/fusionwrestlingonline Sun, Jan 31 - Alpha Omega Wrestling - Hilton Garden Inn Convention Center, 12603 Mariposa RD, Victorville, CA - 6 pm - facebook.com/AOWrestling Sun, Jan 31 - Brain Buster Pro Wrestling - Friction Zone Motorsports, 4275 NW 77th Ave, Miami, FL - 3 pm - facebook.com/Brain-Buster-Pro-Wrestling-1071312259546616 Sun, Jan 31 - Enigma Pro Wrestling - American Polish Club, 4725 Lake Worth RD, Greenacres, FL - 5 pm - enigmaprowrestling.com Sun, Jan 31 - Kentuckiana Diehard Wrestling - Jefferson Arena, 1416 Spring ST, Jeffersonville, IN - 5 pm - kdwrestling.com Sun, Jan 31 - Prime Time Wrestling - Georgetown Bingo Hall, Georgetown, KY - 6:30 pm Sun, Jan 31 - Michigan Wrestling Organization - City Market, 3600 S Dort Hwy, Flint, MI - 2 pm - facebook.com/Michigan-Wrestling-Organization-294443287149 Sun, Jan 31 - Destiny World Wrestling - Battle Arts Academy, 4880 Tomken RD, Mississauga, ON - 7 pm - destinyworldwrestling.com Sun, Jan 31 - New School Wrestling - Knights of Columbus, 222 Queenston RD, Hamilton, ON - 2 pm Sun, Jan 31 - NWA Blue Collar - North Portland Eagles Hall, 7611 N Exeter, Portland, OR - 6 pm - facebook.com/NWABLUECOLLARWRESTLING Sun, Jan 31 - Insane Championship Wrestling - The Garage, 490 Sauchiehall ST, G2 3LW Glasgow, Scotland - 7 pm - facebook.com/InsaneWrestling Sun, Jan 31 - School of Morton - 2085 Chuckey Hwy, Chuckey, TN - 5 pm - facebook.com/schoolofmorton Sun, Jan 31 - Dragon Pro - Rodney Parade, NP20 0UU Newport, UK - 6:30 pm - facebook.com/Dragon-Pro-Wrestling-211753345507269 Sun, Jan 31 - HOPE - Jurys Inn Milton Keynes, Midsummer Blvd, MK9 2HP Milton Keynes, UK - 2:30 pm - facebook.com/HOPEWrestling Sun, Jan 31 - International Pro Wrestling: UK - The White Oak Leisure Centre, Hilda May Ave, Swanley, Kent, BR8 7BT, UK - 4:30 pm - ipwuk.com Sun, Jan 31 - Superslam - Arnheim Gallery - Fairfield Halls, CR9 1DG London, UK - 4 pm - facebook.com/All-Star-Wrestling-UK-126812054052018 Sun, Jan 31 - Target Wrestling - The Corner House Hotel, 78 High ST, DG12 6DL Annan, Dumfries and Galloway, UK - 6 pm - facebook.com/TargetWrestling Sun, Jan 31 - Tidal Championship Wrestling - Leeds University Union, University Square, Leeds, UK - 6 pm - facebook.com/tidalchampionshipwrestling Sun, Jan 31 - NOVA Pro Wrestling - 6728 Industrial RD, Springfield, VA - 4:30 pm - facebook.com/NorthernVirginiaProWrestling