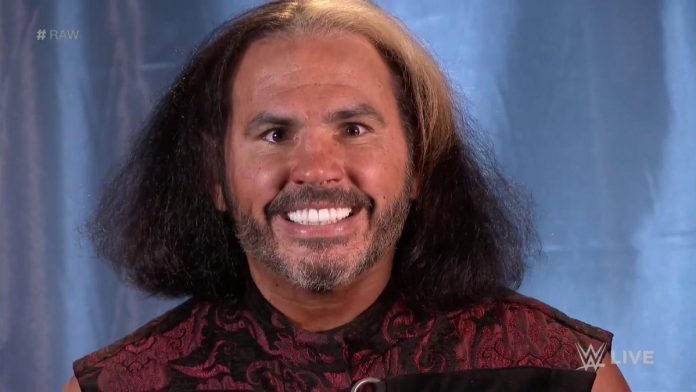 – Throughout the past week, Matt Hardy has been sending cryptic tweets that left some to wonder about his status with WWE. In a tweet on Saturday, Matt posted a video clip of a move he would do with brother Jeff called "Event Omega." He then said that doing the flying leg drop "is most likely the reason that I've recently learned that my lower back and pelvis have started fusing together."
This maneuver was called EVENT OMEGA..

And is most likely the reason that I've recently learned that my lower back & pelvis have started fusing together. pic.twitter.com/FzYebvIIc0

— #WOKEN Matt Hardy (@MATTHARDYBRAND) August 4, 2018
To all that supported me in the independents & OMEGA..

To the fans of Team Xtreme..

To the Mattitude Followers..

To the OUTSPOKEN fans who brought me back in 2005..

To the people who backed me when I was REINCARNATED in pro wrestling..

To the #WOKEN Warriors..

THANK YOU. pic.twitter.com/YkEILcoZh8

— #WOKEN Matt Hardy (@MATTHARDYBRAND) August 1, 2018
Dave Meltzer reported at F4WOnline.com that Hardy's tweets are not an announcement that he's retiring soon, but just to say that he won't be wrestling forever.
Meltzer added that while Hardy is in pain, it's not terrible. He will be undergoing new rehab treatment in hopes of improving the situation.
– Here is a preview of the "Miz: The A-Lister" collection, available exclusively on the WWE Network.
– Mandy Rose and Sonya Deville have started their own YouTube show called "Dandy's Donuts" where they journey around the world finding the best glazed donuts. Their first episode premiered on Saturday.
Deville noted on Twitter that they will film their next episode in Greenville, South Carolina (where SmackDown LIVE takes place next week)
Our next Dandy's Donut episode will take place in Greenville South Carolina let us know the BEST donuts in town and we will go check em out! ???

— Sonya Deville (@SonyaDevilleWWE) August 4, 2018