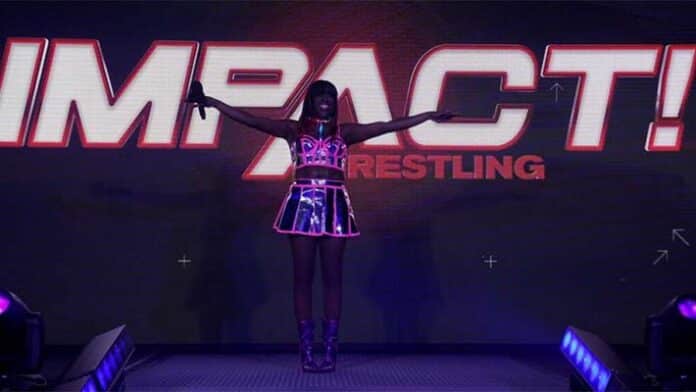 Trinity (a.k.a. WWE's Naomi) has made her Impact Wrestling debut.
Thursday night's Impact episode, which was taped last weekend from Cicero Stadium in Chicago, featured Trinity entering the ring with a microphone. Fans carrying glow sticks helped her make her entrance. She stated that it feels good to be back in the ring and in a position where she can shine.
Trinity stated that Impact has the most illustrious women's division in all of pro wrestling, citing Jordynne Grace, Mickie James, and Knockouts World Champion Deonna Purrazzo as examples. She stated unequivocally that she came to Impact to win more titles, and then warned the locker room to brace themselves for the brightest star. Trinity also stated that she came to Impact to make an impression and win the Knockouts World Title, prompting a "Trinity!" chant from the audience.
Purrazzo then interrupted, saying that because Trinity had mentioned her name and title, she wanted to be the first to officially welcome Trinity to Impact. Purrazzo stated that Trinity did her research and discovered that Impact is the place to be, but she has entered the New Age of The Virtuosa. Purrazzo said that she hopes Trinity gets a title shot, but if they get in the ring together, it won't be something Trinity can just "walk out on," referring to how she walked out of a WWE RAW taping a year ago. Trinity responded by saying that when they wrestle each other, Purrazzo will wish she had just been fired, a reference to her WWE release in 2020.
Grace eventually interrupted, reminding everyone that she has the next title shot from Purrazzo at Under Siege, and she isn't going to lose to her again. Trinity can fight Purrazzo, but if she wants a title shot, she should look for Grace because the title will be hers at Under Siege. Purrazzo and Grace then squared off, and Trinity said she'd be waiting for the winner after they finished their business at Under Siege.
Purrazzo raised her title to Grace as as Trinity ended the segment and the show by dancing up to the stage.
Trinity will make her Impact debut in a match against Knockouts World Tag Team Champion KiLynn King on Thursday, May 18. Full Impact spoilers from last weekend can be found by clicking here.
Click here for Impact Wrestling results. Here are highlights from Trinity's debut: