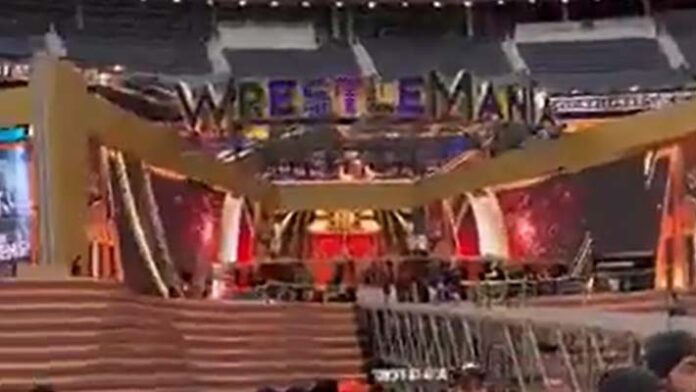 As the WrestleMania stage is being built, wrestling fans have made it a tradition to keep up with the leaks.
Several photos and videos have been leaked this week, but the video below is the clearest so far, showing both Hell in a Cell and the stage. WWE has returned to the classic structure, as seen below. They've been using a red structure in recent years.
The stage is designed to fit in with the Hollywood award show theme and includes steps similar to those seen at the Academy Awards. Expect an official reveal on WWE's social media accounts in the coming hours, complete with full lights and pyro.
Photos: First Look At The WWE WrestleMania 39 Stage And Set Construction
The latest video of the SoFi Stadium setup can be found below:
A closer look at the #WWE #WrestleMania stage, as well as the classic Hell in a Cell. https://t.co/kVprlRG0FD pic.twitter.com/9ZFv9NHDrG

— PWMania.com – Wrestling News (@PWMania) March 30, 2023