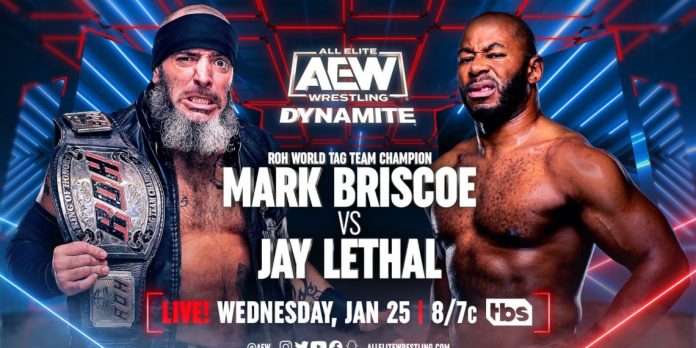 Warner Bros Discovery has lifted the ban.
Dave Meltzer of Wrestling Observer Newsletter reported the news on Tuesday, confirming that Mark Briscoe is no longer banned as a result of the controversial past tweet from Jay Briscoe.
As a result, Tony Khan has announced Mark Briscoe vs. Jay Lethal for this week's AEW Dynamite.
"Tomorrow 1/25 Lexington KY Live on TBS 8pm ET/7pm CT Wednesday Night AEW Dynamite," wrote Khan. "Mark Briscoe vs Jay Lethal."
Khan continued, "Requested by both men to celebrate the life + legacy of the late great Jay Briscoe on his 39th birthday, his longtime friend/rival Jay Lethal vs his brother Mark Briscoe."
Make sure to join us here at PWMania.com on Wednesday night for live AEW Dynamite results coverage.
Tomorrow 1/25
Lexington KY
Live on TBS
8pm ET/7pm CT
Wednesday Night #AEWDynamite

Mark Briscoe vs Jay Lethal

Requested by both men to celebrate the life + legacy of the late great
Jay Briscoe on his 39th birthday,
his longtime friend/rival Jay Lethal vs his brother Mark Briscoe pic.twitter.com/uzeQ0L4t5h

— Tony Khan (@TonyKhan) January 24, 2023
Yep, AEW just confirmed WBD changed its policy on Mark Briscoe and he's allowed to appear going forward.

— Dave Meltzer (@davemeltzerWON) January 24, 2023