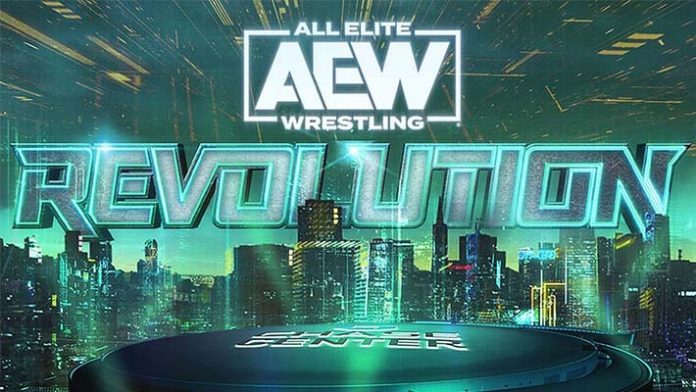 All Elite Revolution is in the books and based on the results of the pay-per-view, it looks like the direction of the organization might finally trend upward after 2022 made more headlines for the heat behind the curtain than on-screen.
The show opened with Ricky Starks vs. Chris Jericho, and I will be honest, when this bout was originally announced, I thought it was more or less a way for Jericho to get his win back. Thankfully, I was wrong, and all things considered, Jericho didn't need the win anyway. This is meant as a complete compliment, Chris Jericho reached a status in the industry where he's as over as he's going to be and even if he lost every match for the rest of his career, he would still be regarded as a legend. I'm still not sure why he had to beat Eddie Kingston in the barbed wire match on Dynamite after Kingston defeated Jericho on pay-per-view. The match at Revolution was solid and it was a quick start for the event, which was a very wise decision. Too often in the past, there was almost a pattern where the vast majority of the contests on the card were given twenty minutes and that created a tedious viewing experience. Not every match needs to be twenty minutes of a New Japan style bout. The purpose of this match was to make Ricky Starks look like a bigger star and it accomplished that goal.
Jungle Boy vs. Christian was a very well done segment. However, unless I missed it, I had no idea that this was supposed to be a casket match until the entrances. The biggest takeaway here was how a match worked properly can translate into a payoff. This match was the textbook definite of "work," and it speaks volumes to Christian's ability as a true pro. Absolutely one of the best of his generation, even if he was underutilized for a portion of his career. Christian is an example of a heel that can work and everything he did meant something throughout this match. His mannerisms and presentation emphasized that he was the heel. There was a lot of action, but the bumps were safe. There doesn't have to be dangerous car crash matches for the conclusion of the feud. Again, this was a segment that showcased the younger talent, and furthermore, if more All Elite matches were worked like this, the company would make more progress.
The Trios Title match was the fireworks bout of the card and it provided the dazzling spot fest that many expect from the AEW brand. Everything was crisp and precise, which is why this bout translated as well as it did. Sloppy technique or nonsensical spots plague a lot of All Elite programming so unless competitors can work as clean as these two teams than they should avoid this particular type of match. Buddy Matthews and Kenny Omega started with some stellar technical wrestling, and later in the bout, Brody King was featured very well. That's one of the other pitfalls that the rest of the roster should avoid, Brody is almost twice the size of Matt Jackson so it made more sense when Brody bumped for a double team move from The Bucks. Too often, some on the roster take unnecessary bumps and it dilutes the entire presentation.

I wasn't expecting much from the Women's title bout, simply because most triple threat matches fall into the same recycled patterns you've seen before. Thankfully, this contest didn't use the usual playbook and actually worked the three competitors into spots, as opposed to one wrestler taking a powder while the other two have a traditional match with very little use of the three way aspect. Jamie Hayter was undoubtedly the MVP of this bout and the glue that put the pieces together. While Saraya being cleared to get back into the ring and seemingly much happier after a rough few years because of the neck injury is great, she's definitely still very rust in the squared circle. Plus, it's still concerning when she takes any bumps that look like they might result in whiplash. There's still a balancing act of risk/reward for the payoff of Saraya on the roster compared to any potential injuries. So far, her promo and in-ring work are average at best, and the rather random heel turn seemed to hinder any hype from her debut. It was a wise decision to have Hayter retain the title, but the post-match Rudy heel turn didn't make much sense. Rudy is a very talented performer that should've been booked a lot better in AEW, but if she wanted to join the former WWE wrestlers, why did she wait until after the match? Why give Hayter a chance to remain the championship? The motivation can't be that she lost the match, either because Saraya technically cost her the title as much as Hayter did.
The Texas Death Match in a vacuum had its moments, but overall, I have to say that I think it missed the mark. First and most importantly, if Jon Moxley bleeds so often on television, it's naturally going to yield diminishing returns, even on pay-per-view. In fact, it's almost comical how often Moxley bleeds on TV. This contest had some very good exchanges and wild moments, but the bottom line is, the more gimmicks they used, the more over-the-top the entire segment became until it was just too nonsensical. Moxley put Adam Paige's hand in between two bricks before he stomped on it. If a brick is ever involved in a fight, someone is going to use it to strike an opponent in some form or fashion, not try to set up a wrestling move. Furthermore, when Adam Page hit Moxley with a brick, instead of being knocked out, Moxley stumbled to his feet for another sequence. The whole thing jumped the shark. If you can hit someone with a brick and they can get up within seconds, it just went too far. Instead of a match that was built on violence, this devolved into who could bleed more or take more bumps in barbed wire. This was the type of match you'd see on an independent show, and considering those events don't draw enough for those organizations to became bigger than just an independent, is there really a place for this stuff on a national level? The Japanese-inspired death matches became more prominent on the American indy circut after ECW folded, and if it hasn't drawn big for any of those groups in the past twenty years, why would it draw for AEW now? As far as the Japanese aspect, even the death match groups that are successful in that country are considered a niche so again, does this stuff really have a place in the national pro wrestling scene in the United States? Page got the victory, but I'm not sure there were any winners in this segment because this was the lowest common denominator of hardcore wrestling. Quite frankly, both of these athletes are more talented than that.
Jon Moxley with a tribute to Seth Rollins. #AEW #AEWRevolution

— Get The Tables (@GetDaTables) March 6, 2023

The TNT title match was in the death spot on the card since the audience just saw everything in the previous match. The contest was fine, but it was forgettable because of its place on the pay-per-view. Wardlow won, but for someone that was lost in the shuffle prior to Revolution, this scenario didn't do him any favors. That was followed by the tag title match, which wasn't bad, but on a show that had a 60-minute Iron Man match as the main event, it wasn't necessary to have this four team contest on the pay-per-view. Perhaps, it provided some comedy relief after the Texas Death Match, but it was still better suited for Dynamite.

Since the main event was over an hour, it would be too lengthy to discuss every portion of the bout, but generally speaking, this match showed why psychology is so important in pro wrestling. There was solid technical wrestling at the start and there wasn't a follow until the 25-minute mark, which makes sense because it's common place for main events to conclude around thirty minutes. The way that the low blow caused a DQ but allowed MJF to tie it up with two quick falls because of the cheap shot allowed a logic reason for multiple falls so the drama could build later in the match. As far as the controversy with MJF throwing the water on the kid at ringside, it's harmless on the surface, but ultimately not worth the potential downside. According to Bryan Alvarez of The Wrestling Observer, it was actually tequila, not water. That's one of the reasons it's not worth the possible downside, you don't always know what you're throwing at people, and if it was tequila then obviously, it's not a harmless heel troupe to get heat. The kid was taken backstage to meet Powerhouse Hobbs and given free tickets to Dynamite this week so it was smoothed over, but it could've been a much more difficult situation. The fans know that Tony Khan is a billionaire, and someone actually won a lawsuit because coffee was hot at McDonald's so you shouldn't underestimate the level some people will go for a quick payoff. The bigger issue is that if MJF throws a drink at the wrong fan, some yokel might take a swing, and do you really want a fight with a fan during the main event of a pay-per-view?
MJF bled buckets during the latter stages of the bout, which would've meant a lot more if a Texas Chainsaw Massacre remake wasn't booked a few matches earlier. The way the diamond ring was used as a misdirection before the actual finish was clever and the same can be said for the spot at the conclusion where Danielson tapped out instead of the stereotypical stoppage because a wrestler is unconscious. This match proved that MJF is a main event performer, but it will be interesting if he can solidify himself as the top guy in the company with better promo work in the future.
As mentioned, Revolution was definitely a step in the right direction, but also had examples of the aspects of the product that hindered the company's momentum last year.
What do you think? Share your thoughts, opinions, feedback, and anything else that was raised on Twitter @PWMania and Facebook.com/PWMania.
Until next week
-Jim LaMotta
E mail drwrestlingallpro@yahoo.com | You can follow me on Instagram & Facebook @jimlamotta89