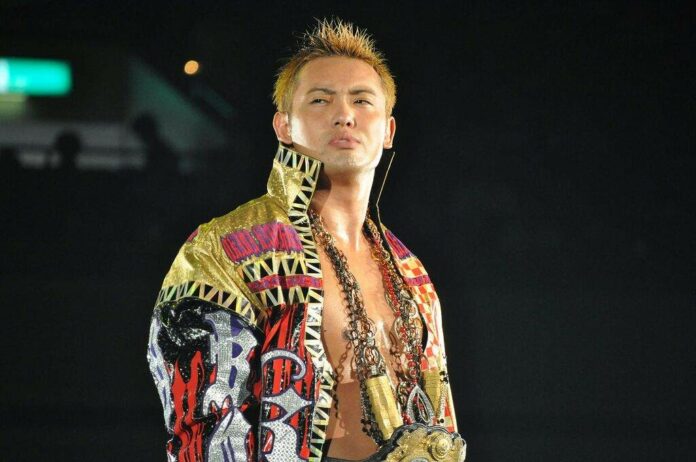 At the beginning of 2016, I penned a column that explained why New Japan Pro Wrestling had to be considered the promotion of the previous year. Since that time, New Japan has continued to expand, most notably with English commentary regularly offered on their streaming service and the launch of an English website, making it easier for North American fans to follow the product. Most importantly, those were truly progressive steps towards marketing and establishing the product to a new demographic. This weekend, the Japanese promotion will make another major step toward its expansion, as it will present its first ever NJPW show in the United States, culminating with a tournament to determine the inaugural IWGP United States champion. The two-day event will be held in Long Beach, California at the Long Beach Convention Center, a venue that sold out in just hours when tickets went on sale a few months ago. The stellar Okada vs. Omega rematch from earlier this month only added to the anticipation for the G-1 Special, which will be shown live on Axis TV, another historic aspect of this tour.

I have to be honest, when Naoki Sugabayashi, owner of the Bushiroad trading card company, bought New Japan from Yuke's in 2012, I was extremely skeptical about the future of New Japan. Founder, Antonio Inoki nearly bankrupted his empire through a series of misguided decision, including MMA fighters prominently featured in a pro wrestling environment in the early 2000s. Inoki sold to Yuke's, a division of THQ, in 2005 to avoid the complete collapse of the promotion. Under Yuke's, the wrestling group treaded water during a time when over saturation led to a steep decline in Japanese business. Too many groups tried to promote their own events and it completely diluted the market. Finally, Yuke's sold to Sugabayashi in 2012, and THQ filed for bankruptcy later that year.
Sugabayashi was ambitious, but smart enough to know that he needed wrestling minds to guide this new project so he hired Jado and Gedo, wrestling veterans from a variety of promotions, as bookers. There were some key steps during the pivotal time of new management that led to the success that the promotion has today. The previously mentioned over saturation was a result of aging veterans that ran their own shows if they had any type of dispute with a major wrestling office. Since star power is needed to get an organization off the ground, the well-established older stars were featured at the top of the card. For its part, New Japan during the early 2000s was on the brink of bankruptcy and without the major distribution channels that it had in the past so Yuke's wasn't going to gamble on an unproven talent, even if that competitor had potential. Jado and Gedo were wise enough to know that the formula of the past decade is what led to the dive in Japanese business. So, in 2013, Prince Devitt, formed the Bullet Club, a spin off of the New World Order. Of course, Devitt went on to become Finn Balor in the WWE, but the blue print for success was put in place. A series of talented foreign or "gaijin" wrestlers were there to challenge the native talent of New Japan. It could be argued that the Bullet Club continues to be the best wrestling stable in the world. When an athlete departed, another quality athlete was added to the group. For example, when the previously mentioned Balor exited Japan, AJ Styles assumed the role of leader of the group. When Styles signed a WWE contract, Kenny Omega was elevated to that spot within Bullet Club. Even with the potential signing of Adam Cole, Marty Scurll recently joined the group. The point being, the booking of the stable is still logical and quality talent is used to replace those that sign to WWE so the Bullet Club maintains its popularity. As far as native talent, the Bushiroad era of New Japan saw younger talent truly established as main event performers as the draw of the company. Nakamura, Tanahashi, and Okada were stars that carried the organization into this new phase. Naito, Minoru Suzuki, and others were also featured to add variety to the main event scene. Equally as important, logical and well-paced booking is a philosophy that builds legitimately stars in New Japan.

Aside from establishing quality talent, Bushiroad, the popular trading card company, incorporated their wrestling acquisition into the trading card business, producing several series of NJPW cards. Along with that, more merchandise was produced and there was an increased availability to merchandise. Finally, the launch of New Japan World, the Japanese group's version of the WWE Network, allowed more fans more access to the product than anytime in the promotion's history. The bottom line is, these steps allowed for more revenue streams for the company, and ultimately, the potential for more profit.
New Japan management was smart enough not to rush these shows in the United States. Ring Of Honor ran a series of shows that featured NJPW talent and those co-branded shows were a major draw so that proved there was a demand for New Japan Pro Wrestling in the United States. It was a win-win for each promotion as well and their working agreement is mutually beneficial. In many ways, those co-branded shows allowed for New Japan to "test the market" so to speak without the financial risk of running a full-fledged tour, while ROH had the added draw of Japanese talent. While there are some similarities, New Japan and Ring Of Honor are different entities.
The main event of the first show this weekend is Cody Rhodes vs. Okada for the IWGP championship. Rhodes, who asked for his WWE release last year after he floundered as Star Dust, had an almost unbelievable stellar year outside of the WWE. Within a 12 month span, Cody worked for ROH, TNA, New Japan, PWG, and various independent promotions. Without a doubt, Rhodes proved that WWE brass missed the boat on him. Just last week, Cody won the Ring Of Honor championship on pay-per-view, and he's a recognizable star in America, but I don't think he was booked for this title match simply because American fans are familiar with him. After such a top notch year wrestling around the globe, Cody's skills justify a major match on a major stage. While it would be great to see Cody win the IWGP belt, it's doubt that he becomes a double champion this weekend. At 29, Okada is set to be the future of New Japan for years, and considering he has a third bout with Kenny Omega in August, it makes sense for him to remain the champion. Plus, as ROH champion, Rhodes will have more schedule demands with that promotion so even if it was considered, a double champion might not be a possibility from a logistics prospective. Still, anything can happen and it would certainly make history if Rhodes became one of the few foreigners to win the IWGP title.

For New Japan, they shouldn't alter their product in any way to tailor to American fans, mostly because the authentic Japanese action is the main draw, both for Long Beach, and for the streaming service. All things considered, it's quite remarkable that a Japanese promotion will run shows in the United States, which will be broadcast live on American television. When I was 15, I had to borrow Japanese tapes from other local fans, set up two VCRs, and copy each tape. Adding grainy copies of FMW Kawasaki Stadium shows or NJPW light weight action to the tape collection was always cool. A little more than a decade later, it's amazing that the streaming service allows fans to watch shows from the other side of the globe live as they happen. This New Japan expansion adds a legitimate alternative for fans, which is good for the entire wrestling business.
What do you think? Comment below with your thoughts, opinions, feedback and anything else that was raised.
Until next week
-Jim LaMotta
E mail drwrestlingallpro@yahoo.com | You can follow me on Twitter @jimlamotta