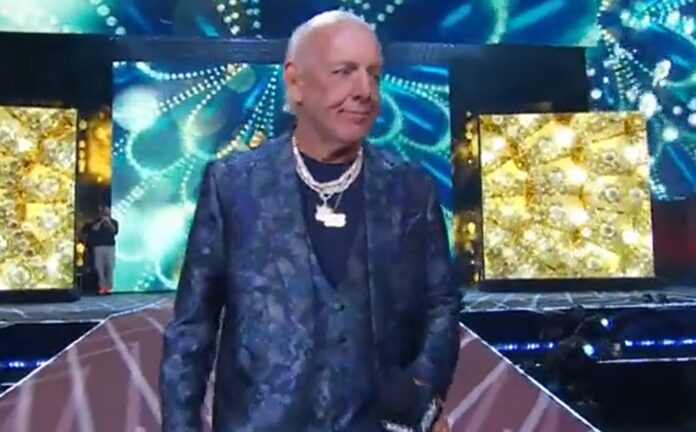 Ric Flair, the 74-year-old former world champion, finally made his All Elite Wrestling debut this past week on Dynamite as the surprise guest for String, the legendary grappler that announced he will hang up his boots next March at the AEW Revolution pay-per-view.
When Sting surfaced in the Khan-owned organization nearly four years ago, it was a shocking arrival, as many assumed that he was completely retired after a serious neck injury that he suffered in a match with Seth Rollins a few years earlier. Despite being 64, amazingly, Sting can still go and has done well in the scenarios he was booked for. The variety of tag matches in recent memory allow him to play the greatest hits and be Sting without putting him in a situation that might hinder his mystic. He's not running the ropes the way he was in 1997 and he doesn't have to, he can hit a Stinger splash and it's a successful segment.
That said, there's obviously an end to everyone's in-ring career so it makes sense for Sting to target his final match, especially after he had a memorable run in All Elite.
Given his massive legacy, a tenure that spans decades, and an influence across generations, it makes sense for Sting to get a retirement tour so to speak, both as recognition for his accomplishments and to generate business.
I understand why Flair was brought in to AEW for this angle, especially because Sting's career will always be linked with "The Nature Boy" in some form or fashion since the famous match at the first Clash of The Champions put him on the map, and there were several other key bouts in the real-life Steve Borden's career that saw Flair as his opponent, including the final match in Nitro history.

The concerning part is that this storyline should theoretically keep Flair on All Elite programming for at least the next six months, and as much as I hate to say it, I honestly wouldn't be surprised if Ric Flair eventually wrestled for AEW. It's too easy and Flair has too much of an ego to miss the chance to get back in the ring, even if most promoters wouldn't take the risk of booking a match for someone of Flair's age with his health problems. Keep in mind, Flair was more or less confirmed to be on his way to All Elite a few years ago before the episode of The Dark Side of the Ring episode about the infamous flight from England aired and the backlash of the allegations against Flair created too much negative PR to sign him to a contract.
As recently as a few weeks ago, Flair made headlines for comments he made about wanting to wrestle again. Unfortunately, Tony Khan showed more often than not that he can't tell his favorite wrestlers no or that he'd rather be their friend than their boss. So, I don't think it would be unreasonable to think that Flair might eventually try to push for another opportunity to get into the ring, and Tony Khan is probably too much of a super fan to turn down the chance to promote a Ric Flair match, especially because it's well-known that he was a Nitro fan. In fact, taking into account that he desperately attempted to recreate the Shane McMahon moment on Nitro when he bought Ring Of Honor, I wouldn't be entirely shocked if Tony tried to book Flair vs. Sting for Sting's retirement match to be able to promote a rematch of the final bout in Nitro history.
I hope I'm wrong, but I think it's a matter of time before Flair at least gets physically involved at ringside. Keep in mind, when Conrad Thompson, Flair's son-in-law, promoted "Ric Flair's Last Match" last year the former NWA champion returned to the ring for the Jim Crockett Promotions banner in a tag match alongside his other son-in-law, Andrade against Jeff Jarrett and Jay Lethal. Afterwards, Flair bragged about making a few hundred thousand dollars for his payoff at the event, but the performance was a combination of concerning and embarrassing. Make no mistake about it, Flair is an absolute legend and arguably the greatest in-ring performer of all time, but he passed out twice during the match, claiming he was dehydrated, and was slumped on the apron, unable to stand at certain points during the contest.

Quite simply, it's just too risky to put Flair back in the ring for a match or probably any type of physical involvement, given that he has a pacemaker. It would be completely irresponsible for any organization to allow him to get involved, but that doesn't mean it won't happen, especially with Tony's fandom as a priority. Assuming, All Elite is smart enough to avoid that, you have to ask, what does Flair really bring to the table at this point?
I don't mean this as an insult, but rather a realistic evaluation of what the 74-year-old Flair truly adds to the television show. The fans have seen his promos and routine for decades, and in some ways, when he made comebacks previously, it was almost somewhat disappointing because it was sad to see him tarnish his legacy. Haven't we seen enough of the strutting and wooing? Perhaps because it's very obvious that Flair didn't want to truly retire, the segments seem more like an aging grappler that can't hang up the boots rather than an elder statesman embracing his legacy. When Flair is on the mic, you can tell he thinks he's still the same guy he was 40 years ago, and he has even said he thinks he could still wrestle today. A senior citizen trying to act like he did in his prime is often sad, not entertaining so I'm not sure Flair on Dynamite just for the promos is a wise decision.
Don't get me wrong, Ric Flair at ringside for Sting's final match makes sense and would be a nice gesture, but I just don't think there's a productive reason to have Flair around for six months. While it honestly wouldn't be Flair's intention, putting Ric on television on a weekly basis might allow him to overshadow Sting during the retirement tour. If Flair takes a bump on the floor or blades at his age, the story will be what Flair is doing at 74, not Sting's final run on television.

Unfortunately, Ric Flair, who nearly died from alcoholism several years ago, readily admits that he still drinks today. Restraint isn't exactly The Nature Boy's strong suite, and it's doubtful that he will be content just standing at ringside for the next six months. It goes without saying that Flair always needs the payday so it's good that he will get the chance to earn some cash, but hopefully Tony Khan is smart enough to keep him from doing anything to risk his health because nobody wants to see anything tragic happen, and the company certainly doesn't need the negative PR after the CM Punk debacle a few months ago.
What do you think? Share your thoughts, opinions, feedback, and anything else that was raised on Twitter @PWMania and Facebook.com/PWMania.
Until next week
-Jim LaMotta
E mail drwrestlingallpro@yahoo.com | You can follow me on Instagram, Facebook, & Threads @jimlamotta89